THE MORVEN PARK CCI*
OCTOBER, 2003

An Account of my Experiences at the Morven Park CCI*
October, 2003
By Melissa Hunsberger
Windchase Assistant Trainer
---
"Invest in the journey, not the destination."

One of Phyllis' favorite quotes, one that she has recited to me in the past. Being a very goal-oriented person, I will admit that sometimes I focus too much on the destination. Not this time! Although I desperately wanted to complete Morven, I decided that even if it didn't happen I was going to enjoy every moment along the way.

The Horses:


This seems the most appropriate place to start, since without them there would be no journey to invest in!



Just Fun Stuff: Fun is an eight-year-old TB gelding originally owned and competed by Joni Thompson. Phyllis purchased him from Joni, and I bought "Fun" from Phyllis in May of this year.


Now, there are many wonderful horses that come through Windchase, many of which I would love to own! However, living on a very limited income I can usually talk myself out of the insanity! The key word there was 'usually'!


From the moment I saw Fun I knew I was in trouble. Big, beautiful, and fast, the more I rode him the more I knew I was going to have to take desperate measures to acquire this horse. With the help and support of my family, I was able to take out several 'non-interest loans' from around the country!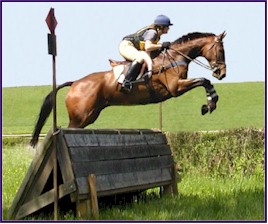 Just Fun Stuff competing with Melissa at Loudoun.

We started our partnership together in April, where I competed Fun at the Loudoun Horse Trials, finishing 5th in the Training division. The next weekend Fun finished 3rd in his first Preliminary, which was at Difficult Run Horse Trials. Completing the Virginia Horse Trials, placing 8th at Fair Hill and 6th at the fall Loudon Horse Trials officially qualified us for the three-day! Step one, at least, was now complete!



Expedience: 'Spedy' is a six-year-old chestnut TB mare. As she didn't show the stunning speed required to be a successful racehorse, Phyllis acquired Expedience from a long time contact of hers, John McKee. I purchased her as a three-year-old from Phyllis, several weeks after she arrived at Windchase.


Expedience is a sweetheart. She is not naturally the boldest horse in the world, however over the past three years we have developed a trusting relationship together. Being a part of her progress and watching her 'grow up' has been extremely rewarding.

The journey begin...


Sometimes investing in the journey can be quite literal! Filling out the entry for Morven was very exciting! Writing the check... was not! Not having filled out too many three day entry forms, I made the odd mistake here and there.


Luckily for me, Morven's Secretary happens to be my very patient next-door neighbor, Nancy Mountz. The day after delivering the entries Nancy sent me an email kindly stating that I had:


- Forgotten the muck deposits


- Needed FEI and USEA numbers for both my horses


- Needed to include a copy of my armband


Other than that the entries were perfect!

I learned a thing or two by entering Morven. Did you know that a Horse Trials opens six weeks before the event and a three-day opens eight weeks before? Yeah, well I do now! Never missing an opportunity for a little Melissa-ribbing, Phyllis casually remarked that she had sent in an entry for Marlborough Horse Trials on opening day of Morven Park. I was so mad!


"What do you mean you are going to the horse trial and not to Morven!"


"Well, I don't have any horses in the three-day, so I entered Caution in Marlborough today instead of Morven!" she replied.
I was having a bad day for whatever reason to begin with, so I was really beginning to get upset, until she reminded me that a three-day opens earlier than a normal horse trial, and I realized she was just pulling my leg!

...and continues...


Due to the extremely wet spring and fall this year, with many Events either cancelled or too wet to safely compete in, both Expedience and Fun were lacking in preparation runs. Expedience especially! Due to a mild injury she missed most of the spring season competing.

My first autumn competition was the Loudoun Hunt Pony Club Horse Trials, held at Oatlands, here in Virginia. The Loudoun events are always fun for me. Having helped instruct the Loudoun Pony Club for five years now, I usually have a cheering section as I make my way around the cross-country! Both Fun and Expedience had a confident go, finishing without jumping faults in either the show jumping or the cross country!


Seneca Valley was to be our next outing, two weeks later. Having qualified both horses for the Championship Division, I was looking forward to the challenging run as a good prep for Morven. But a soaking rain the night before (What, it rains in Maryland too!) left the course deep and torn up. Phyllis helped to convince me that running the horses would not produce the desired result we were looking for before Morven. Seneca offered two schooling days, which I was hoping to take the horses to for experience. But, they too were rained out! Now, I was feeling very under-prepared! To add insult to injury, Hurricane Isabel stopped by soon after and dumped several more inches of rain on the already saturated earth!



Thankfully we still had good ground to gallop on! Hilly and with good turf, the newest addition of 50 acres to Windchase drains fairly well. I love galloping on the new property. "In the early morning hours as the fog begins to lift from the valley and the deer begin their retreat into the woods, my horse and I thunder up the long green hill."


No, that is not taken out of a novel or literature, that is my life!

As the days drew closer to the event I became increasingly convinced that both of my horses were lame. Phyllis and Jineen assured me that this was a normal occurrence, the closer to the big competition you get, the more convinced you are that something is going wrong. A daily conversation went something like this...


"Phyllis/Jineen, watch him/her trot please."


"Melissa, you're paranoid!""
"Thank you!"

Check, check, and check again!!!


It's amazing how much stuff you need for this sport! Jineen, having been a long time three-day groom for Phyllis, kindly helped me pack for my two horses.


"Here Melissa I have a packing list to help you get started..."


And boy was there a list! Jineen realizes how much of the rider's and groom's sanity depends on staying organized. There is nothing worse than not being able to find your whip or spurs five minutes before you need to be on for your dressage test! Been there, done that!


Thumbing through the list I realized I owned about 1/3 of the items needed. I owe everyone a huge thank you for lending me everything from breastplates to jog up shoes!!!

Monday:


Siobhain O'Connor, one of my dearest friends, drove from her home in Canada to help me at Morven. It was wonderful to have her as my groom and support person.


Siobhain and I arrived at Windchase weeks apart in the summer of 1999 to participate in Phyllis' working student program. Currently Siobhain and her business partner Sarah operate their own Eventing stable, Awayzaway Farm, in Canada. Siobhain is a talented rider and competitor, having successfully completed the Radnor CCI** on her lovely horse Flying Advance (a.k.a. Connor).

On Monday morning Siobhain, Phyllis and I took Just Fun Stuff and Expedience out for their final gallop. Siobhain rode Expedience and I took Fun. It was a beautiful clear crisp fall day. Phyllis monitored the two horses as we asked them for some speed up the gallop hill. Both horses galloped well, and seemed to be feeling very ready.

Tuesday:


Tuesday morning I woke up and thought: "Alright, we've made it this far, we are going!" Even though I went over the packing list Jineen gave me several times, I was convinced that I was forgetting something vital. Siobhain gently reminded me that we were only going to Morven Park. Just a thirty-minute drive from Windchase, Siobhain and I would be going home each night. Any item forgotten along the way could easily be retrieved!


Off we went. We arrived at Morven Park early Tuesday afternoon, where the horses had their first veterinary check. All the paper work was in order and the horses look well. We were given our stall assignments and we proceeded to unpack and set up stalls. Later that evening I took Fun out for his first of many rides around Morven Park.

The Groom's Account: by Siobhain
Adventures with Melissa!

Day 1: The Arrival
We arrived at Morven Park and unpacked. I always feel better once I have unpacked and gotten the horses nicely bedded down and tucked into their stalls. Melissa is starting to get nervous, but she is very focused!


Wednesday:


Jog up on Wednesday didn't begin until 2:00, giving us plenty of time to polish all the brass, braid both horses and get myself reasonably clean. Personally, I feel uncomfortable in public dressed in anything other than a pair of jeans or riding breeches. So, when I am leading a horse dressed in a skirt or dress pants, I feel just plain ridiculous! Siobhain knows me well and doesn't let me anywhere near the horses before the jog, as I am a dirt magnet!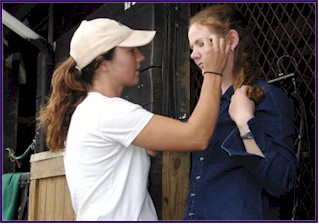 Siobhain prepares Melissa for the Jog-up.
Expedience... I don't know where Expedience thought she was! One thing is for sure, she definitely knew that this was not your normal horse trials! As she is normally very quiet and lady-like, I was shocked when my shy chestnut mare suddenly transformed into a fire-breathing monster! She leaped and bucked at the end of her shank, bolted from the oncoming horses and pranced along side of me with her tail flagged and nostrils flared. I was paranoid that she was going to kick or run over a human or equine! Fun, who is normally the more enthusiastic of the two, was walking around like a gentleman.
Finally it was our turn to jog. Have you ever gotten pulled over by a cop conducting a routine traffic stop? You know you weren't speeding, you know you have done nothing wrong. All your tags and insurances are in order, you have your license, yet you are still sweating bullets until the officer says "Thank you and have a nice day." That would be how I felt about the first jog. I knew my horses were fit and well. Phyllis had assured me that both the horses looked great in our practice jogs which we had done just minutes before, but I was still nervous. The tensions would soon ease however, as the rhythmic 'clip clop' of both Fun's and Expedience's shoes on the macadam surface confirmed that all was well and we could advance to the dressage phase.

Melissa and Expedience at Vet Check.



The Groom's Account:
Day 2: Jog Day


The groom's big day!

I get to spend hours making them beautiful, then jog and take all the braids out.

The jog is such a stressful thing.

I don't envy Melissa.

But both ponies looked so shiny even with long coats.

Fun has such a presence about him.

Spedy felt the atmosphere and was trying to do airs above the ground.

Both jogged well, so it's on to Dressage!

My Dad took the week off from work to come and watch my horses and I tackle our first One-star. He sent me an email Tues night to assure me that he would be there in time to see both my horses 'walk up!' Sure enough he was true to his word. Neither one of my parents are 'horse people.' Nonetheless, they have always 100% supported my crazy addiction, and I can't thank them enough for that. My mother, on this weekend, had the distinction of escorting my brother onto the football field for his senior homecoming game. She sent her best wishes along with my Dad, along with some great food!

After the jog, the riders were required to attend a mandatory meeting where several of the rules were reviewed and the layout of the week was presented. Following the meeting we were escorted via pick-up truck around the roads and tracks portion of the endurance phase. Later I viewed the course for the first time by participating in a course walk held by Buck Davidson and the course designer Tremaine Cooper.


The course looked very tough and technical. I told myself that this is how all courses looked the first time they are walked, and that I would feel more confident the second and third time around. That was until I came to fence #11, a huge roll top bounce that was on the Intermediate course in the Spring and had caused plenty of problems then! I casually turned to my friend Katie, who was walking the course as well and said, "Katie, I don't think I've ever jumped a bounce with Fun!"


A three-day is one heck of a place to realize that you have never jumped a bounce. Having not owned Fun very long it, just somehow didn't happen. We didn't have to jump one in the previous competitions. The galloping field at Windchase, where we have three very nice bounces, had been unrideable basically all Spring and Fall due to the excessive amounts of rain, and I had never set one up in the show jumping arena. I will admit this was a very, very stupid oversight on my part, one which I will not make again! You live you learn! In addition the course had several skinnies, a corner, and two very tough water jumps. After walking the course for the first time I felt confident that my horses would jump at least six of the twenty-two jumps!

Thursday:
Fun was assigned the 11:30 dressage time on Thursday. The Three-day routine was good for Fun. He needs plenty of time to settle, and being able to ride him several times a day on the property really helped to calm his nerves.
I had a lot of fun getting dressed for dressage. Dad had polished my boots to the point where they were almost blinding. I had purchased a brand new pair of white full seat breeches for the occasion. At last I was ready to put on the top hat and tails! Phyllis had very kindly let me borrow her formal coat and hat; these were not your ordinary top hat and tails, but the ones she had worn at the 1988 Seoul Olympic games!
Being competitive in the dressage has not come easily for me. Early on in my Eventing career I had a horse who could get a little 'beside herself', especially in the dressage. Staying in the ring so that we would be allowed to go cross country was our main goal! Like most competitors in this sport, the cross country is what got me hooked. I love it, I am addicted to it, and dressage was just a means to get to it. The past few years I have worked hard to stay mentally focused through the entire test. One of my goals for Morven was to competitively ride every movement of my test, and not get lost in it!

Now, rumor has it that I looked like I was about ready to cry before beginning my test on Fun. But really, that was not the case at all! I was concentrating so hard about what I need to do in the test!
We trotted around the perimeter of the arena for what seemed like an eternity. Finally, the bell rung, and we headed down the center line to begin our test. Both Fun and I maintained our concentration enough to put in a very fluid test, and at the end of the day we were 15th (out of about fifty starters) after dressage. Jineen and a few of our current working students ran away from their duties at Windchase for a few hours to come and watch our test. It was great having them there!

Just Fun Stuff in the Dressage Test.


The Groom's Account:
Day 3: D-Day!
Luckily both horses don't do dressage early in the morning! I love getting the horses all prettied up. Fun Thing has an easy mane to braid. Wow, I have never seen him go. But Wow! He is a really nice horse. He and Melissa look very good together. I think he is a really special horse. When you groom for a horse at a three-day, a special bond develops between the groom and the horse. Fun Thing is a real character. He really believes that he calls all the shots. You can't put the bridle on before he does his bridle routine. He must stick his nose up and make faces, then open his mouth wide open and grab the bit!
Later that evening Phyllis walked the cross-country course with Katie and I. Part of what makes a great cross-country rider is being able to see the fences as your horse is going to see them. Phyllis pointed out the areas of the course, that due to the location or configuration of the fence, might cause an illusion to the horse and therefore some difficulties. Her comments of "Wow, that's tough," and "That fence should definitely have an option," and "That is more of a two star question," confirmed that my initial impression of the course was not off base!

Friday:
Friday morning I woke up with thoughts of cross country in my head, even though it was still dressage day. Having walked the course for the first time on Wednesday I was more than ready to get on with it! Fun obviously felt the same way , as I arrived to find him rearing and bucking in his stall! I made myself refocus on the task on hand so I could give Expedience a good ride.
Although naturally not as good on the flat as Fun, Expedience tried her best and put in a respectable test to be placed 22nd (out of fifty some starters) after dressage.

The Groom's Account:
Day 4: D-Day once again
It's Spedy's day! She is such a sassy thing. She is all quiet and sweet to work around, but she is also an opinionated little red head! Melissa didn't have the best school on her this morning, but was able to keep her happy and relaxed for her test! Spedy doesn't have the same movement as Fun, but Melissa was definitely more relaxed for this dressage test. Yesterday I thought she was going to cry while warming up. She looked as if the fate of the world depended on her dressage test!
After her test, Phyllis kindly offered to help me try to teach Fun how to bounce out in the practice fields where they were allowing some practice fences to be set up for a few hours. I hate jumping before a big competition. Phyllis set up a small bounce made out of show jumps for Fun and I to practice over. We were both pathetic! I wasn't riding Fun well, and he wasn't figuring it out. Being an exuberant horse, he would over jump the first part and crash through the second part! Then he started refusing to even attempt it. I get so frustrated when I can't get my mission accomplished. When I get frustrated I get a little bull headed. My tendency is to not want to stop until I get it right. But, the day before the cross country at Morven was not the time or the place to teach Fun how to negotiate a bounce. We learned what we needed to by bringing Fun out to the practice field, he was not ready to attempt the bounce, so I would take him the long way. Unfortunately, those words did not come immediately out of my mouth. At least not yet, I am working on it. But, thank God, Phyllis made me let the exercise go! Grinding my teeth the whole way back to the barn, I kept thinking what a poor school I just gave Fun the day before he was to tackle the biggest course he had ever seen! Let it go Melissa! Let it go Melissa! I made myself forget about it and concentrate on making sure I had my times and courses straight for Saturday.

Saturday:
The sound of the rain falling on the roof of my house gently awakened me to the morning of the Endurance day of Morven Park. I woke up calm. This worried me, as I ride the best when my adrenaline is up. "It will stop", I said, trying to sound optimistic as the cold rain beat again the truck windshield as Siobhain and I made our way to Morven.
Arriving at Morven park that morning and seeing the first 'A' flag immediately made the nerves kick right in! Siobhain and I got the feed out of the trailer, fed the two horses and waited for our time to come. Luckily, it would not be a long wait, as Fun headed out on phase A at 9:00 a.m.

I don't much remember getting dressed that morning. Walking to the start of phase A would be my first memory. As the starter counted down to the first portion of the roads and tracks, Fun was convinced they had to be counting down to the start of the cross country! He jigged and leaped side to side. On the cue to 'GO', Fun jumped through the start flags and was immediately confused. There were no jumps ahead, and he was being asked to trot! Once Fun conceded that maybe he didn't know what was going, on he settled into a nice trot rhythm. That was until we trotted around the section of the roads and tracks where the steeplechase runs fairly close by!
We arrived at the start of steeplechase two minutes early, at tactical error on my part, as Fun does not 'wait around' too well. As Siobhain tried to convince Fun to stop going in circles, I tried to concentrate on my minute markers for the Chase.
"Five, Four, Three, Two, One, . . . Go!", and did we ever!
"Wow, he is fast! This is so much fun!" . . . "Oh no, I am in trouble!"
I have never galloped anything quite like Fun before, and I got a little lost in the moment. At the three minute marker I realized I was slightly under the time..., Okay, a lot under the time. Trying to avoid totally breaking to the trot, I cantered the last couple hundred meters as slow as I could, but I was still considerably under the time. They didn't need to say a word; as I entered the assistance area after steeplechase, I could tell by the look on Phyllis' and Siobhain's face that they had been clocking me!
Fun pranced sideways down the hill on the way to the vet box and there was no question about which one of us was more tired! While the vets and our grooms looked after Fun, Phyllis relayed information to me about how the course was riding. Honestly, I remember very little of the ten minute box.

"Don't mess this up, Melissa!" Not very motivating words to be telling myself, but I had waited for this moment for so long, wanted it so bad...
"Melissa you have two minutes, get on!" A quick check back to reality, it was time to get on with it! Phyllis gave me a good luck pinch and sent me on my way to the start box.

10...
"Look"
9...
"If you had"
8...
"One shot"
7...
"One opportunity"
6...
"This is everything you ever wanted"
5...
"One moment"
4...
"Would you capture it"
3...
"or just let it slip"
2...

1...

GO!!!!!!!

I ride best when I can completely 'Lose Myself', let instinct take over, and react to whatever it is the horse is experiencing. No limitations.
I remember Fun jumping huge into the second water which had quite a big drop. I remember him landing and feeling him not able to get his front feet out of the way fast enough. He recovered and prevented himself from falling down and I prevented myself from falling off. However, we were off our line to part "B" and we missed it. That would be our only bobble and we finished the course with plenty of time to spare.
Fun and I were greeted at the finish by the entire Windchase team! Morven Park being so close to Windchase gave our current working students, Lin, Audrey, Erin and Jenina, the chance to come as watch cross country-day as well! After giving me a congratulatory hug, Jineen and Siobhain took Fun and began the process of cooling him out until his vital signs were to the acceptable limits so the vets would allow him to be released back to the barns.
Phyllis and my Dad were out on course watching at the second water jump, so they arrived in the final vet box a few minutes later. I will never forget the hug that Phyllis gave me that day! I breathed a sigh of relief. A short sigh that is, as I realized I had to do it all over again in less than an hour!

Expedience was the one I was most worried about. I know Fun is brave. Expedience... I hoped she would be. I felt very unprepared, but I trusted her and knew that she could really rise to the occasion.
After a brief lunch break, Expedience and I headed out on phase A. Naturally a quieter type than Fun, Expedience was more than willing to trot around on Phase A and await patiently for her turn on steeplechase. I planned much better this time, and arrived at the end of steeplechase right on time. Having done the whole endurance phase once already, I felt a lot less stressed the second time around. The fear of missing one of the flags or getting lost on roads and tracks had subsided. I was not, however, more relaxed in the ten minute box!
Expedience really stepped up the the plate. There were several places where I definitely had to 'reassure her' that the fences were absolutely jumpable! I don't think she was quite sure what to make of fence #6, a water to water question, but she responded by jumping way up over the house in the middle of the water! I was shocked when she jumped very confidently into the imposing 2nd water! Water in the past has not been one of her strong points. Expedience ended up putting in a clear round, and finishing well within the time!



Expedience at the Water Jump.


The Groom's Account:
Day 5: The fun day!
I don't know who's more nervous, her or me, although I don't envy her. It's raining and cold and windy! Melissa is real nervous, luckily she snaps at her Dad and not at me!
But this is when things get exciting. Up at 4:00 a.m. to feed the ponies and walk them around in the rain! Try and keep Melissa calm, try and keep myself calm, try and keep everything organized. I had to lead Fun Stuff into the Steeplechase start box without being killed. He knew what as coming! Melissa had her work cut out for her just to keep him from going too fast. She kept all her shoes on (thank goodness!), now I am off to the 10-minute box!
I was so preoccupied with helping our friend Katie, who rode a bit before Melissa, that at first I didn't see Melissa come in (bad groom!). Fun wasn't all that hot, so we didn't have much work in cooling him off. Before long she's out of the box. I see her at fence 4, the big drop to the palisade, and then I run as fast as I can in wet cold jeans to catch her leap over the water-to-water fence and the trakehner (I held my breath over that one!). I could see the second water in the distance; I saw them come down to it and Fun Thing made a massive jump. It was all Melissa could do to stay on, and when he pecked and buckled on landing, she missed the out. But what a jump! Then I sprinted back to the finish to greet an elated Melissa!
Now for the next one! The nerves are just as bad the second time around. But Spedy was a superstar! She had a close call at fence 4, but went clean and inside the time! What a great day! And now for the poultice. What fun is poultice of you don't get it all over you? You have to look the part of the groom!
That evening we all went out to celebrate at a restaurant called the Red Apple, an all-you-can eat Chinese buffet. They may never let horse people into their place again after they saw how much we can eat after a long day! After rolling out of the Red Apple, we went back to Morven to trot the horses on the headlight-illuminated gravel road to make sure one last time that they were feeling well. Both seemed just fine, and we drove back to Windchase for a few hours of sleep before the final day.

Sunday:
Sunday morning I woke up and thought... " I can't believe Expedience jumped into that water!"
Final jog was at 9:00 a.m. That would mean that Siobhain and I had a lot to do in very little time. Both the horses needed to go for a little leg stretch ride, have the poultice cleaned off their legs, and get braided. Both horses felt great when I took them out for their ride, and I was confident that the jury would find them fit as well. At last, 9:00 rolled around, and the jury was in agreement as they tipped their hats in acceptance of both horses.
With the show jumping for the CCI not starting until 1:00, I was left with plenty of time to watch the Advanced division show jump. After the Advanced had finished the CCI course was set, and Phyllis walked around it with me. I thought everything looked very jumpable and was just hoping I would be able to do my horses justice and ride them well.

Fun would be the first to jump. He has a tendency to become very excited if there is a lot of commotion around the area he is warming up. But the endurance the day before took the edge off of him just enough, and he was very well behaved. My turn to jump came faster than I expected. We cantered into the ring and I thought " One more phase, Melissa!"



Fun Stuff prepares for Show Jumping.
Being my own toughest critic, I was a little disappointed in my ride. I misjudged the line from three (a big oxer) to four (a narrow), and ended up pulling the rail on the skinny at number four. Then I over-rode through the triple and was struggling the rest of the way to keep Fun's stride under control. My horse was trying his heart out and we gracious accepted the cours complet ribbon! We had done it, completed our first one star, and in good form!

The Groom's Account:
Day 6: The End!
The Jog on Sunday morning must be the most stressful thing of the whole Event. But both of the ponies were great! Now for Show Jumping!
Fun Thing looked amazing in his white polos and his brass browband. He was a little wild in the ring, but only had one rail down.
In her white polo wraps, Spedy looked almost as sexy as my own horse Connor. Melissa wasn't quite so uptight about this ride as she was on Fun. Again, she rode a beautiful round with only one fence down.
Now we get to go home and celebrate!

~Siobhain
Once again, I couldn't relax completely, Expedience had yet to jump! Sitting in 14th after cross country, we were later to jump in the second division. Once again, my horse was wonderful, she wanted to jump clear. I rode her poorly into the triple combination and she had the first part down; she should have had the second and third parts down too, but she jumped her heart out and left them standing. She finished with just the one rail. It was an odd sensation as I left the ring with Expedience and was exhausted! The week at that moment caught up with me!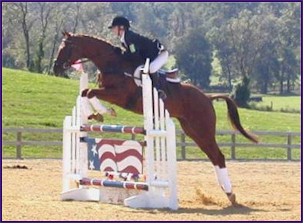 Expedience finishes Morven Park in style!
Mission accomplished! We had done it, both horses made it through the three day! I realize that I am only a small part of this accomplishment. Windchase is fortunate to have access to the best vets, farriers, and trainers around, who not only have great technical skill, but are great people as well.
I owe a HUGE thank you to Siobhain, Phyllis, Jineen, Dr. Bowman, Steve Mayer, my parents, and the rest of the Windchase team for all their help in making Morven park a successful step in the continuing journey.



The Father's Account
I took some much needed vacation time from my job as a construction Ironworker. I thought; it will be great watching Melissa in her 3-Day Event, biking the C&O canal trail, sleeping in and relaxing. After all, her friend Siobhain would be in charge of grooming, there couldn't be anything for me to do but hang out and enjoy the beautiful country side.
What a surprise they had in store for me! I am not a knowledgeable horse person, nor someone afraid of hard work. That being said, I tried to help Siobhain as much as possible by doing what I could. This consisted of carting water buckets and muck tubs, polishing boots, cleaning tack, running errands, moving tack boxes or blankets, or any other manual labor job that needed to be done.
Melissa, in my opinion, is an excellent rider and a competitor, and once she learns to handle the mental stress of competition she will be an outstanding competitor. As I am her Dad, she naturally can vent some of that stress on me. I tried to be the main photographer for her event, help groom, and console her, all the while tip-toeing around like on eggshells not to say or do anything that would make me the brunt of all that 3-day stress!
The 3-day has been five days long, special emphasis on the long. I have been up early, fought extremely vicious rush hour traffic (which must start about 5:00 a.m. down here), and haven't crawled into bed until late in the evening. So much for that relaxing, stress-free Vacation!
My daughter managed to handle the stress well enough to put together a really great week of super performances in all phases. She finished with great placings on both her horses. After the last phase, when she finished show jumping with that big gleaming smile and gave me a kiss and a hug, I figured out that was the reason I spent my vacation there, and I would gladly do it again just for the chance to see her that happy! She is my heart.

~Mark Hunsberger (Melissa's Dad)
The Coach's Account:
Melissa is an excellent rider, trainer and competitor, and a very good Instructor in her own right. She has competed successfully to the Intermediate level, and has trained and competed numerous horses up through the Preliminary level. She has developed a real talent for being able to get on a variety of different horses, and ride them effectively. She holds the position of Assistant Trainer here at Windchase, and is a real asset to our operation. But up until now, due to bad luck and soundness problems, success at a Three-Day Event has eluded her.

But all that has changed now!

I am so glad that Melissa had a good go this past weekend at Morven Park with both of her horses. She is a talented rider and has paid her dues. It has been fun to watch her develop as a competitor and a horseman. She has worked hard, and has poured her heart and soul into her riding and her horses. I am so happy and gratified to see her have the success she has worked so hard for and deserves!

~Phyllis