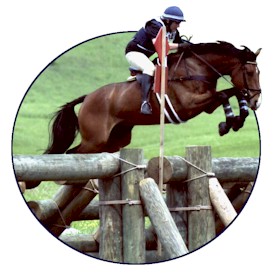 Phyllis and Enniskerry Imp at Plantation Field.



April 28, 2004
The Loudoun Horse Trials were held this past weekend, and even though I couldn't be there myself, Windchase was well represented. Melissa rode both of her horses clear in the Open Intermediate over quite a tough cross-country course. Emilee Libby was 3rd in the OI on Cahir. Windchase student Andrea Coursen successfully moved up to the Open Preliminary on Mystic, one of our homebreds; she was elated to go clean as well. Working student Audrey Tomlin did her first Training level Event on my wonderful former four-star horse Star Bright, she went great to finish 9th. Only her dressage score kept her from placing higher; Bright thinks flying changes should be included in every dressage performance, whether the test calls for them or not!

Audrey competing Star Bright.
Another former Windchase horse performance of note: Bruce Davidson rode Arrow to 13th place at the Rolex CCI****. Arrow is a horse that I owned and trained as a youngster, he came from the racetrack at Charles Town, WV. It is great to see him reach his full potential!
I enjoyed a lovely and totally non-horsey weekend attending my nephew Nick's wedding in Richmond, VA. It was a beautiful wedding and a great party afterwards at the reception; it is always fun to get to spend time with all of the family!

Until next time,
Phyllis



April 23, 2004
Windchase is back online! For some unknown reason, my website was lost in cyberspace for a while on Tuesday; but fortunately the host server has resolved whatever the problem was. Our apologies to any of you who had trouble bringing up the site!
Redlands Pony Club Horse Trials were this past weekend; and at last, nice sunny weather for an Event! In fact, it was warmer than ideal, with temperatures into the low nineties, but after the snow and high winds of two weeks ago, we weren't going to complain too much, and the footing was perfect.
I rode Given Wings and Viatar in the Open Training; they both went really well. Given Wings (a.k.a. Flier) won his division, and received a cooler for overall lowest penalty score in the Training divisions. Viatar, my Bulgarian import, was also a really fun ride; he is still green in dressage but jumped superbly.
Several of Windchase's working students also competed with success. Sara Zofchak was 2nd in the Novice at her first ever Event on the talented 'Mr. B.R.', and Cyndi Boughen was fifth on her young horse 'Partner in Crime.'
| | |
| --- | --- |
| Sara riding 'Mr. B.R.' | Cyndi on 'Partner in Crime' |
Audrey Tomlin rode very well on my experienced Star Bright and would have been 3rd, but she came up with a very original way to get eliminated; starting the cross-country without entering the start box! Also, congratulations to Kaitlin Spurlock, who finished 4th in her first Event on her new horse 'Highland Park. A great way for these riders to start off their Event season!

Until next time,
Phyllis



April 13, 2004
Congratulations, Melissa! What a great weekend she had at Plantation Field!
Windchase's Assistant Trainer, Melissa Hunsberger, moved her two horses up to the Intermediate level this past weekend at the Plantation Field Horse Trials, in Unionville, PA. She rode Expedience, a lovely TB mare that she has trained from a 3-year-old, to an 8th place with a clear cross-country round in the Open Intermediate division. Her fabulous bay gelding, Just Fun Stuff, also went superbly, to finish 11th. It was a very satisfactory outing for both horses in their first Intermediate Level competition. What an accomplishment for Melissa, to successfully bring along these two talented horses! She rode superbly, and it was a pleasure to watch her represent Windchase in such fine style.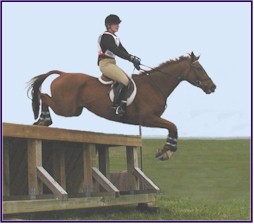 Melissa and Expedience at Plantation Field.
I rode my new horse from Bulgaria, Viatar, in his first competition in this country. He went really nicely around the Training; I really think he is going to be something special. I also took Given Wings out for his first outing of the year, to knock off the rust and get back in the swing of things. What fun to be back out on the cross-country courses again! We were actually quite lucky with the weather; it was cloudy and drizzly, but we didn't get the heavy rains that was forecast. But it has been raining hard ever since!

Other former Windchase horses enjoyed success at Plantation Field. Cahir, ridden by Emilee Libby, won the Young Rider's Open Intermediate division. And her sister Jennifer Libby was fourth with Draco. Also, Grand Marnier, formerly trained by Windchase, finished 4th in the Young Rider's Open Preliminary with Krissy Smith.
Other recent notable performances by Windchase horses: Mike Huber won the Fort Worth Trinity River Horse Trials CIC** in Texas with the lovely Irish Sport Horse import Invictus. Mike Winter of Canada was 3rd in the Open Intermediate at North Georgia with Daybreak, another Windchase Irish import. And congratulations to Toni Hubenette for winning the Open Novice at Galway Downs, CA, with the talented Regal Mile. It is always so much fun to watch our alumni horses competing successfully on the circuit!

Memo to Mother Nature: We made up for the drought of 2002 last year. There
is no precipitation deficit. It is OK to stop the rain now.

Until next time,
Phyllis



April 7, 2004
Happy Easter!

How Easter Eggs are conceived!
Until next time,
Phyllis



April 5, 2004
Did I say it was Spring? Holy Cow, was I wrong! We went to Weave A Dream Horse Trials yesterday, and froze our butts off!
First of all, we had to leave the farm at five in the morning. Which of course meant getting up at four. But since the change to daylight's savings time was Saturday night, that made it really like three o'clock. But what the heck, three hours of sleep should be enough for anyone, right?
We arrived on the Event grounds just as it was getting light. And it was drizzling rain. I got on Viatar, one of my new horses from Bulgaria, to warm up for an 8:24a.m. dressage test. The temperature was 36 degrees, the wind was picking up, and so was the rain. The warm-up was in deep mud on the side of a hill, and by this time Viatar and I were both freezing to death. Now it was pouring rain. I kept asking the stewards and bit check people if they were allowing raincoats, but of course, nobody could quite figure out the answer, so I had to take it off for my test. About then is when the sleet started. The wind was blowing it right into our faces. I could hardly see the dressage letters or the centerline. When we finished the test, they formally announced that raincoats could be worn. Viatar said he wanted to go back to Bulgaria!
Needless to say, I didn't run cross-country. In fact, I didn't even go walk the course! It just wasn't worth jumping in those conditions. Windchase working student Audrey Tomlin was riding Star Bright in the novice, but I told her I didn't think she should run him either. She said that if she couldn't jump or go cross-country, she was damned if she was going to get all dressed up and go do dressage in the pouring rain and snow, so we all huddled in the truck with the heater on and watched McLintock on Audrey's portable DVD player!
Towards the end of the morning, the rain stopped. Then the wind really picked up. It was gusting up to fifty miles per hour, and now the temperature had dropped to 34 degrees. It was time for my second dressage test! This time it was with Master Illusion, my lovely young horse from Ireland, who was there for his first Event ever! He was understandably a bit on the high side starting his warm-up, but he actually settled down really quickly and put in quite a good test. By the time I thawed out from that, I decided to call it a day.
Cindy Boughen, a Windchase working student from Canada, did run all three phases on her young horse 'Partner in Crime'; he was doing his first competition in the Beginner Novice. He jumped well in the wind and mud, to finish with a double clear. Emma Dixon also competed with Guinness, putting in a nice steady dressage ride, but opted for leaving the jumping for a better day.
Let's hope that we have a drier and warmer time this coming weekend, when we head up to Pennsylvania for Plantation Field!

Until next time,
Phyllis



April 2, 2004
I love this time of year. After a long and somewhat dreary winter, it is always so special to be able to escape the indoor arena and just go out hacking, not to mention cross-country jumping! As Spring starts to take hold, each day is different and each is magical; watching the first flowers start to bloom, seeing the leaves start to bud on the trees, watching the forest take on the colors and hues of the season. "In every wood, in every spring, there is a different green." There is a quiet joy that can't be matched, to be riding around the farm on a nice horse as the sun sets on a balmy early-spring evening.

A Windchase early spring sunset.
Event season is now underway! Melissa ran both of her horses at Morven Park last weekend, and they went great; with Just Fun Stuff finishing 8th in a very competitive division of Open Preliminary, and only a somewhat over-enthusiastic dressage test from Expedience keeping her out of the ribbons. They will both move up to Intermediate at their next outing. I will take out some of my youngsters this Sunday to Weave A Dream Farm, along with a whole group of Windchase students having their first outing of the year.

Melissa on Just Fun Stuff at Morven Park.
Meanwhile, many other former Windchase horses continue to have a great deal of success on the early southern circuit. These are all horses that have been produced or imported by Windchase and sold to their current riders or owners. It is immensely satisfying to me to watch these horses enjoying successful careers!
I have been especially thrilled to follow the success of Enniskerry Imp and Gina Fiore. Imp is one of my all-time favorite horses, and as hard as it was to part with him last autumn, I am thrilled to see him forming such a successful relationship with Gina. They placed fourth in the Open Intermediate at Rocking Horse III in Florida in late February, and recently finished 2nd in the OI at Southern Pines, behind only Steve Bradley's Burghley mount. I look forward to watching them progress!
Jennifer Libby has continued her run of success with her lovely Thoroughbred Draco, placing 3rd at Rocking Horse and winning the Young Riders Open Intermediate at Southern Pines. She also placed 6th in the Preliminary at Southern Pines with the lovely Irish Sport Horse, Callaghan.
The spectacular grey Irish horse Invictus placed 5th at Red Hills in the Advanced with Mike Huber. This is a horse I imported from Ireland when he was young and green, and I thought at the time he was quite special. It is so great to see him realizing his potential!
Mike Winter of Canada is now competing another of my Irish imports, Daybreak. This incredible jumper has been very successful at the Preliminary level with his owner Carolyn Lowe, and now Mike just finished 4th in the Open Intermediate with him at Poplar Place, GA. Also at Poplar Place, Melanie Smith was 2nd in the Young Riders Open Intermediate with a Windchase homebred, No Tomorrow. And Amanda Judge moved up to Advanced with the fabulous New Zealand import Saxony, finishing 10th with a clear jumping round cross-country.
Melissa Nice has been placing successfully with the young and promising Macarno, whom I imported from Ireland last summer; she will move him up to Preliminary soon. It will be great fun to watch that pair progress.
Also, Pedro Gutierrez is off to a great start for the season with his two horses in Mexico; he was recently 1st in an OP with his lovely homebred Ebro de la Galerna and 3rd with the talented New Zealand mare Iona Grey. They are both on track for Radnor this autumn!

Until next time,
Phyllis



March 19, 2004
I just returned from a fabulous family trip in Aspen, Colorado. My Mom and I went out to visit my brother Lad, and his wife Sandee, at their fabulous home right on the ski slopes at Snowmass. We were joined by my sister Patty, her husband Rob, and their daughter Lindy. We had a great time!
Lad's house is absolutely incredible. It is spacious and beautiful, with most of the rooms centered around the stunning views from the huge picture windows. On one side of the house you can see the ski slopes, from another side you have fabulous views of the spectacular mountain, and in yet another direction you can look down over the whole valley. Once you get use to the lack of oxygen at that altitude (his house sits at over 9000 feet), it is an absolutely amazing place to be.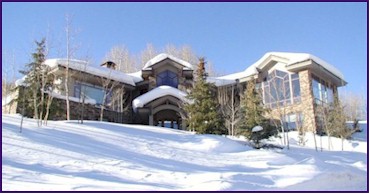 Lad and Sandee's house at Snowmass.
I hadn't been skiing in thirteen years. When I was younger I loved to ski, and usually managed to take a trip every winter. In more recent years, when my arthritic knee got really bad, I felt it wasn't worth the risk; I figured I had better save whatever my knee had left for riding! But since having my knee joint replaced last winter, I decided that since I can now ride without pain in the knee, it was worth trying to ski again.
I wasn't sure how my knee would hold up to it. I wasn't sure if I would remember how to ski at all! (They say it is like riding a bicycle, you never forget, but I never really did get the hang of riding bicycles; those things are dangerous!) I figured I would just ski slowly and conservatively, and take it easy. Right. That lasted all of about ten minutes!
When I first put on the skis, I felt like I had never been on them before. In fact, I felt like a total spaz as I cautiously slithered my way over to the chairlift. I managed to get on it without incident, but when we got to the top I leaned back to far while getting off, and managed to slide down the unloading ramp on my butt! But after a few tentative minutes starting out down the mountain, I soon relaxed and relied on muscle memory. Within two runs down the mountain, I was totally back into the swing of it, and having an absolutely marvelous time!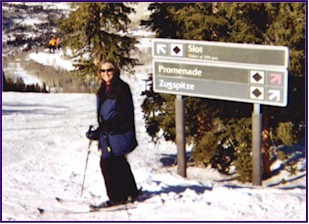 Hitting the slopes.
The great thing was, my artificial knee handled skiing perfectly. In fact, it didn't bother me in the least! By lunchtime of the first day I was skiing as well as I ever did, and I was soon doing the Black Diamond slopes again! When my brother Lad goaded me into a race with Lindy, I realized that my "skiing conservatively" plan was totally out the window. Here I was racing with a nineteen-year-old! OK, yes, she did beat me, but not be a whole lot!
The whole ski experience was wonderful. The weather was perfect; with highs in the forties, bright sunshine (I came home with a tan!), the sky that perfectly clear blue that you only get in the Rockies. They had gotten a foot of fresh powder the day before we arrived, so the snow conditions were super. The view from up on the mountain is just out of this world; you can see forever. What an incredible Rocky Mountain High!
Oh, yes, and when we were done skiing, we would enjoy wine and music in the outdoor Jacuzzi!
We also went snowmobiling one day. This was really a lot of fun, and it was especially great because this was an activity that Mom could do with us. At 83, she no longer skis, but she rode with the guide on the snowmobile, and it was a blast. Driving those machines was easier than I had expected, and it was really a lot of fun. We went along lovely paths through the Aspen groves, following a small river up the valley towards the beautiful Maroon Bells, a very famous spot with an incredible view. We couldn't go all the way to Maroon Lake as the trail was closed because of high avalanche danger, but we enjoyed spectacular scenery and a great lunch at a rustic cabin before returning home.
Another fabulous activity was the sleigh ride to dinner at the Pine Creek Cookhouse. This restaurant sits way back in a secluded valley, and in the winter, the roads to it are closed due to being under many feet of snow; so the only way to get there is to cross-country ski, snowshoe or ride in a horse-drawn sleigh. We took the sleigh ride, and it was truly spectacular.
Picture this: the air is clear and cold, the sun is just setting, the snow is pristine. You are sitting bundled up with your family in an open sleigh behind two lovely black Percherons. As you glide along the valley looking at the majestic mountains in the fading light, the only sounds you hear are the footsteps of the horses and the quiet jingle of their harness. Though you are hungry and a bit cold, it still seems all too soon when you arrive at the Pine Creek Cookhouse, where a cheerful light from the door welcomes you. You go into the lovely log building and enjoy drinks and appetizers. The meal is wonderful; for the adventurous you can order elk, buffalo and caribou!
After dinner, it is back into the sleigh for the return trip; but now it is fully dark. The stars illuminate the sky like so many diamonds, and Orion is standing on the mountaintops. The quiet night is primeval. Gradually the waning moon starts to rise behind the mountains, flooding the tops of the opposing peaks with light. As the moon climbs higher, the line between light and shadow creeps down the slopes and closer to you. Once the moonlight line comes low enough to reach you, you can see the moon crowning mountain heights. Magical!

Another highlight of the trip was the local fox. Sandee was watching out the window one day, and a lovely red fox made its way through the deep snow in the yard; but he was injured, limping quite badly. Sandee decided that he might be hurt too badly to hunt, so she put a turkey leg out by the hot tub for him. While she watched, he came and got it, looked around with a decidedly grateful expression, and had probably the first meal he had managed since his injury. It has become a regular ritual to put out food for the injured fox, and he has been eagerly accepting these offerings. Sandee named him Zorro, and has been enjoying trying to catch sight of him during his daily visits.

I had a wonderful time in Aspen, but it is always nice to come home. It was a super vacation, but as always when I am away, I missed the horses. But things here at Windchase look great; it was a real treat to come home and be able to jump outside, and even go cross-country. The grass is getting green, the spring peepers are coming out, and spring seems to be just about here! It is time to get busy, as the Event Season is just around the corner, and I have a really nice string of horses to compete this year!

Until next time,
Phyllis



February 28, 2004
Dare I say it? Dare I breathe a word of it? I think it may be almost spring! Dare I even dream it?
You know the movie, "Groundhog Day"? That is what it has felt like around here the last couple of months. We felt as if we were living the same drab winter day over and over and over again. But now, at last, warm weather and sunshine! Let's hope it lasts!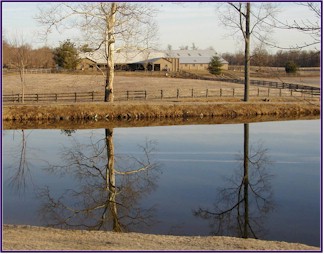 Waiting for Spring
As we have slogged away coping with icy ground and frozen water troughs, one of the brighter spots has been following the progress of former Windchase horses. A number of horses we have sold are currently competing on the southern Eventing circuit with excellent results.
Saxony, one of Pedro's New Zealand imports, recently won the Young Riders Open Intermediate with Amanda Judge at Pine Top, GA. Mike Winter finished 2nd in the Open Preliminary at this event on Daybreak, a really cool horse I imported from Ireland. Jennifer Libby won the Young Riders Open Intermediate at Rocking Horse, FL, on Draco, an incredibly talented thoroughbred form Charles Town, WV. Jennifer also placed 2nd in Open Preliminary at Basingstoke, FL, on Callaghan, another of my Irish imports. And Mike Huber continues his great partnership with Invictus, finishing 3rd in the Open Intermediate at Rocking Horse. Invictus is another of the horses I have brought from Ireland, and it is really fun to watch his success!
In the meantime, I am enjoying working with my new horses from Bulgaria, and preparing for the spring Eventing season, which will start up here in late March. We are just counting the days until it is thawed enough and dry enough to school cross-country!

Until next time,
Phyllis



February 7, 2004
Once again, its the "Windchase Winter Wonderland"! Everyone here is so sick of cold weather, snow and ice! After the severe winter we had last year, I was sure we were due for a milder one, but alas, it was not to be.
The good news is, the weather warmed up a bit this week, into the low thirties, rather than single digits and teens. The bad news is, the warmer weather also brought a winter storm; with more snow, then sleet and freezing rain. So yesterday we ended up with about an inch of ice covering our world. I do have to admit it was beautiful, but wickedly treacherous! But I did manage to slip and slide around the yard and take a few pictures.
But we sure are looking forward to spring!

Until next time,
Phyllis



January 26, 2004
They are here! Can you believe it? It's a miracle. They actually exist!
The Bulgarian Horses have finally arrived at Windchase. Since I hadn't seen them since mid-November when I traveled to Bulgaria to purchase them, I not only hardly remembered what they looked like, but I had started to doubt if they really existed. Perhaps the whole thing was an elaborate Internet Scam!
But now they are here. And they are as lovely as I (vaguely) remembered them being. After all of the mishaps and dramas with their trip across Europe, and their being temporarily denied entry into the United States (see previous journal entries), it is quite a relief to finally have them home.
I drove up to New York on Saturday afternoon, hoping against hope that this time things would go smoothly, all of the horses would pass their bloodwork, and that they would actually be released to me on Sunday morning as planned. And it actually happened! Not only that, I was able to narrowly beat the predicted winter snow-storm, and arrive home before ice and snow began. The horses seem to have arrived in good shape, and I am eagerly looking forward to beginning work with them!

Zavistlif, one of the Bulgarian Horses.
Until next time,
Phyllis



January 23, 2004
Well, I am going to try it one more time. Tomorrow, I drive up again to Newburgh, NY, in another attempt to pick up my alleged Bulgarian horses from the quarantine facility. Do you think they will really get here this time? Who knows? Watch this space!

Until next time,
Phyllis



January 19, 2004
The saga continues! About the Bulgarian Horses, that is. Bulgarian Horses? What Bulgarian Horses? At least, that is what I am starting to wonder. Maybe there aren't really any Bulgarian Horses! Perhaps the whole thing is an elaborate Internet hoax!
As of my last writing, I was setting out for the USDA quarantine facility in New York to pick up the three lovely horses that I purchased in November in Bulgaria. They had arrived in Newburgh after their protracted tour of Europe, en route to America. Well, the horses are still in Newburgh!
After driving up last Saturday afternoon, and arriving early Sunday morning at the quarantine station to collect them, I learned that one of the other horses on the plane had tested positive for a disease called piroplasmosis. This is one of those diseases that is common in Europe but not in the US, so horses are all tested for it on entrance to the country. If they are found positive, they must be returned to Europe! All of the horses on the plane had been pre-tested, but apparently occasionally it happens that a horse tests negative in Europe, but the stress of the plane ride bumps the titer level up in the blood and when they reach Newburgh they then test positive. Fortunately it wasn't one of my horses, but unfortunately, all of the horses on the flight were then held for an additional two weeks, and then retested. Hopefully, in another week they will be released to come home. I am glad to know that the USDA is protecting American horses by their rigorous testing procedures, but it certainly does make importing horses more difficult! Very frustrating, I guess I have to wait a while longer to play with my new toys!
It has been wicked cold; not only is the ground frozen hard as a rock, but even the footing in the indoor arena has frozen solid! It is a never ending battle with frozen watering troughs and pipes, clearing ice off of the water buckets in the stables 4 or 5 times daily, and trying to ride without your hands and feet freezing off. It often brings to my mind that classic short story by Jack London, "To Build a Fire."
The working students have been doing a great job through the cold weather, and also finding innovative ways to keep themselves both warm and amused. They showed up at my house the other night having dressed up Audrey in a very fetching ensemble; she must have been quite the eye-catcher later when they visited the local Wal-Mart!

Wal-mart bound!
Until next time,
Phyllis



January 9, 2004
How does this sound? A week of leisurely travel across Europe. Starting in Ruse, a lovely city near the Black Sea, you traverse across Bulgaria, and then spend the weekend in Greece. Then you follow the coastline north, up through Albania and Yugoslavia, and take a short cruise across the Adriatic Sea to Italy. You have a nice layover there at the seaside town of Ancona, before travelling across Italy, and then into Switzerland. There you enjoy breathtaking mountain scenery as you traverse the snowy Swiss Alps. You then travel northwards across Germany and a corner of France, to the city of Liege, in Belgium. Onwards then to The Netherlands, to the end your European tour in Amsterdam, where you catch a plane bound for New York City.
Does this sound like a dream vacation? An idyllic holiday excursion? No, it's the route my new horses from Bulgaria took to catch their plane to come to the US!
It's actually not as romantic as it sounds. The logistics have been a nightmare. As you know if you read this page regularly, in November I made a trip to Bulgaria, and purchased three horses. I have been eagerly anticipating their arrival at Windchase. But trying to get them here has been an exercise in frustration! First of all, the shipping date was long delayed, between the unavailability of flights and the lack of space in the USDA quarantine facility in Newburgh; a situation made even worse by the holiday season. So well over a month has passed since I completed the purchase of the horses. Fortunately, my contact in Bulgaria, Ilian, brought the horses to his stable, so I knew they were well looked after. And he was going to personally deliver the horses to Amsterdam, where they would catch their flight.
But that is when the trouble started! First the truck with the horses was held up for a day and a half at the border to Greece, where the customs officials did not have the proper information about what documentation was needed, and would not let them through. Being a weekend, it couldn't be resolved until Monday morning!
Then, after they took the ferry to Italy, the van broke down in the town of Ancona. I got a call from Heike, my shipping agent in Germany, informing me that the horses were stranded. What a helpless feeling that was! Heike said she could arrange for another truck to come and rescue them, but it would be exorbitantly expensive. But the options seemed to be to hire this truck, or leave the horses standing on the side of the road, so I really had no choice. So a van was sent from Milano to rescue them. After that, there were even further delays, as the border officials there could not understand why the truck registration numbers on the vehicle did not match those on the paperwork that the horses had left home with!
We were then engaged in a race against time; if the horses didn't make it to the airport in Amsterdam by midnight Thursday, they would miss their flight. In that case, not only would it mean more delays, but I would still have to pay for the airfare! So braving snow-covered roads, mountain passes in the Alps, and multiple border crossings, the drivers that Heike had sent pulled out all stops to get them to Amsterdam in time. Miraculously, they arrived with minutes to spare. Surely they were utterly exhausted; what was meant to be a two day trip ended up being a journey of almost a week! But they caught the flight, thanks to Heike's great work organizing the rescue, and they are at the quarantine facility in New York as I write this. I plan to pick them up this weekend, they should finally be at Windchase on Sunday night. That is, unless something else goes wrong. Keep your fingers crossed!

Until next time,
Phyllis



January 1, 2004
2004. 2004? 2004!!! Can you believe it? How time flies!
We ushered in the New Year last night with the annual Windchase New Year's Eve Party. I have always hated boring parties, so I try to have a theme for my New Year's parties, and keep things interesting. This time we divided the guests into two teams, to fight against International Terrorism and to locate Saddam's Weapons of Mass Destruction. And I am happy to tell you, after following the clues all over the neighborhood, the Red Team was able to successfully complete the mission! I fell a little safer, don't you?
And now it is the first of January. The new year lies before us, a blank page, or a clean slate. What will it bring? I always find this time of year kind of exciting!

Until next time,
Phyllis