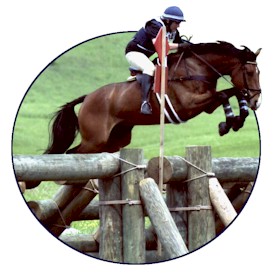 Phyllis and Enniskerry Imp at Plantation Field.


November 2, 2004
Windchase was well represented in the Novice division at the CDCTA Horse Trials this past weekend. It is always an honor to get to compete at this great venue, Great Meadow, where the Virginia Gold Cup Steeplechase is run. The turf on the cross-country course is second to none. We had beautiful Eventing weather, and a fun weekend!
Cyrillic, my young horse from Bulgaria, finished his season in good form, placing 5th in the Open Novice division. He did a lovely dressage test and jumped really nice double clear rounds in XC and SJ; he was actually tied for 3rd, but lost the tie by having faster time on cross-country, thus being less close to the optimum time than the others! But more important than his placing is how he is going. He gives me an incredible feel cross-country, and is a total joy to ride every day. I feel he has all of the attributes to be a top International horse in the future. It is really exciting to bring along a young horse with this kind of potential and talent!

Jenina Segale and Southern Sage
Several of Windchase's working students had great outings at CDCTA also. Jenina Segale rode her talented young horse Southern Sage to a great performance in all three phases, finishing in 2nd place in the Novice. This was a particularly good achievement, as she has brought this horse along herself and worked really hard with him during his training process. And Cyndi Boughen of Canada had a super go on her attractive young mare Solar Kiss, finishing 5th. This is a really nice mare, with tons of talent, It is very satisfying to me to watch my students have such success in competition!

Until next time,
Phyllis



October 28, 2004
October in Virginia is always magical. The clear crisp weather is invigorating after the heat of summer, and the autumn foliage is spectacular. Windchase is just a paradise! Every day, I ride around the farm and think about how lucky I am to live in this beautiful place; I never take it for granted!

Windchase!
I love the process of training the young horses, and of schooling and improving the more experienced ones. There is nothing better in this life than having the chance to ride nice horses! And at the moment, I have a really super group to ride. All three of the recent arrivals from New Zealand are outstanding, and I am really having a ball with them. They were imported by Pedro Gutierrez of Mexico City, and he made some really good choices when he selected them.

Heaven Sent, one of the new Kiwis offer for sale.
We are also having a great time working with our homebred three-year-olds by our Irish stallion Windstar. They are sensational movers with great temperaments, and it is really exciting to watch these talented youngster develop. Windstar's oldest offspring are really starting to have a lot of success in competition; it is really exciting to watch them develop.
Every morning, when I wake up, I am eager to go to the barn and ride. I love the chance to train horses, and to communicate with them, and hopefully increase their performance and confidence. How lucky I am, to be able to have my career also be my passion!

Until next time,
Phyllis



October 16, 2004
The weather was absolutely beautiful for the Radnor Three-Day Event, the course was lovely, and the footing was superb. The autumn leaves were starting to turn to their full glory, the sky was clear blue most of the weekend, and it was perfect Eventing weather. Which made it really difficult to be there without a horse! As much as I enjoyed going up and helping my students, it was hard to sit and watch for four days and not be out riding!
Congratulations to Siobhain O'Connor of Canada, and Melissa Hunsberger of Windchase, USA; they both had a really successful time in the CCI** at Radnor. Siobhain put in a lovely steady dressage test on her experienced thoroughbred 'Flying Advance,' and followed it up with a fabulous double clear cross-country round and a good show jumping, ending up in a credible 25th place out of over 90 starters. Melissa also put in an excellent performance on 'Just Fun Stuff,' jumping around the course really well but just missing the turn coming out of the first water jump to incur 20 penalties. They looked really super in their first two-star, and this is a pair to watch for in the future!

Siobhain and Flying advance at Radnor.
Apologies to anyone who had trouble accessing my website over the weekend; the site was down for several days for some cyberspace reasons beyond my comprehension, but a call to technical support seems to have resolved it!

Until next time,
Phyllis



October 5, 2004
I had a great time at the Morven Park Three-Day Event!
In fact, I have had more fun competing my horses this season that I have had in years.

Riding at the highest levels, doing the Three-Star and Four-Star Events, trying to earn a spot on the U.S. Equestrian Team, competing at venues such as Lexington and Burghley; this is an amazing lifestyle. It has enabled me to travel the world with my horses, ride in some of the most elite competitions, and to represent my country in the Olympic Games and the Open European Championships. It has been a passion, an incredible opportunity, and an all-encompassing dream come true.
But 'fun'? I am not sure that is how I would describe it. It was fulfilling, rewarding, and incredibly intense. The stakes were high, and the tension and pressure was considerable. I wouldn't trade those experiences for anything; but just plain 'fun' is not exactly the first word that comes to mind!
Then, for the last 4 or 5 years, I have been riding with a lot of pain because of a bad knee. Arthritis from an old injury had progressed to the point where I could hardly use my right leg, and riding was uncomfortable and painful. Because of this, I hadn't ridden in a Three-Day Event in over three years. But about a year and a half ago I had a total knee joint replacement, and it was a great success. So now, with my new knee, I am riding without pain for the first time in years. And focusing now on bringing along young horses rather than competing Internationally, I can just go out and have fun!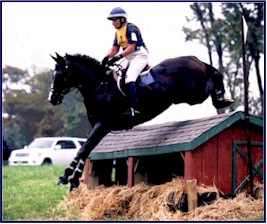 Viatar and Phyllis at Morven Park CCI*.
And that is just what I did this past weekend. I rode Viatar, my talented six-year-old from Bulgaria, in the CCI* at Morven Park. And without a lot of pressure or expectations, I just went out to have a good time!
I was very proud of Viatar. He put in the best performance he could have possibly done. He is still somewhat green in dressage but improving steadily, and he tried his hardest, putting in the best test he has done to date. On cross-country he was incredible, making light work of the challenging track, and taking the direct route through both water jumps like a pro. He show-jumped clear as well, and ended up finishing 15th out of over 50 starters, a result I was well satisfied with. And the bottom line was, I really had a blast!

Morven Park also held the Championships for the Young Event Horse classes. This is an excellent new competition series for potential eventers, where the horses are judged on quality and talent. For the Championships, horses who had qualified at earlier competitions were eligible. They did a dressage test, then were judged on conformation, and then jumped a course that combined cross-country obstacles and show jumps. For the Championship class they had brought in a judge from Ireland who had a lot of experience judging such competitions over there. To my delight (but not surprise), Play Zone, ridden by Melissa Hunsberger, won the Championship for the four-year-old division. And my other young horse from Bulgaria, Cyrillic, was Reserve Champion in the five-year-old division, only beaten by a much more experienced Preliminary horse.
So all in all, it was a good weekend for Team Windchase!

Play Zone, Young Event Horse 4-year-old Champion.
And now, it is off to Radnor! I am excited to go and help the Windchase Farm NAFTA Team! This consists of Pedro Gutierrez of Mexico riding his talented mare Iona Grey, Siobhain O'Connor of Canada on her Flying Advance, and our own Melissa Hunsberger, of the USA, riding Just Fun Stuff. They will all be competing in the CCI** at Radnor. I'll let you know how it went when I get back!

Until next time,
Phyllis



September 28, 2004
The Middleburg Horse Trials is one of the nicest Events around; it is truly a pleasure to gallop around the course on the lovely turf at Glenwood Park. Windchase horses had excellent performances there last weekend.
I rode Given Wings in the Open Preliminary, and he went like a champ, tying for first place in dressage, and just a few time penalties then moving him into fifth overall. This horse has always been extremely talented, but he has also been a bit of a challenge, often acting difficult and quirky; so it really gives me a huge amount of satisfaction that he is now going so well. All of my hard work with him is really starting to pay off, and he is a really fun horse to ride.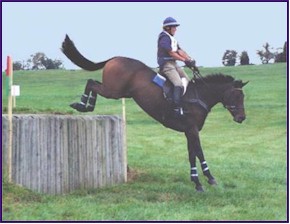 Given Wings and Phyllis at Middleburg.
I also rode my young horse from Bulgaria, Cyrillic, in the Open Novice, and despite a few exuberant bucks in the dressage ring, he won his division.
Melissa Hunsberger rode her Just Fun Stuff in the Open Intermediate; they put in lovely clear rounds both show jumping and cross-country in a good last outing preparing for the two-star at Radnor.
Melissa also rode my talented four-year-old Play Zone in the Open Novice, he went beautifully to finish fifth.
And now, I am off this week to Morven Park with Viatar, to do the CCI* Three-Day Event! Hurricane Jeannie has dumped about 6 inches of rain on us today, so by the weekend the ground should be excellent. The Event should be a lot of fun, and I am really looking forward to riding the lovely CCI course!

Until next time,
Phyllis



September 22, 2004
It's always fun to play with new toys. And our exciting new toys at Windchase are the latest Kiwi horses! Pedro Gutierrez recently visited New Zealand, and selected a really nice group of experienced Preliminary level Event Horses to import for resale. They arrived a few weeks ago, and we have been letting them settle in and recover from the long and tiring journey. But now they are rested up and ready to go, and we have put them to work.
What a nice group of horses! We had a super cross-country school the other day, and they were awesome. I think this is one of the nicest group of Kiwi's yet! For more details on them, see the For Sale page!

Until next time,
Phyllis



September 21, 2004
Plantation Field. One of the nicest Events on the circuit, on the most beautiful grounds to be found anywhere. The Event that I have been looking forward to all summer, one of the highlights of the autumn season. It was to be the last run for my horse Viatar, who is heading for the Morven Park CCI*, and also the last run for our Radnor horses. Pedro Gutierrez from Mexico City, Siobhain O'Connor of Canada and our own Melissa Hunsberger, Windchase's Assistant Trainer, were all doing their final prep for the Radnor CCI**.
Enter Hurricane Ivan.
Yes, it has been somewhat dry the last six weeks or so. And yes, we have been hoping for some rain. Hurricane Frances brought us a bit of moisture the previous week, and we welcomed the it. We were hoping that Ivan would bring us a bit more.
Be careful what you wish for!!!
We drove up to Unionville, Pennsylvania, on Friday. We settled into the temporary stabling, and were looking forward to a great weekend. The horses were fit, the course looked great, everything was set for an outstanding competition.
The rain started around midnight. First the storms moved in; complete with high winds, lightning and thunder. Then it settled in to a steady downpour. I was scheduled for a dressage test at 7:42 a.m. with Viatar, and fortunately the rain let up around 7:00, so I was feeling optimistic. When I was preparing to get on to warm up a half hour before my test, the question was, leather boots or rubber? The leather boots look much better, and are nicer to ride in, giving me a better feel for my leg on the horse. The advantage of the rubber boots, of course, is that they are waterproof. But they are a bit stiff and unwieldy, I would always rather wear the leather ones, if conditions are decent. So, with twenty minutes to go until my dressage test, I chose the leather boots.
Wrong choice!!! Within five minutes of getting on the heavens opened, and the rain came down in a deluge. Immediately I was soaked, along with my leather boots, my saddle, and all of my riding clothes. I don't think my leather boots will ever be the same!
Viatar was a trooper, muddling along in the torrential rain and mud the best he could, but the conditions were miserable, and the footing appalling. And it wasn't even 8:00 yet! It then proceeded to pour for the next six hours, often with enough wind that the rain was going sideways. The stalls were flooded, and the horses had to wear rainsheets in the stable. We got over six inches of rain in the next six hours, and we felt that jumping in these conditions was out of the question. It was time to go home!
I withdrew my horses, as did Melissa, Siobhain and Pedro, and we set off for Windchase. As if to add insult to injury, my trailer brakes chose this weekend to go out, so I crept home at very slow speeds, to avoid a situation where I needed to use the brakes!

Upon arriving home, we found that it hadn't rained nearly so much in Virginia as in Pennsylvania, so we were able to go have a great XC school and gallop today, to make up for missing the run on the weekend. It was one of those beautiful clear crisp days of early autumn, when the sky is incredibly blue and the trees are just starting to show their changing colors. To gallop up the hillside on such a beautiful day, on lovely fit horses, with excellent footing and pleasant temperatures; it just doesn't get any better than this!

Until next time,
Phyllis



September 8, 2004
Although my own horses had this past weekend off from competition, Windchase was well represented at the Menfelt Horse Trials. Pedro Gutierrez came up from Mexico City and rode his talented mare Iona Grey in the Open Intermediate. On Saturday they put in a beautiful dressage test, and jumped around the cross-country in grand style. Following that up on Sunday with a competitive show jumping round, they finished 5th.

Pedro and Iona Grey
Siobhain O'Connor, from Canada, also returned to Windchase for the autumn competition season. She had a great trip around Menfelt on her lovely horse Flying Advance, placing 8th in Open Intermediate. It is great to have Siobhain back at Windchase!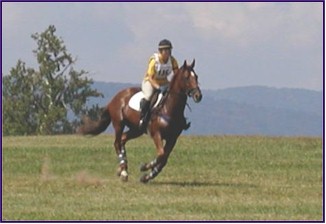 Siobhain and Flying Advance
Everyone here at Windchase sends their best wishes to Linda Armstrong, a good friend, and long-time boarder. Linda has boarded her horses with me for over 20 years. Now, after all this time, she has just moved herself and her horse to Florida. And as soon as they arrived, they had to evacuate for Hurricane Frances! Welcome to Florida, Linda!
It has been very dry in Loudoun County for the last 6 weeks or so, and the ground has become quite hard. So we are quite pleased that Frances has finally stopped tormenting those poor Floridians and is bringing some rain to Virginia!

Until next time,
Phyllis



August 11, 2004
Hot summer days, a slower pace of life, and biding the time between Event seasons. I love the summertime.
Don't get me wrong; I love the hustle and bustle of the competition season. Events every weekend, and at times a somewhat frenetic pace to get everything done. I like the busy times, as I get very motivated, and I enjoy the feeling of having accomplished a lot in the day. I am usually happiest when I have about twice as much to do as I can possibly get done (which is most of the time). But at the same time, I can really appreciate the in-between times. The long slow summer days dedicated to quiet preparation for the next competition season. Time to concentrate on bringing along the young horses, breaking in the babies, and working on improving the basics with the competition horses. And also, time for a little relaxation!
Jineen and Melissa have done a great job breaking in our crop of homebred three-year-olds by Windstar, it is rewarding to see them going so well under saddle. They are hacking out and schooling well in the ring; they really demonstrate the excellent movement and personality that Windstar passes on to his youngsters.

In the summer we try to get most of the riding and work done in the morning, leaving time in the afternoon for a break, a rest, or a swim in the lake. Last week, we all went tubing on the Shenandoah River, near Harper's Ferry. This was great fun; floating down the river and through the rapids in inner tubes. Everything went smoothly until we reached the take-out point, to find that working student Leslie had inadvertently gotten out on the wrong side of the river, and then couldn't get back across without being swept downstream. How to get her to our side of the river posed quite a dilemma, but it was solved by coercing several guys in kayaks to go and rescue her, towing her tube across behind them. We won't go in to the incentives we had to offer them to get this done!

I went down to my sister Patty's house on the Chesapeake Bay this past weekend, to attend the wedding of her son, Mitchell. It was an absolutely lovely wedding, and we had a great time, as most of the family was there. All of our family is pretty close, and we really enjoy each other when we have occasion to get together; this was no exception! We had a super time, starting with a casual and fun rehearsal dinner party at Patty's house on Friday night. The wedding and reception on Saturday were lovely; Mitchell and his bride Amy make a beautiful couple. And on Sunday morning, we all went out on Patty and her husband Rob's boat; what a fun trip that turned out to be! They took us boat tubing, where they put you on a big inner tube sort of thing on a rope behind the boat, and then take off at a million miles per hour. The challenge is to guide the tube in the wake of the boat and avoid capsizing!

Time flies when you are having fun! Summer is almost over, the autumn Event season is upon us, and in the next couple of weeks the relaxed summertime way of life will give way to the busy competition schedule. In the meantime, lets all cheer for our Olympic Team, which will be representing us in Athens, and wish them the very best of luck!

Until next time,
Phyllis



July 31, 2004
Finally, here it is! The report from my Ireland trip. Better Late than Never!
Until next time,
Phyllis



July 29, 2004
July is not usually a great time to go Eventing, but with the new horse trials at Surefire Farm, right here in Purcellville, I couldn't resist entering, despite the prospect of hot and humid summer weather. And I wasn't disappointed!
We were incredibly lucky with the weather. Although it had been in the nineties all week, on Saturday a cool front moved in and we enjoyed two days of lovely cooler weather, perfect for summertime Eventing. It was a lovely new competition, hosted by Craig and Jan Thompson, and the cross country courses, on very rolling terrain, were inviting and fun. All three of my horses went superbly, and I had a great weekend!
My Irish horse Given Wings (a.k.a. Flier) had a really good go in the Open Preliminary, winning his dressage and jumping clear on both show jumping and cross country. Only some time penalties dropped him just out of the ribbons, but I couldn't have been happier with his performance. Viatar, one of my new horses from Bulgaria, put in a great performance, finishing 4th in the Open Preliminary with a good dressage test and a double clear in XC and SJ. My younger and greener Bulgarian horse, Cyrillic, did his first ever competition, and went super in the Open Novice. He also won his dressage, and jumped perfectly both XC and SJ; but as the ground was quite slick and he didn't have stud holes in his shoes, we trotted down some of the steeper hills, and incurred some penalties, to finish 4th. Quite good for his first time out! With so many nice horses to ride, I find that I am really looking forward to the autumn Event Season!
Windchase working student Jenina Segale also put in a notable performance, finishing 5th in the Novice with her Southern Sage; it was quite fun to watch this pair jump around the courses like pros.
And yes, I am trying to get my report from my Ireland trip posted; it is almost done. I have just been quite busy, and although I enjoy the writing, I don't always have as much time as I would like for it. I'll get it online by this weekend, I promise!

Until next time,
Phyllis



July 9, 2004
I just returned from Ireland, along with my Mom and Melissa, and we had a great time!
Ireland is one of my favorite places in the world; I love the people, the castles, the pubs and the beautiful countryside. I love the relaxed and casual pace of life, the lack of massive commercialism, and the great attitude of carefree abandon. And I love the horses!!!
We spent the first half of the trip on business; horse buying business, that is. The latter part of the trip was dedicated to pure fun. We climbed castles, visited abbeys, and saw fabulous flower gardens. We looked at horses, mountains, and sunsets over the Atlantic. We picnicked, trespassed a bit, and explored much of three counties. We galloped Connemara ponies on the beach and on a racecourse.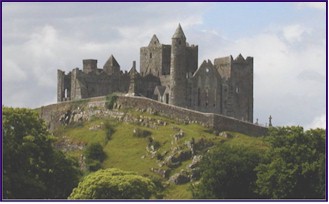 The Rock of Cashel.
It's always good to come home again, but I sure wouldn't have minded staying another week! I will post a full report on the trip as soon as I have a chance to get it written up.

Until next time,
Phyllis



June 25, 2004
Congratulations to Windchase working student Sara Zofchak, she gave her talented gray Mr. B.R. a super ride around the challenging Training course at Seneca Valley last weekend to finish 5th. It is a delight it is to watch this pair in action!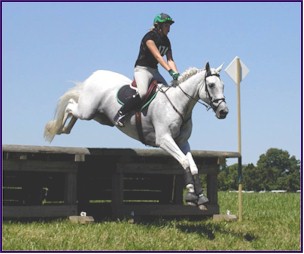 Sara Zofchak and Mr. B.R. at Seneca Valley.
As the spring Event season winds to a close, things have been pretty quiet around Windchase. With the competition horses having a bit of a break between seasons, we are starting to concentrate on bringing along the youngsters, and soon it will be time to start the homebred 3 year olds under saddle.
But first, it is vacation time! I leave on Monday for a week in Ireland. I will be accompanied by my Mom, and also by assistant trainer Melissa Hunsberger; she has worked hard all year and earned a chance for a fun trip! We will be doing a bit of business and a bit of vacation; horse shopping will be the business end, and as for the vacation, well, there will no doubt be bar-hopping, castle-exploring, mountain-trekking, coastline touring, and who knows what all else! Expect a full report after our return.

Until next time,
Phyllis



June 15, 2004
This past weekend, Mom and I flew down to Houston to attend the wedding of my niece, Heather. What a lovely occasion. It is always great to get together with all of the family, and Heather made an incredibly beautiful bride; she looked like a princess.
But I think the storm clouds may be following me. The trouble began on the return trip. Severe thunderstorms at the Houston Airport delayed our flight; we sat in the plane on the runway for almost two hours before taking off. So of course, by the time we reached Chicago, we had already missed our connecting flight. Which unfortunately, was the last flight out Sunday night, which meant spending the night in Chicago.
My poor Mom, I think the Travel Gods have cursed her. It seems like every time she goes anywhere, the flights get delayed and we end up spending the night in some city we had no desire to visit. In fact, this isn't the first time we have overnighted in Chicago against our will! She says she is never going anywhere again!
Not only that, but all of the flights on Monday morning, on all of the airlines, were completely full and overbooked. The earliest flight we could get a spot on was scheduled to bring us in to Dulles at 4:20 in the afternoon. But of course, the thunderstorms had followed us to Chicago. So again on Monday, weather delays. Eventually, we arrived at Dulles about 6:30 p.m., just in time for rush hour, only to find that Mom's wheelchair, which we use to cover the long distances in the airports, had been totally crunched!
The thunderstorms apparently followed me home, because it has been raining cats and dogs for the last couple of hours here at Windchase!

Until next time,
Phyllis



June 10, 2004
Send out the Ark!
My neighbor, Mike, has been trying to make hay on our East 40 hayfields. Of course, every time he cuts some down, it rains. This has become somewhat of a pattern. The forecast is good, Mike cuts hay, then it rains.
But last Thursday, we finally got the kind of clear breezy sunny good-hay-drying weather we had been waiting for. The forecast was for sunny, clear and non-humid weather for the next four days. Perfect haymaking weather. So Mike mowed down all the rest of the hay fields.
So of course, the heavens opened. Friday night, it started raining. Then it started pouring. It poured all night. And all of Saturday morning. It rained as hard as I have ever seen it do.
Between my house and the stable, the driveway crosses over a stream. About once every year or two, when we get really torrential rains, the creek rises high enough to cover the drive. Well, in 18 years here at Windchase, I have never seen the creek rise this high. It was a raging torrent across the driveway for a space of about 60 feet. The entire lower meadow pasture was under water. My Mom has a rain gauge in her rose garden; it measures up to six inches. It was full to overflowing! And that was on Saturday morning; it then proceeded to rain for the rest of the day.
This was the lovely prelude to going Eventing at Waredaca on Sunday! We set out early for Maryland, with trepidation about how wet we would find it there. Fortunately, they had not gotten as much rain as we had, but it was still extremely wet and muddy, especially in show jumping. But despite the less than ideal conditions, I had good runs with both of my horses in the Open Preliminary division. Given Wings, after a good dressage and show jumping, went well and steady around the cross-country course for an educational round, showing great progress in his confidence and control. He is extremely talented, and has a bright future. And my Bulgarian horse, Viatar, after a much improved dressage score, jumped around the courses like a champ, handling the mud like a pro and taking all of the direct routes, to finish 6th. What a blast he is to ride!
Our latest foal, a colt by Windstar, out of North River Lady, is just beautiful. I have named him River Star. When we turned him out in the paddock, he couldn't have cared less about staying with his Mom; soon he was doing laps around the pasture with his dam in hot pursuit.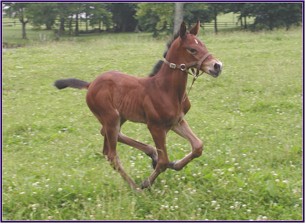 River Star
It is always so much fun to watch the foals on their first turnout expeditions, their baby awkwardness quickly turns into a kind of uneasy grace. It is amazing how nature equips them with the ability to run and flee within hours of their birth!
The weather has been hot and humid the last few days, but not it is clearing up, and supposed to be dry and fine for the next few days. Maybe Mike can cut some more hay . . .

Until next time,
Phyllis



June 5, 2004
It's a boy! Our newest broodmare, North River Lady, had a lovely bay colt on Thursday night, just before midnight. We were checking her on broodmare watch about every hour, but she cleverly slipped it in on us between checks; when we went to the barn for the next check, the mare was standing contentedly eating hay as if nothing had happened, and the foal was dry already, and just getting to his feet. Pretty good accomplishment, since this is North River's first foal! The colt was born on June 3, so he shares a birthday with my mother, Grace! Here's wishing her Happy Birthday, she is now 84!
Last weekend was the CDCTA Horse Trials, which are held at Great Meadows, the site of the Virginia Gold Cup steeplechase. It is always a joy to gallop around the cross-country on this wonderful turf, it is an exquisite place to hold an Event, and the weather was beautiful. I had a lovely ride around the Preliminary on Viatar; he is still a bit green but improving all the time, and I think he will be really something special with a bit more mileage. Melissa had a great ride on her talented Just Fun Stuff, jumping clear in the Open Intermediate. She also moved up to Intermediate on Say So, who jumped around fabulously until about five fences from home, when unfortunately her bridle broke, and she had to retire. Bad luck with the bridle, but we were thrilled with the way she handled her first Intermediate.
Congratulations to Windchase student Pamela Wilson, who successfully completed her first Preliminary, with a clear cross-country round on her South Cerney, and to Jenina Segale, who moved up to Novice riding Southern Sage. Katie Willis also had a lovely go in the Novice with her young horse Polar, he is a fabulous jumper, and it is especially fun to watch him because he is one of Windstar's babies.
Some other recent Windchase performances: Audrey Tomlin placed 3rd with Star Bright in the Open Training at Virginia Horse Trials the previous week. Also, former Windchase horse Sportz was 5th in the CCI* at Virginia.
Windchase will miss Audrey, and also Cyndi Boughen from Canada, they both finished their time as working students and returned to their homes last week. They have done a great job while they were here, and we hope they will both be coming back in the not too distant future!

Until next time,
Phyllis



May 23, 2004
I was hacking around Windchase this morning, and thinking about how lucky I am. To be riding around this beautiful countryside enjoying the fabulous scenery and nature at her finest, to have a brisk gallop up the hillside on a lovely fast horse; it just doesn't get any better than this!
On any given day, hacking around the farm, you are likely to encounter a variety of wildlife. We start out riding past the lake, where Canadian Geese are raising their babies; at the moment we have three separate broods. Looking up, you can watch a Great Blue Heron flying across the sky and landing on the water, looking eerily prehistoric with it's ponderous slow wing beats. You might also see his smaller relative, the small and compact Green Heron. And sometimes, you might see a majestic eagle-like bird winging overhead as if he owns the place; that would be an Osprey!
You will see a variety of fish in the lake. Most notable is Goldie, our giant two-foot-long iridescent goldfish. If you look closer you can see his friends, the other plainer carp, lurking almost unseen; they help keep the lake algae-free. Catfish are there too, as well as bass and bluegills. The bass have a way of jumping and splashing as you ride by, which certainly gives the horses a chance to test their reflexes! If you look closely, you might see a huge snapping turtle in the lake. We try to discourage these, as they will take the baby geese, but they tend to blatantly disregard the 'turtles prohibited' signs.
Also around the yard and house, you will see plenty of additional bird life. Colorful Blue jays, bright red Cardinals, as well as Woodpeckers with their red crests, and the brilliant yellow Gold Finches; these are just a few of the more notable birds that we see on a daily basis. As you follow the fenceline along the creek, you will see Eastern Bluebirds, and perhaps a pair of wild Wood Ducks or Mallards down in the creek bed. Not to speak of the nine domestic ducks my mother keeps on the lake!
As you ride away from the barn and out to the further fields, you will certainly be likely to encounter deer, often in groups of up to a dozen. We see them on a daily basis, often you will get a chance to glimpse a doe with her fawn. Last summer one of the does raised a pair of twins, we would often see them at twilight. Looking up, you are likely to see a Red-tailed Hawk circling above. If you are riding out as evening approaches, you also have a fair chance of seeing and hearing a number of different type owls; it is awesome to hear their calls as dusk approaches.
We have a plenty of Red Foxes in the area, it is always great fun to catch a view of them when riding. Sometimes you are lucky enough to see the young kits a play. We also have Wild Turkeys, they can present quite a challenge when you are riding along and they explode out of the grass in front of you! Often you will see the female turkey with over a dozen youngsters following her; and the other day I saw the most enormous male turkey I had ever laid eyes on!
There are also some dangerous animals in the area. You may well encounter a Ground Hog; although they appear innocuous enough, they dig holes that a horse can step in and break a leg. Thus, we have an attitude that "The only good Ground Hog is a dead Ground Hog!" Fortunately, my Lurcher dogs keep them pretty well under control.
Another dangerous predator is the squirrel. Any good fit Event Horse knows that squirrels hunt in pairs, and that the only chance of escape is quick reactions and an implementation of the flight instinct! (This tactic works well with butterflies as well.) The fitter the horse gets, the more they are able to hone down their reaction times! My Lurchers live to hunt squirrels, and do a great job of keeping the barn area and yard squirrel-free; but out in the woods it is another matter!
As we hack out these days, the eerie hum of the cicadas provides a background noise for everything we do. It sounds a little like something from a science fiction movie! I really enjoy the cicadas; they are very interesting, I love the noise they make, and it is really fun to observe their metamorphism. In some areas, they are so incredibly thick that there are three or four on every blade and twig!
This afternoon, as I was swimming in the lake, a thunderstorm blew up. I looked up at the sky, watching the black storm clouds approaching. Above me was a thin and pale crescent moon, visible in the afternoon sky, and the rays of sunlight from beyond the storm fell on it. Another magical moment at Windchase.
Not a day goes by that I don't ride around Windchase and think how lucky I am to live in this incredible spot on the earth!

Until next time,
Phyllis



May 21, 2004
Rubicon Farm Horse Trials was last weekend, and despite the hot and humid weather, we had a great time. I rode Given Wings (a.k.a. Flier), and he went very well; we seem to have sorted out the control problems we were having, and he is now able to start really fulfilling his potential.
Cyndi Boughen had a great performance with her new and talented young horse Divine Intervention, finishing 3rd in the Beginner Novice. And Sara Zofchak had a successful move-up to the Training level, also getting a 3rd place with Mr. B.R.
Other notable performances by former Windchase horses: Cahir, one of Windchase's Irish imports, finished 2nd at the CCI** at Jersey Fresh with his owner Emilee Libby! It has been great fun to watch this pair progress and have such success! And Emilee's sister Jennifer was 11th on Draco, an American TB, also from Windchase. Also, Mike Winter of Canada won the Open Intermediate division at Poplar Place on Daybreak, another Irish horse from Windchase. We are so proud to watch these horses doing so well on the Eventing circuit!

In the meantime, life here at Windchase is busy, and a lot of fun. This time of year is quite busy, with Events every weekend, lots of students wanting lessons, mares foaling, the stallion busy with the breeding season, and plenty of horses to ride and train. It can get a little hectic and we are often exhausted at the end of the day; but actually I do really enjoy the times when we are going full tilt, and when we can get a lot accomplished on a daily basis. It reminds me of a quote that I saw recently in an article by Denny Emerson in the Chronicle of the Horse:
"Life is not a journey to the grave with the intention of arriving safely in a pretty and well-preserved body; but rather a skid in broadside, thoroughly used up, totally worn out and loudly proclaiming, "Wow, what a ride!"

Until next time,
Phyllis



May 18, 2004
A man walks into a bar with a cicada on his shoulder. He says to the bartender, "I'd like a beer for me, and one for my little friend here." The bartender says, "I can give you a beer, but I won't serve your friend." The man angrily demands, "Why not, are you prejudiced against cicadas?" The bartender answers, "No, but he's only seventeen!"
Until next time,
Phyllis



May 15, 2004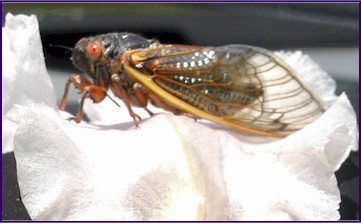 They're here!
Until next time,
Phyllis



May 12, 2004
The MCTA Horse Trials has a new location, at Shawan Downs, near Timonium, MD; and it is a really fabulous Event! Last weekend was the first time I had been to their new venue, and it was incredible. The grounds were lovely, the cross-country course was superb, and it was one of the best run and most well-organized Events I have been to in years! Every detail was taken care of, and it couldn't have been a nicer competition!
I rode Given Wings (a.k.a. Flier) in the Open Training, and he went extremely well around their beautiful course, to finish 2nd in his division. We both had a lot of fun!
I was also supposed to ride Viatar in the Open Preliminary, but unfortunately, the night before the competition he pulled a shoe in the pasture and stepped down on the clip, and was too sore to be able to compete. Horses! It is always something!
It is really fun to see Windchase students and former Windchase horses excelling in competition at all levels. I received a great photo of Kaitlin Spurlock, riding her new horse Highland Park in the Novice division at Difficult Run; it is great to watch their progress as they form a partnership.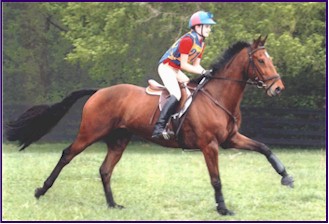 Kaitlin Spurlock and Highland Park at Difficult Run.
Although the horse breeding business is not always the most profitable, it is really rewarding to raise babies, and to watch the homebred youngsters come along. Our most recent foal is lovely, and I totally enjoy the babies. The quality of the youngsters that our stallion Brandenburg's Windstar is producing is quite exciting!

Windchase's latest arrival.
There is nothing quite like watching a foal being born! And to get the opportunity to bring that youngster along from the ground up, and ultimately ride it in competition; well, there is no feeling like it!

Until next time,
Phyllis



May 5, 2004
Difficult Run Pony Club held their Horse Trials last weekend; always a somewhat nostalgic event for me, as I was a member of Difficult Run when I was growing up. As usual when I return there, I saw a lot of old friends, and many people I have known since I was a kid! Herndon, VA is unrecognizably changed and developed, but Frying Pan Park itself, where the event is held, looks just the same as ever!
I rode Viatar, the horse that I imported from Bulgaria, in the Open Preliminary division. I was thrilled with his performance. When he arrived at Windchase he knew absolutely nothing about dressage, but he is learning it quickly, and put in a very nice test. He is a joy to jump, and just flew around the cross-country like it was nothing; he ended up in sixth place.
Melissa Hunsberger rode Pedro's New Zealand mare Say So, she went extremely well to finish 2nd in the Open Preliminary, we couldn't have been more pleased with her performance. This talented young horse has a lot potential, I expect to see her at the Advanced level in a year or two!

Say So at Difficult Run, offered For Sale.
Our working student Jenina Segale had a great go on her nice horse Southern Sage, the two of them are really starting to develop a successful partnership; and they finished 5th in the Beginner Novice.
Another former Windchase horse performance of note: Bruce Davidson rode Arrow to 13th place at the Rolex CCI****. Arrow is a horse that I owned and trained as a youngster, he came from the racetrack at Charles Town, WV. It is great to see him reach his full potential!
I enjoyed a lovely and totally non-horsey weekend attending my nephew Nick's wedding in Richmond, VA. It was a beautiful wedding and a great party afterwards at the reception; it is always fun to get to spend time with all of the family!

Until next time,
Phyllis