January 6
We got up at 4:45, in time to meet Agneil at 5:15 for the quetzal tour. The resplendent quetzal is a brilliant green bird with a scarlet breast, a member of the trogon family. It is about the size of a pheasant, and has a three-foot long tail. Los Quetzales Parque Nacional is named for these rare and beautiful birds, as it is one of the places where you have the best chance of seeing them.
There was a spot with wild avocado trees near the road, and the quetzals were known to visit early in the mornings. We parked by the road and shivered in the crisp morning air while we waited for the quetzals to come. People from other lodges arrived, and soon there were over thirty people there. A pair of these magnificent birds flew in and perched high on a tree branch right above the road. They were amazing, like something out of a storybook. The light was still dim, so the photos do not do them justice.

Resplendent Quetzal
We went back to the Suria lodge for breakfast, and then set out with Agneil for the Páramo hike. He drove our little SUV up the crazy steep dirt road out of the valley. It valiantly chugged its way up; I think I can, I think I can. No wonder its transmission sounded like hell and the brakes squealed. After stopping briefly for some construction, we made it to the top of the road and turned onto the main highway. Continuing upward, we took an even steeper little side road to a radio tower station; there were over twenty towers up on the mountaintop.
We stopped and scrambled up on a rock outcropping; we were on the continental divide, where on a clear day one can see both oceans at the same time. We had a good view of the Pacific to the right of the highway, but it was hazy on the Caribbean side. We looked down over the valley as a red-tailed hawk circled below us. We could see the Turrialba Volcano on the skyline, still spewing forth great clouds of ash and smoke – in fact it seemed like a lot more than two days earlier!

Turrialba Volcano, erupting in the distance.
We parked the car on the summit next to a radio tower and started hiking down the mountainside. The Páramo is a unique ecosystem of alpine tundra; we followed the trail down through dwarf trees, bushes and moss. Agneil told us the elevation here was 3491 meters (11,453 feet), and oxygen seemed in short supply. It was a clear sunny day, and the scenery was beautiful. We looked down on the whole of the San Gerardo de Dota valley before us, with row upon row of green mountains surrounding it.

Hiking the Páramo with Agneil.
It was cool at this altitude; we even found ice crystals alongside the trail. The path was steep and rocky; Agneil leant me his walking stick, which helped a lot. As steep as the trail was going down, I tried not to dwell on the fact that we would have to climb up it again. We saw a great many birds. I particularly enjoyed watching the volcano hummingbirds; they would fly straight up in the air and then dive-bomb back down again. Agneil told us about the geology and climate zones of the area. We hiked down the steep trail for about an hour and a half. Agneil said that one could hike from the top all the way back down to the Suria lodge; it sounded great, but it was over 12 kilometers and our knees would never take it.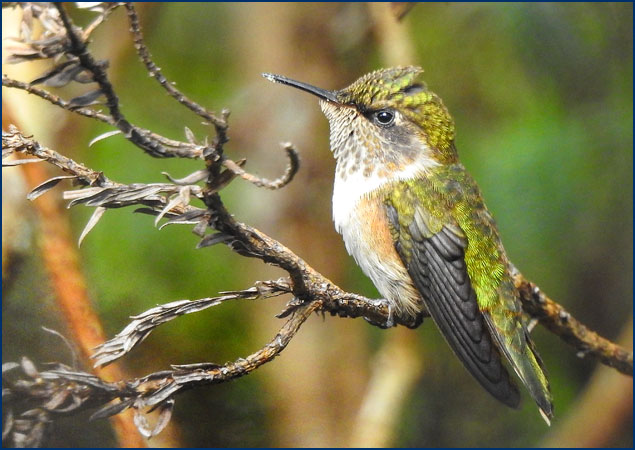 Volcano Hummingbird
Eventually it was time to head back up; this was the part I had not been looking forward to. At 3491 meters the air was very thin, and our legs were soon burning with fatigue. Somehow it seemed even steeper on the way up, and we stopped every little ways to gasp for oxygen. Clouds started to roll in and the mist gathered, and before long we could not see the mountains. Finally, exhausted, we made it to the top.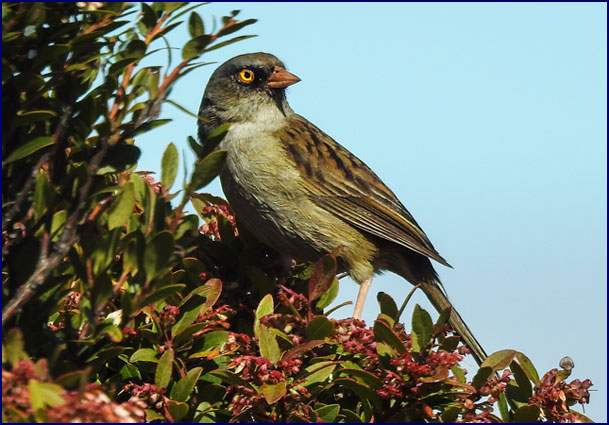 A Volcano Junco, up on the Páramo.
Back at the lodge, we spent the afternoon walking around the grounds and birdwatching. We saw a great many different types right from our balcony; from tanagers to woodpeckers, as well as many we could not identify. We checked out the chicken farm next door; now we knew where our scrambled eggs in the morning came from. A flock of green parakeets flew over several times, chattering noisily. Lizards were sunning themselves on our deck; we counted eight of them. We met a young Dutch couple, Hidda and Rene, who had moved in to the cabin next door; we didn't tell them that Manuel had given us their heater!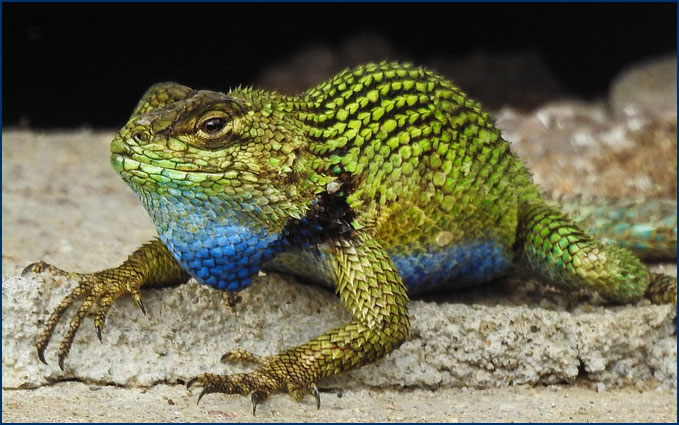 The lizard on our deck.
After dinner (trout again) I brought my little computer tablet to the lounge area to check my email, and while I was on the internet I did a bit of research. It turned out that the Turrialba Volcano was actually having a major eruption, and it was quite a big deal. Apparently it had been spewing great clouds of ash down on San Jose and the entire Central Valley for several days, closing the airport and putting the area into a state of emergency. And we were there to see it!
January 7
Our alarm went off at 4:45; we had signed up for the quetzal tour again . . . it had seemed like a good idea at the time. But once we were up and out there we were glad; this time it was less crowded, and we got to see the quetzals again, as well as a green toucanet. The male quetzal flew out of the tree and up the hillside, low over the fields, his iridescent green feathers shining in the sun and his three-foot tail trailing behind him. He reminded me of Dumbledore's phoenix in the Harry Potter movies.

Resplendent Quetzal
Joined by the Dutch couple, Hidda and Rene, we went on an all-day birdwatching tour with Agneil. We started out walking around the hotel grounds and lawn, with Agneil identifying many of the mystery birds we had seen the previous afternoon. Jineen took notes on each bird we saw, while I tried to get photos of as many as I could. Often we used the photos to identify the birds later, with the help of the bird guide.

Flame-colored Tanager, male.
Next we drove down the hill and parked by the road, then walked along beside the river to the start of the waterfall trail. We moved slowly and stopped often to look at birds; with legs still tired from the Páramo hike this was somewhat of a relief. Agneil pointed out dozens of birds we hadn't seen before; among our favorites were the torrent tyrantulets, a pair of little grey birds building a nest right down next to the rushing stream. We watched a magnificent hummingbird gathering lichens to make a nest, and further on Agneil showed us a hummingbird nest, high up on a branch, nearly invisible to the eye.

Along the Waterfall Trail
On the waterfall trail we saw an older couple with a scope, birdwatching, and they excitedly gestured us over to them. They had found quetzals! But as we approached they flew away. It is very unusual to see quetzals while out hiking; we were sorry to have missed them. We scanned the trees with our binoculars, hoping for a glimpse of the brilliant birds. We had all but given up when Hidda casually said "quetzals", and sure enough there they were, perched up in the tree! Had they been there all the time, or had they left and come back? We watched them for a while, and then moved off quietly so as to not disturb them.
We hiked on to a clearing in the forest above the stream; there was a 'for sale' sign, and Agneil commented that it would be a very beautiful spot for a house, but there was no road to it. Heading back toward the car, we met two hikers at a fork in the trail, and they had an animated conversation in Spanish with Agneil. They had found a trogon nest! Following their directions, we climbed up the other trail and soon located the nest; this was a really rare find. A female trogon with a red breast sat on a branch, and the male was inside a hole in the tree, 'working' the nest, scouring out wood to enlarge it. We were very lucky to get the chance to watch them.

Trogons
Back at the lodge we had lunch on our balcony. We watched the hummingbirds hover above the flowers. An elusive little dark grey bird flitted among the shrubs; earlier Agneil had identified it as a flower-piercer, and we watched it poke its long hooked bill through the blossoms to feed. The parakeets flew by again, but this time they landed in a big tree down on the lawn. I got a quick look at them through the binoculars before they took off - they were beautiful! I wished they would linger long enough for me to get a photo.

Flower-piercer
After lunch Agneil drove us up the road to the top of the valley. Once again we found the road closed for maintenance; it looked like it might be a long wait, but since they knew Agneil they let us squeeze through with instructions to be careful. Sure enough, we soon met a huge road grader and had to pull half off the road to let him through, our car practically hanging over the edge of a precipice. I looked straight down at the valley below. 'Hey Agneil, you do realize there is a thousand-foot drop-off on this side, right?'
It seemed that the road closures were a pretty regular thing; on any given day one might have to wait 3 minutes or 3 hours. Maintaining and repairing that road must be a constant year-round job for a road crew. Really, considering the steepness of the mountain, it is nothing short of amazing that the road could be built in the first place.
Our destination was a little café called Miriam's (or possibly Mirian's, depending on which sign you read), where there was a balcony porch with birdfeeders. This was a great spot for some bird photography; I had been frustrated the last two days taking a lot of bad bird photos with too much zoom and not enough light, so it was great to get a chance for some close-ups.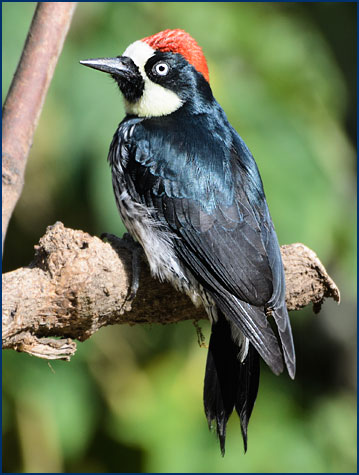 An Acorn Woodpecker, and a female Flame-colored Tanager.
Among the highlights were flame-colored tanagers (the males are bright red and the females yellow), yellow-thighed finches (mostly black with ridiculous yellow spots on their legs) and acorn woodpeckers (black and white with a red top on their head and eerie white eyes). We also had a good look at a nice looking but very plain brown bird which Agneil identified as the clay-colored thrush; we learned to our surprise that this is the national bird of Costa Rica! Not what one might have expected.

Clay-colored Thrush, the national bird of Costa Rica.
Agneil pointed his scope at a distant plum tree where a small neon green and yellow bird could be seen eating the fruit. This rare bird was a golden-browed chlorophonia, and was Agneil's main reason for bringing us there. Though brilliantly colored, it was small and far away, and could only be seen through the scope; I was more interested in photographing the birds close by at the feeder.

Yellow-thighed finch
Presently the others were ready to leave, but the woman directing the road construction traffic told us we had to wait for the four big gravel trucks to come back up from the valley. I was happy to have more time for bird photography at the feeder. Finally the four trucks had rumbled by – we could hear them coming a mile away – and we headed down. We soon found out there was a fifth truck; it was a very tight squeeze getting by it.
We stopped by the Trogon Lodge to look for skimmers along the Savegre River; we didn't see any so I never found out what they are. It was a beautiful stream, cascading down across the lawn and under a bridge. A torrent tyrantulet flitted around on the rocks in the spray.
Passing the spot where we were held up the first day for road construction, we stopped to look for woodpeckers, but no luck. We noticed that where the culvert had been replaced, the side of the road was treacherously crumbling away. A bit further on we climbed up a short steep trail to a grove of avocado trees; it was a lovely view but there were no notable birds around, so Agneil took us back to the Suria. Jineen and I had happy hour on our balcony, dined at the restaurant and then went to bed early. Jineen was sad because she had finished her book and had nothing to read.
This was our last night at the Suria; we had really enjoyed our stay, and had found the bird-watching very rewarding. I vowed to start paying more attention to identifying our birds at home! We knew we would miss this place, and Agneil.