As the bull elephant moved toward us, I was amazed by how little sound his footfalls made. How could something so large move over the ground so silently? And standing in front of him, at ground level without the security of being in the vehicle, I came to fully appreciate the fact that elephants are big. Really big.
Suddenly he became aware of us, and he was not pleased by our presence. He raised his trunk, flapped his huge ears, and moved toward us aggressively. Time stopped. Side-stepping, he waved his trunk in the air and trumpeted, and quickly narrowed the distance between us to less than twenty feet. I felt a surge of adrenaline, and it occurred to me that he could flatten us like bugs if he chose to. And it looked like he just might decide to do it! My life did not flash before my eyes, but I did think back to the start of our adventure.
July 19
At last we were off! Jineen and I had been looking forward to this trip for over a year. As always before vacation, there was the inevitable rush of getting ready, completing last minute business, and packing – but at last the day was here. We were going back to Africa.
Our safari, expertly arranged for us by the Aardvark Safaris, would take us to Zimbabwe and northern Botswana. As usual on vacation I traveled with my close friend and Windchase's barn manager Jineen. On this trip we were joined by my brother George, his wife Rosemary and their son Nick, and by friends Mary, Sally and Mike. I kept a journal and wrote up this rather lengthy narrative of our trip so that I might share the fabulous experience with those who love nature and animals as much as I do. But even more so, I wrote it in order to relive every moment of the trip – I don't want to forget a single detail.
You know how you sometimes walk through the airport and see signs for flights to glamorous destinations across the globe, and you wish you were going to one of those places instead of, say, Pittsburgh or Detroit? Well, we were boarding a flight to Addis Ababa, Ethiopia in route to Johannesburg, and then on to Victoria Falls, Zimbabwe; how much more exotic can you get?
Jineen, Mary and I were flying together on Ethiopian Air, which was what I could get for free using frequent flier miles. It turned out to be an excellent airline, at least for Jineen and I, who were lucky enough to be up in the Cloud Nine business class; we did feel a little guilty leaving Mary back in Economy. Sipping champagne in the Cloud Nine section, I decided I could get used to this! For those of us who don't usually fly first class, initially you ooh and aah over the luxury; but before long you start to feel entitled, like maybe you deserve it! And just too bad for those pour shmucks stuck back in cattle class.
Despite having seats that would go all the way flat, we slept only in fitful snatches. Looking out as we flew across Africa, I could see lights along the shoreline of a mysterious continent. I thought of the multitudes of people we were passing over. Who were they? What were they doing? Did they too dream of distant lands? A fiery dawn stretched across the horizon, and the sky turned to a vision of orange, rose, and mauve, blending to a deep midnight blue. A brilliant sunrise, viewed from above.
We descended to Addis Ababa over a patchwork of crop fields in varying shades of brown, grey and black. In the airport, upon learning that our flight to Johannesburg was delayed, Jineen and I smuggled Mary into the Cloud Nine lounge. The attendants walked through periodically announcing boarding for flights to exotic places such as Nairobi, Dar es Salaam, and Zanzibar. And finally, some four hours late, to Johannesburg. That's us! Beats the hell out of Pittsburgh or Detroit.
We watched Africa passing beneath us out the plane window. Vast tracks of empty uninhabited land, very dry and arid. Amid winding riverbeds of dry sand, the cloud shadows stood out dark against the desert. We could see Mount Kilimanjaro towering high above the plains, its snowcapped heights rising out of the clouds like an island.
We finally arrived in Johannesburg during the late afternoon rush; by the time we got through immigration we were five hours late. We hoped the driver who was meeting us would still be there! He was, holding up a sign with our name on it. He took us to the Sun Rock Lodge for the night; by the time we reached it we had been traveling for 29 hours. It proved to be a very nice lodge, and despite the city's rolling power outages, we enjoyed an excellent steak dinner before falling gratefully into our beds.
July 21
The Adventure Begins!
Despite being tired we didn't get much sleep; the time change had us awake at 3:00 a.m. After an excellent breakfast at the Sun Rock, Jineen, Mary and I were transferred back to the airport to catch our flight to Victoria Falls, Zimbabwe. After looking around the Out of Africa gift shop in anticipation of some shopping on our return, we made our way to the gate. There we met up with George, Rosemary and Nick, and soon also found Mike and Sally. Our group was complete!
On arrival in Zimbabwe, we went through immigration and bought our visas. Outside the terminal a group of local men in traditional garb sang and danced to tribal music. We thought they lost a little credibility when they launched into The Lion Sleeps Tonight, but on researching it later, I discovered this song was actually composed by a South African of Zulu origin in 1920, and is much more authentically African than I had imagined.
We were met by our driver, Fred; we piled in his mini-bus and set out for Ilala Lodge. A monkey crossed the road in front of us, our first sighting of African wildlife.
Ilala is a lovely and luxurious lodge right in the town of Victoria Falls. We were greeted by a waiter with fruity drinks, and shown to our rooms. Most of us had a layover in Johannesburg, but George and Rosemary had been flying through the night and were exhausted. While they got a bit of rest, some of us walked around the lawn and gardens. The lower level was natural, scattered with trees, while the upper terrace was landscaped and manicured, filled with shrubs and flowers. We were looking for birds; both Sally and Mary are avid birders, and Sally keeps a lifetime list. Sally identified the African pied wagtail, the dark-capped bulbul, and the black-chested prinia among others, but my favorites were the laughing doves that came to drink at the birdbath.

Laughing Dove
We gathered at 3:15 to go on a sunset cruise. Crossing the terraced lawn, I paused to admire the bird of paradise flowers. Several warthogs loitered around the outskirts of the grounds, kneeling to reach the tasty grass. Fred drove us to the river, where we boarded a large three-level boat. We went to the open-aired upper deck and sat in the front. I had been a little worried that the cruise might be crowded, but there were less than twenty people on a boat that would easily hold 150.
It was a lovely evening, with clear skies, comfortable temperatures, and a nice breeze. We floated along peacefully, looking down over the wide Zambezi River. Our hostess, Patience, told us about the river and the wildlife, while our bartender John kept us well plied with champagne and wine, and servers came around with trays of hors d'oeuvres.
We started out downstream. Tall palm trees stood high above the other trees along the riverbanks. We could see the spray from Victoria Falls across the wide expanse of river, with a rainbow aura hovering above.

Rainbow in the spray above Victoria Falls
We started seeing birds right away, sitting on the shore, perching in trees, and flying across the water. Egrets, cormorants, Egyptian geese, lapwings, vultures, and three kinds of ibis – to name just a few. John identified the different species and told us something of their habits. Sally and Mary were in heaven - a bartender who knew birds!
The boat turned back upstream, heading toward the evening sun. There were hippopotamuses in the water; they would poke their heads up and peer at us, and then disappear beneath the surface, only to pop up again further upstream. We passed several other boats on the river, and a man flew over in a small motorized glider.
A big crocodile lay on the bank, and a bit further on we passed a smaller one, along with several baboons. A hamerkop flew gracefully across in front of us. A half dozen giraffes meandered along the riverbank, gazing at us curiously. A pair of elephants came down to the edge of the river to drink. We were excited to see the wildlife; though Jineen and I had been to Africa several times before and Sally and Mike had visited once years ago, for the others it was their first time on safari.
The sun went down, setting the sky on fire in shades of orange and magenta. A slim crescent moon hovered in the sky. We saw two more elephants, dim silhouettes on the shore in the near darkness. The waiters kept bringing hors d'oeuvres; at one point I accidentally ate crocodile; it tasted a lot like chicken!
They brought the wine around again; we might have been getting a little bit tipsy, but as tired and jetlagged as we were it was hard to tell. Our group was all getting to know each other and we were all getting along famously. It was the perfect way to start our safari. Cheers!
July 22
We had an early morning, with a tour of Victoria Falls scheduled for 7:00 a.m. The box lunches the lodge had promised us weren't ready, so we grabbed a few pastries from the kitchen and piled into the minibus with Fred. We followed a small winding road, passing two huge baobab trees, thousands of years old. Several people were pushing bicycles piled high with enormous bundles of coal; Fred said they were bringing it from Zambia to sell.
As we neared the gate in to the Victoria Falls park, we passed numerous shops selling souvenirs and carved wooden animals. As expected, the area was very touristy, but we figured that was worth putting up with to see one of the Seven Natural Wonders of the World. I would have liked to shop for some animal carvings, but we were scheduled for a small-plane flight at the end of the trip with a 44 pound luggage limit, including all camera equipment and carry on. I had tried to pack light, but I was already seven pounds over so I didn't dare buy anything.
We set out for a two-hour walking tour of Victoria Falls, following a narrow paved path to the various falls viewpoints. Mike has limited mobility for long walks due to an artificial leg, so Fred pushed him in a wheelchair. As we started out a warthog grazed beside the trail, and a vervet monkey jumped on the fence and peered at us through the bars as if he were in jail.
Early on we had the path almost to ourselves. The path meandered through the woods, which was thick and lush, with a rainforest feel to it. There were birds everywhere; egrets, doves, hornbills, ibis, and go-away birds to name a few - Sally could give you a much more complete list.
Because of the high volume of visitors to the falls, some of the animals had become quite unafraid of people. We were able to get quite close to several bushbucks, small deer-like antelopes with white spots on their sides. A baboon was rummaging around right by the trail; he was not afraid to be quite close to us, but even though he looked toward us I noticed that he would not meet our eyes.
Victoria Falls is classified as the largest falls in the world, based on water volume; it is over a mile wide and 350 feet high - roughly twice the height of Niagara Falls. The roar of the falls can be heard for twenty miles. The broad Zambezi River widens out above the falls, and then suddenly plummets down into a narrow chasm. The spray and mist from the falling water rises up over a thousand feet, visible from over twenty miles away. Locals called it Mosi-oa-Tunya, or 'The Smoke Which Thunders.'
We stood on the cliff top, looking across the river at the top of the falls opposite us, watching the sheet of water plunge down into the gorge far below. The misty spray rising up from the falls got us a bit wet – this is why we had been advised to bring rain gear. The sun was still low in the sky beyond the falls, and we squinted into the bright glare. Amazingly, we could see people bathing in the pools above the falls on the Zambia side, just yards from the massive drop-off.
We followed the path along the cliff edge, viewing the falls from numerous lookouts. The bright sun on the mist created lovely rainbows, but the glare made it hard to really see the falls. The sense of sheer power was incredible, and each viewpoint brought a new perspective. It was quite different from what I had expected; Victoria Falls is beautiful and powerful and amazing, but you can't really see very much of it at one time. In a way it seemed almost a bit anticlimactic.
Near the end of the tour we came to a statue of David Livingstone (1813-1873). He was a Scottish doctor who became a missionary and explorer. He discovered the falls in 1855, and named them in honor of Queen Victoria. There was a plaque near the statue that declared Victoria Falls as a Sri Chinmoy Peace Falls. It read in part:
Victoria Falls - peerless jewel of Africa!
Soul-stirring power. Breath-taking beauty. Life-elevating majesty!
As this thundering cascade descends from the heights, rainbow-visions delight our eyes and uplift our spirit. Victoria Falls is dedicated as a Sri Chinmoy Peace Falls.
May this stupendous grandeur and wonder of nature forever inundate each and every human heart with a fruitful and fulfilling sea of oneness peace.
Do not stop dreaming. One day your world - peace - dream will inundate the entire world
~ Sri Chinmoy ~
We were running late; we were supposed to meet our driver at 9:00 a.m.to take us on the next leg of our journey, but it was after ten-thirty by the time we got back to Ilala Lodge. The receptionist, with a laugh, handed us our missing boxed breakfasts.

We boarded a small bus for the two hour drive to Hwange National Park, the largest game reserve in Zimbabwe. Our group of eight was joined by Gina, a lady from Australia who was also making the trip – she was not pleased that we were almost two hours late. We passed through several small villages and a lot of flat barren countryside. We went by a big mining operation where the air was choked with dust. Eventually we arrived at the Hwange gate, where we were met by Julian and Adam, our guides. Jineen, Mary, Mike, Sally and I climbed into Julian's open Toyota safari vehicle, while George, Rosemary and Nick rode with Adam, along with Gina from Australia and most of the luggage.
We set out for our destination, Camp Hwange. There were hills near the gate, scattered with the thick trunks of ancient baobab trees. It was our first game drive of the trip, and we started seeing wildlife right away. Most common were small herds of impala; these ubiquitous antelopes remind me of our white-tailed deer. They have two-toned brown coats with white bellies, and black and white highlights on their rump and tail. The males have long gracefully curving horns.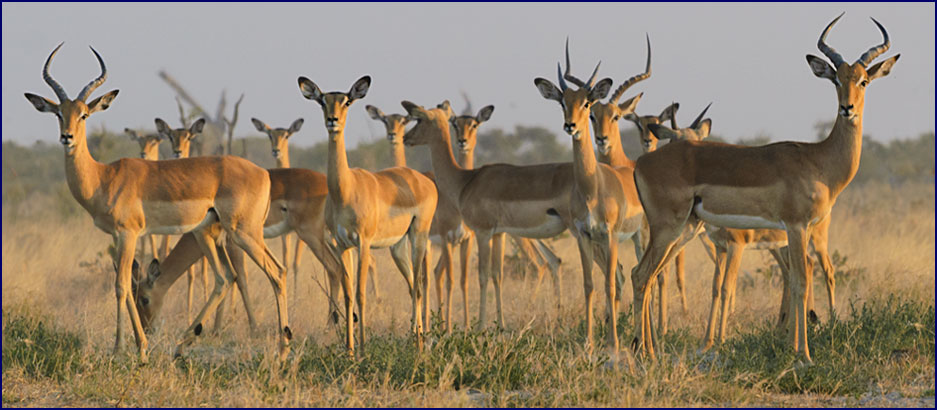 Impala
We saw a variety of birds, and Sally and Mary were in their element identifying them. Baboons sauntered along beside the road, showing their ugly bare butts, disturbingly humanlike. We passed several kudu bulls with impressive spiral horns; these large majestic antelopes have thin stripes on their sides and shaggy manes on the bottom of their necks. We got a glimpse of several tiny klipspringers on a rock outcropping - these diminutive antelopes are less than two feet tall and inhabit the rocky crags.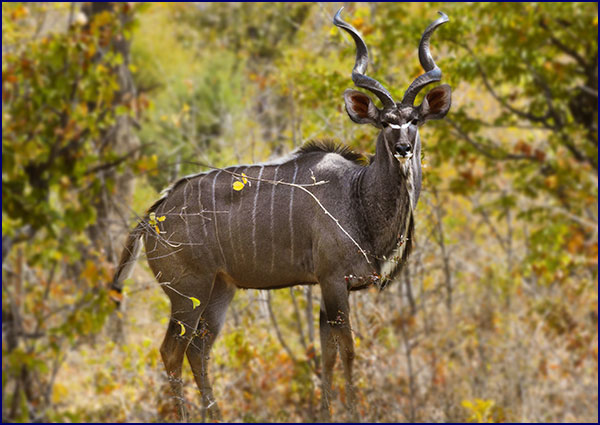 Kudu
After driving for a good while we stopped beside a huge reservoir called Mandavu Dam. Crocodiles lay sunning on the near bank, with several more swimming in the water. Along the shore we could see egrets, herons, a martial eagle, a blacksmith lapwing, and several Egyptian geese. There was an island out in the middle occupied by hippos, storks, and more crocodiles, with impala grazing right beside them. On the far side of the reservoir a herd of elephants came down for water, as did a large group of African buffalo. Kudus approached to drink on our left, followed by a herd of impala. We could see all of these animals from one spot - what an amazing place! I would have liked to stay far longer, but Julian said we needed to push on to Camp Hwange. I asked him if we would be able to come back here again and he said maybe.
The road ran beside a dry riverbed for a while, and we came across a group of elephants digging down through the sand to reach the underground water. A family of warthogs watched us suspiciously, facing us in alarm before trotting off with their tails held straight up over their backs. I wondered if they knew how ridiculous they looked.
Our next stop was a large water hole at Masuma Dam. A squirrel chattered at us from a tree in the parking lot. There was a sheltered blind with a thatched roof next to the water hole; we went down the steps and sat on the benches inside to watch the animals. There were hippos in the water, and more of them on the shore, sleeping pressed tightly together in a row, along with several babies. A herd of elephants came down to drink, and also some zebras and kudus. We couldn't stay long, being behind schedule ever since Victoria Falls that morning, but Julian told us we would be able to return.
We arrived at Camp Hwange around two-thirty, our home for the next three nights. We were greeted with cold drinks by our hostess, Ruth. The main building had a large common area with comfortable furniture and a bar on one side, and a long dining table with chairs on the other. This thatched-roof building was open to the front, looking out to a watering hole with a lone tree beside it several hundred yards away. The camp was surrounded by open plain, and a teak forest stood beyond.
It was a small camp, very private, designed for only 16 guests. Along with Gina, our 'Adopted Dawson' who had traveled with us from Victoria Falls, we were the only guests there. Our guides Julian and Adam introduced us to David, the camp owner, and we also met another camp guide, Quinn.
Julian briefed us on the camp rules. In the daytime we could walk to our tented cabins, but we must stay on the path. After dark an escort with a rifle would take us back and forth to the cabins. He told us that our tents were equipped with an air horn, but it was for emergencies only. He said an animal in the tent constitutes an emergency; animals outside the tent do not. Also, mice don't count. If you blow the air horn, he told us, the guides and staff will show up with rifles, ready to shoot something. If there is no real emergency, it might be you.