August 28
We had booked spaces on the 8:00 a.m. shuttle bus into Denali. We were not overly keen on the idea of riding a bus, but it is the only way to get into the park past the 15 mile point. Riding the shuttle is the best way to see wildlife, especially brown bears, and you can ask the driver to stop and let you off anywhere you like to go hiking. On our previous trip to Alaska so many people had told us what a wonderful experience it was that we decided to give it a try, only to find that we had missed the last day the buses ran for the season - by one day. So this time, being earlier in the year, we had booked shuttle tickets well in advance. We were eager to hike in Denali's interior, and figured it would be worth riding the bus.
We boarded a bus that went as far as the Eielson Visitor Center, 66 miles into the park. Following the advice Joyce had given us at breakfast, we planned to ride the bus all the way out to Eielson, checking out which areas we liked, and then get off to hike on the way back. Fortunately our shuttle, a repainted school bus, was not too crowded. Our driver, Kat, seemed nice but somewhat controlling, and the longer we were with her, the weirder she seemed. She was very strict about no talking when the bus stopped to view wildlife, even if it was a moose half a mile away. She treated us a bit like children, probably because she drives a school bus nine months of the year.
We saw ptarmigans by the road and several caribou in the distance. The gravel road was well maintained but winding, and the bus went slowly. Much of the first section of the road was through forest, though we had occasional vistas of open tundra and rolling mountains. Everyone on the bus searched for wildlife, but windows soon became splattered with mud from the road, making it hard to see.
We passed an old cabin, which Kat told us had once been the home of Olaus and Mardy Murie, some of Alaska's earliest conservationists. The road climbed up over Sable Pass, a beautiful area which was closed to hiking because there were so many bears there. Sure enough, near the pass we saw a blonde grizzly with two cubs, though unfortunately they were quite far from the road. And then twice more we saw a brown bear; one walking along the river and one digging on the floodplain. Kat would pause for a few seconds for us to take a look, but she seemed more interested in making good time than in letting us view wildlife, and it was frustrating that we couldn't stop to watch the bears for a while.
We checked out places for hiking along the way; we were looking for scenic areas in open country above the treeline. The bus stopped at the Polychrome Pass Overlook for a short break - it was spectacular, and we put it on our list. We stopped at the rest area beside the wide many-channeled Toklat River for a bathroom break; there was a big tub of water with a bunch of squeegees, so I took advantage of the opportunity to clean the bus windows. Not long before getting to Eielson we traversed a particularly scenic area known as Stony Dome, where we decided we would get off to hike on the way back.
Eielson Visitor Center is a large complex on the shoulder of a mountain, at mile 66 of the park road. A broad river valley stretches below it, and a range of rugged mountains beyond. The center has an impressive view and nice displays, including a huge three-dimensional topo map of the park showing various routes up Mt. McKinley. On the wall was an amazing handmade quilt depicting Denali and all of its wildlife. After a thirty minute stop we were back on the bus heading toward the park entrance (other buses went as far as Wonder Lake at mile 90).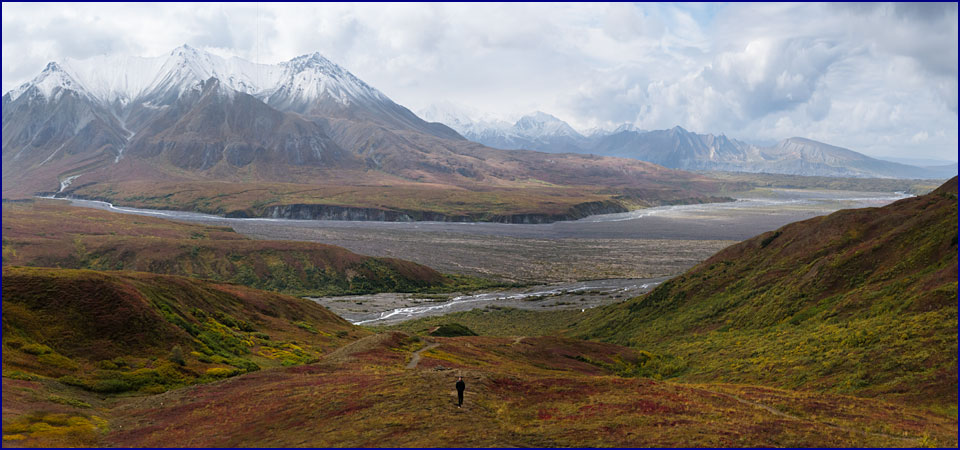 Looking out from the Eielson Visitor Center.

We asked Kat to stop near the top of Stony Dome. After some four and a half hours on the bus, we couldn't wait to get off it and go hiking. We were surprised that more of the passengers hadn't planned to get off the bus to hike, but apparently the vast majority of Denali visitors just ride the buses out through the park and back again.


We hiked up a gentle slope to the top of the hill, then across a wide expanse of blueberry fields and wet tundra to a plateau overlooking Stony Creek. In Denali there are few hiking trails; you just make your way across country in the vast trackless land, picking a point and heading toward it, exploring as you go. We worked our way up a series of benches, climbing steadily. We stood looking out over the valley; the slopes had taken on a red hue as autumn colored the blueberry bushes, and mist clung to the mountaintops. We were exhilarated - we felt free, part of the wilderness. The bus ride had been oppressive and frustrating, but it had been worth it for the chance to hike in Denali's wild country.

Hiking from Stony Dome.
We came to a high saddle, with stunning views in all directions. We felt like we were on top of the world. On one side was a wide floodplain, surrounded by tall mountains, the road winding through it like a ribbon far below. The other way we could see up the river valley to white snowy mountains beyond. A golden eagle wheeled and soared overhead.
It was quite windy and cold up on the saddle, so we dropped down a ways and sat behind a knoll to block the wind, and ate our lunch - peanut butter and apricot sandwiches, with Cadbury's chocolate for dessert. Two ground squirrels watched us, sitting up like little prairie dogs and whistling at intervals.
We made our way down the steep side of the ridge toward the river, passing through gullies and patches of thick brush. We were debating about whether bears would come on this slope since it had no blueberry bushes, but I had read that they dig up burrows to get the ground squirrels. Sure enough, just then we came to a spot where a bear had excavated a ground squirrel nest. An area about ten feet across was completely dug up, and we could see fresh claw marks. We looked around warily. "Hello Mr. Bear!"
We passed three or four more ground squirrel tunnels that had been torn open and completely plowed up. Seeing such fresh bear signs made us a bit nervous; we had enjoyed encountering the black bear in the blueberry patch while hiking at Twin Lakes, but we did not want to get that close to a grizzly. We skirted around the burrows, trying to stay in open areas and keep up a steady stream of conversation. "Hello Mr. Bear! Don't worry; we won't eat any of your ground squirrels! We promise! Really!" After all, we didn't want to end up like that poor photographer!
Nearing the bottom of the slope, we followed a little game trail through the willows. We passed a small tent and campsite, but there was no sign of the owner. Finally we came out to the broad rocky riverbed. Being late summer only a small stream flowed through it, but during spring snowmelt it would be a surging river. We walked along the riverbed, searching for pretty stones as we worked our way up the valley toward the snowy mountains. We wished we could just keep going. We envied whoever owned that tent; we could have spent days exploring the valley. When it was time to head back we stopped and built a cairn of stones, then we turned around and followed the river trail back toward the road.
As we neared the road we could see a bus stopped on a far bend, and we wondered what they were looking at. As it pulled away we could make out something dark beside the road. Was it a bear? Getting out the binoculars we could see that it was indeed a bear, a grizzly, about a half mile away. We needed to get closer!
We walked up the road a ways, then climbed up a slope through dense blueberry bushes to a small knoll where we had a much better view of the bear, now about a quarter mile from us Well, maybe a little less. We watched with binoculars as the bear moseyed up the slope on the far side of the road. As he moved away we went closer to the road for a better view. This was great!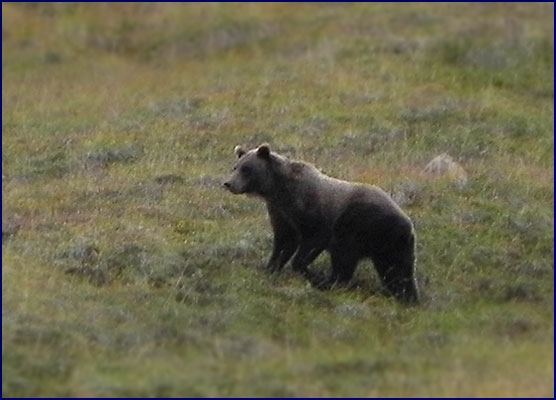 How close is too close?
We watched the bear until he moved out of sight, and then went down to the road to flag a shuttle. Before long a park service car pulled up beside us, and a young ranger named Chad got out and introduced himself. He politely told us that a bus driver had reported two hikers getting too close to a bear in this area. Who, us? We assured Chad that we had not been too close, and showed him where we had been relative to the bear's position. He agreed that we had acted appropriately, and said that certain bus drivers are more cautious (alarmist?) than others. He was very nice, and we chatted with him for a while. We learned that he lived in Fairbanks, and that this was his first season as a park ranger.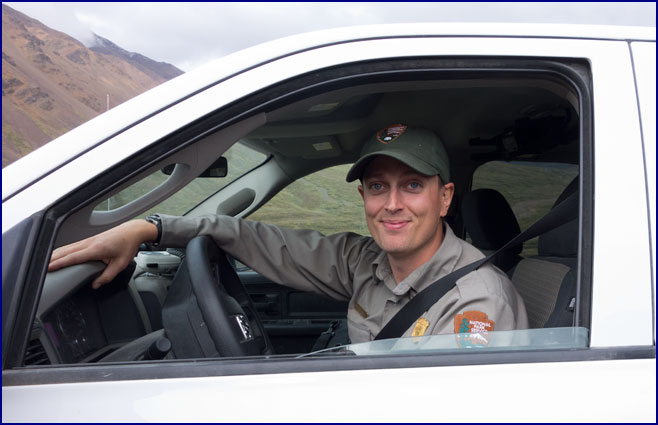 Ranger Chad

Chad confirmed the story of the bear eating the photographer the previous summer. He also told us about a group of eight Israelis who had encountered a bear at Eielson earlier that week; after being rude to the rangers all day, they had gone up a closed trail and gotten too close to a bear, and then they ran about like idiots. He said that the bear didn't eat them, but it should have.


A shuttle stopped to pick us up. As we started to board, the bus driver, Kim, stopped us; she said our bear spray must be in a plastic bag. We stowed the spray in a bag and went to step on the bus, but again Kim halted us; the pepper spray, now in its bag, also had to be inside our packs! Finally we passed inspection and were allowed on the bus.
If we had thought Kat somewhat odd this morning, Kim was downright strange. She whispered over the intercom, seemingly addressing herself. And she allowed NO TALKING on her bus, whether stopped or moving. We kept getting in trouble. At one of the rest stops Jineen asked her a question about bear hibernation, but she refused to answer. "I'm on break now," she told us. "I will answer you later." But she never did.

From the bus, we saw a grizzly sow with two yearling cubs. We passed a fox digging on a hilltop, and two caribou on a ridge. Several magpies fluttered past, and a merlin flew above the plain. As we neared the park entrance a large bull moose was standing beside a pond. I thought I spotted a porcupine in a tree but it turned out to be just a clump of brush - then five minutes later a real porcupine ran across the road in front of us.

It was after nine by the time the bus got back to the park entrance and to our car. We went back to the cabin and had Chinese leftovers and wine. The bus ride had been a drag, especially on the way back, but the hiking was superb. All in all, a great day.