August 29
We were booked on the early bus today at Denali, so we got up at 4:45 a.m. It was overcast and misting as we left the cabin, and altogether too early. We boarded the shuttle bus at 6:30 and headed into the park.
Our driver was Robert, and he greeted us all with a huge happy 'Good morning.' He was so cheerful and friendly that you couldn't help but be in a good mood around him. Robert was a wealth of information, and we sat near the front so we could hear what he had to say. He was also a great game spotter; we saw three moose by a pond right away, and he found six caribou up on a ridge, two of them bulls with huge antlers.

Caribou
Robert prompted us all to sing out in unison "Good Morning, Ranger Rocky" when we were greeted by the park ranger at the Savage River checkpoint. He was a very good guide, and we liked him much better than the drivers we had the day before. He told us that after years of driving the shuttles in Denali, he had competed very successfully in the school bus rodeo. He had won the Alaska State Championship, and placed in the national championships down in Montana. We were pretty impressed; we had never even heard of a school bus rodeo, and here we were riding around with the state champion!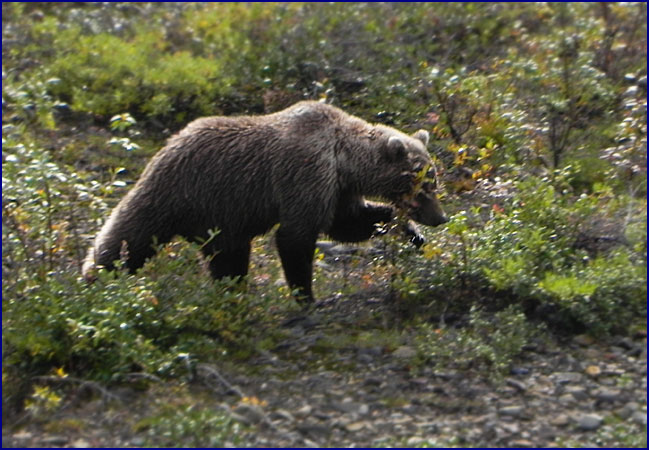 Alaskan brown bear (grizzly).
We saw a dark grizzly bear going along by the riverbed, and Robert stopped the bus, allowing us to watch it as long as we wanted. We noticed that Robert looked a little bit like a bear himself. Then the shuttle made the slow climb up the mountain, negotiating a series of frightening hairpin turns beside a sheer drop-off of hundreds of feet (no guard rail, of course), before coming to a stop at Polychrome Pass. After scouting it out the day before, Jineen and I had decided this is where we would hike, so when the shuttle stopped at the pass we said goodbye to Robert.
We stood on the knoll above Polychrome Pass and looked out across the valley. It was fantastic. We were high up on a mountain, and six rivers came together on the plain below us to form the wide braided Toklat River. The row of mountains beyond showed a myriad of colors, swirling together like paint on a palette, and the further peaks were crowned in white. We noticed that the snow was lower down on the mountains than the day before. Mist, rising from the rivers, gathered around the mountaintops.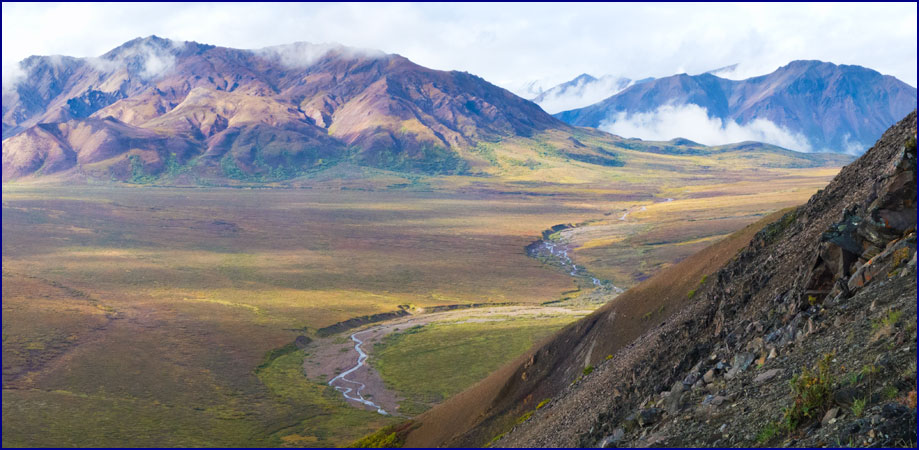 Polychrome Pass
The drizzle was clearing up and stray rays of sunshine broke through the clouds. We turned away from the river and walked out to a ledge where we could look down the other side of the valley. We made our way down through a ravine, and then climbed up a higher ridge through willow thickets and blueberry bushes. We saw a pile of bear scat with lots of hair and little bones in it – the remains of some poor ground squirrel, no doubt. The near vertical face of the steep scree slope across the valley was crisscrossed with paths made by Dall sheep. We scrambled up to a high saddle on the ridge, and turning left toward the Toklat River, we climbed a series of progressively taller knolls. The views became more expansive the higher we went. A pair of magpies flew by, reminding me of that old superstition – one for sorrow, two for joy.

From the knoll above Polychrome Pass, looking back up the valley.
We came to a ledge on the highest knoll and stood gazing down at the world. The confluence of the six rivers stretched before us, and beyond was the gamut of color from the polychrome mountains, their peaks shrouded in mist. Turning, we could see behind us another grand valley which had been hidden at lower altitudes. The slopes were clad in gold and red, as autumn touched the willow thickets and blueberry fields. We stood on that high outcropping, looking down on creation. No wonder eagles soar the high places.

The confluence of rivers below Polychrome Pass.
A curious ground squirrel kept sticking his head up over the ledge, holding his front paws up like a prairie dog. We warned him that we had just seen the remains of one of his cousins encased in bear poop. The sun was shining as great clouds of mist rolled in, and Jineen commented that there should be a rainbow. A minute later, looking down the slope at our long shadows, we suddenly noticed that a rainbow had formed in a circle, like a halo, around the head of Jineen's shadow. It seemed like magic.

A ground squirrel joins us.
It was cold and windy up on this high lookout, and we decided to head for lower ground. We retraced our path back down to the saddle and then went along the ridge in the other direction, to an outcrop where we could look back through a long valley. From there we made our way down through dense blueberry patches and willow thickets, heading toward the stream below. Mindful of our bear protocol, we tried to stay in open areas with good visibility, but what looked like a clearing from a distance would turn out to be scrubby brush up close - we were going through just the sort of areas we had been advised to avoid. We came across several more dug out ground squirrel burrows; they must be tasty.
A merlin sailed overhead, and we saw two ptarmigan hiding in the bushes. We came across a hornet's nest, which Jineen unwisely poked with a stick. A bumblebee flew by, but there were no mosquitoes. We saw lots of moose tracks and the occasional bear footprint.
We made our way toward a kettle lake we had seen from higher up, but the brush was denser than we had realized, and we found ourselves scrambling through gullies thick with tangled willows and grasping vines. With the frequent bear signs and short visibility, we tried to keep up a constant stream of conversation to warn any bears of our approach. But it was getting harder to think of things to say, and there are only so many times you can call out, "Hello, Mr. Bear, we aren't eating your blueberries, Mr. Bear!" And besides, we were. They were delicious.
We chanted out the lines from that old childhood game: "There ain't no bears out tonight!" We tried singing that folk song, The Preacher and the Bear, off-key. Then we resorted to composing incredibly bad limericks, and calling them out in case the bears were listening:
While hiking we try to take care
To be sure not to meet Mr. Bear
To dodge the ground squirrel's fate
Or a bear's lunch plate
Of a hungry grizzly - beware.
I really do have a hunch
Bears prefer blueberries for lunch
But if him you surprise
I'd be quick to surmise
For dessert, on hikers he'd munch.
I know; it's a wonder we didn't get eaten.
Finally we reached the kettle lake, a shallow pond formed by retreating glaciers. Six little ducks floated near the shore. We sat down on a little knoll above the lake and had lunch – peanut butter and apricot sandwiches again, and trail mix. As we watched the ducks swimming and diving, a mockingbird sang from the top of a spruce tree. The scene was near perfect, though a moose in the lake would have been nice.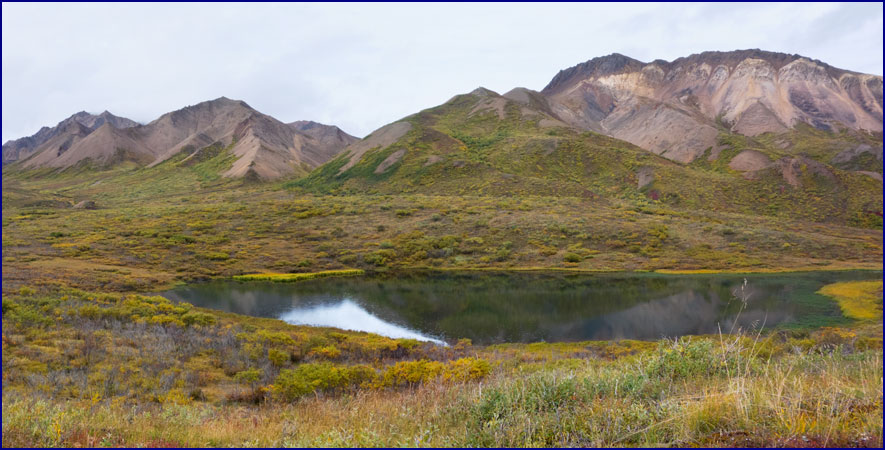 The kettle lake below Polychrome Pass.
After lunch we hiked out to the road, but far down the valley from where we had started. A shuttle bus had pulled over not far from where we came out of the brush; when it moved on by the driver opened his window and called out to us. "We were just watching that bear behind you." Ha ha, very funny. Standard shuttle bus driver humor, no doubt.
We caught a bus heading back, after five hours of hiking. Glen was our driver, and we thought he was terrible. If we asked him a question he would pretend he hadn't heard us. He wouldn't look for wildlife, and if any of the passengers spotted some he would play deaf; eventually we just had to yell "Stop!" at the top of our voices to get him to pause at all. A blonde grizzly bear mother and her two cubs were on a hillside near the road; we all yelled until Glen reluctantly brought the shuttle to a halt. We watched as the cubs played and wrestled, but after a minute Glen drove on despite our protests. We really missed Robert.
Rain was moving in by the time we got back to the park entrance. Our flight home was the next day, so we said goodbye to Denali and prepared to head back toward Anchorage - though annoyingly we had to drive the extra 20 minutes each way back to Ridgetop Cabins to collect the camera battery charger I had inadvertently left behind.
On the main highway leaving the park area, we saw a young bull moose standing right beside the road. We paused to look at him and he crossed in front of us. Cars were stopped while people (including myself) got out and photographed him, and soon traffic was snarled. A lady park ranger came and shooed everyone along, breaking up the moosejam.
We headed south, into increasingly nasty weather. We had been driving for about an hour and the light was starting to fade when some svelte figures suddenly darted out in front of us - four otters bounded across the road in their gamboling gait. We stopped for dinner at Mary Carey's McKinley View Lodge, the only restaurant for 150 miles. We barely got there in time - they were just closing, but they made us some excellent sandwiches. With the rainy weather, no view of the mountain tonight!
After several hours of driving we came to Trapper Creek, and turned onto the Petersburg Road, where we had reservations at the Gate Creek Cabins. After following this little winding road for about ten miles, sure we were lost, we finally found the lodge and checked in to the Loon's Nest cabin for our final night in Alaska. It was nice but somewhat impractically designed, with two flights of stairs between the upstairs sleeping loft and the bathroom in the basement. We relaxed with a glass of wine, and then slept like logs.
August 30
No hot water, so we started the morning with cold showers. We repacked all our gear for the flight, and set out for Anchorage. Driving back out Petersburg Road we passed a small house with the door sitting open, and we noticed a horse was standing with his front half inside the kitchen. An old man pedaled along slowly on a bicycle which had a bug screen windshield – somehow you couldn't imagine him going fast enough to need it. We braked to allow a vole to scurry across the road, and a bit further on a fox darted across in front of us. We tallied up the things that had crossed the road in front of us during the last four days; a beaver, a porcupine, a moose, a fox, a vole and four otters. You never know what you are going to see in Alaska.

You never know what you are going to see . . .
When we came out to the main highway, we stopped at Wal-Mike's, an amazing establishment by the side of the road. It was like a cross between a flea market, a junkyard, and Nichols Hardware in Purcellville. Outside, stretching for several hundred yards, was a collection of everything from ancient trucks to moose antlers. The building was surrounded by an assortment of old tires, road signs, gas cans, tripods, wooden carvings of animals, an impressive array of tools, and a hundred other odds and ends. There were mailboxes, totem poles, bear traps, lawnmower wheels, propane tanks, carousel horses and plumbing supplies. It was such an unusual assortment of stuff that people pulled over just to take photos of it. There was a big glass jug by the front door with a sign requiring would-be photographers to put in donations for the Wounded Warrior program.

Wal-Mike's
We went inside the sprawling store; it was absolutely packed full of just about anything and everything you could imagine. Books, coats, jewelry, personal hygiene items, rocks, rusty iron skillets, and every tacky airport gift you could think of. There were snowshoes, candy bars, pieces of jade, old bones, and what appeared to be a severed embalmed human hand in a jar. You could buy English horse brasses, African carvings, silverware, pelts, hunting knives, nuts and bolts. A life-sized cardboard cutout of Sarah Palin stood opposite a stuffed grizzly bear head. There was a remarkable display of old license plates, hand carved Alaskan souvenirs, gaudy trinkets, and baby carriages. And most of it looked like it had been there for decades.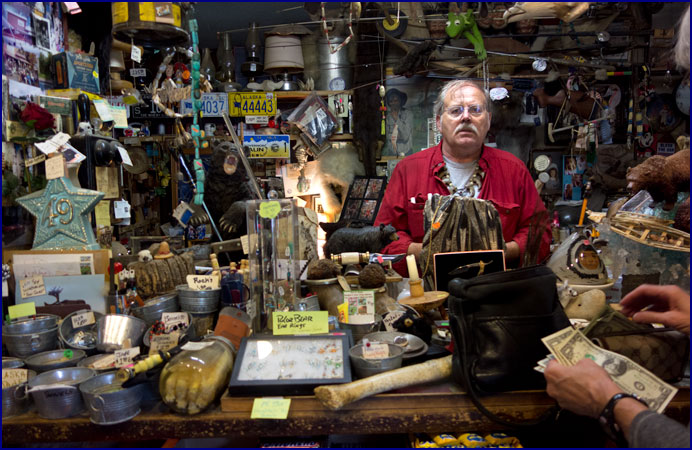 Wal-Mike himself.
We thought the place was a bit creepy at first. But then we spent some time talking with Wal-Mike, the proprietor, and he turned out to be a really fascinating person. He said that he had been there since he was 18 – now he was 69. Mike told us about homesteading the place 50 years ago, before the road was there, or the town of Trapper Creek. He said it was real different back then. "Alaska changed and I didn't," he told us. He seemed kind of sad.
There was a display of post cards and signed pictures on the wall, from such people as JFK and Jackie O, Ronald Regan, George Bush (the first), and Roy Rogers. Had all of them been to Wal-Mike's? Mike told us that he had been visited by four presidents. (I think he might have been counting Roy Rogers.) We bought a few rocks and jade pieces and an Alaskan cookbook, and put some money into the Wounded Warriors jug outside. After spending some time there, we realized that Wal-Mike's was a really interesting and unique establishment. But we still found it a little creepy.
We headed to Anchorage, and to the airport. In the terminal there was a display case with a taxidermied brown bear, standing up on its hind legs. It was enormous! Standing next to it, the bear towered above us. We couldn't believe the size of it - good thing we didn't get any closer to that one in Denali.
We were sorry to be leaving Alaska – it had been an amazing trip. We would particularly have liked to spend more time at Twin Lakes; when I booked the trip Gary had said that once we stayed there we would always want to come back. He was right.
The Preacher and the Bear
(Early Folk song by Joe Arzonia)

Oh, the preacher went out a walkin'- it was on one Sunday morn.
Of course it was against his religion, but he took his gun along
He shot himself some mighty fine quail, and one little measly hare
But when he was returning home, he met a great big . . . Grizzly . . . Bear.

Now the bear sat down in the middle of the road, just as mean as he could be
And the Preacher he commenced to shakin' and he climbed a persimmon tree
And the bear stood up and he rolled his eyes, and he shook his ugly head
The Preacher looked up to the skies, and these are the words he said . . .

CHORUS
Oh Lord, you delivered Daniel from the lion's den
Delivered Jonah from the belly of the whale and then
Saved those Hebrew children from the fiery furnace so the Good Book do declare
Well Lord, Lord, if you can't help me -
For goodness sakes don't you help that bear!

Then the bear commenced to climb the tree, and that made the Preacher mad
The Preacher climbed still higher - though it took all the strength he had
Just about then the limb gave away, and they both came a tumblin' down
And when that Preacher began to pray, you could hear it for miles around

CHORUS
Oh Lord, you delivered Daniel from the lion's den
Delivered Jonah from the belly of the whale and then
Saved those Hebrew children from the fiery furnace so the Good Book do declare
Well Lord, Lord, if you can't help me -
For goodness sakes don't you help that bear!

Well, they fought down to the river, and it was an awful fight
That bear he was really layin' it on, but the Preacher, he was doin' all right!
He dragged the beast down to the water; it was three times in and out.
Then the bear got loose and limped away, and the Preacher he began to shout!

Oh Lord, you delivered Daniel from the lion's den
Delivered Jonah from the belly of the whale and then . . .
Now Lord it may not seem like much from where you sit up there
But the hardest job I've ever had . . . was baptizing that bear!
And that's the story of the Preacher and the Bear!!!