June 28, 2004




Ireland is one of my favorite places to visit, and I hadn't been there in about a year.

Time to plan another trip!

My Mom wanted to come along, and I was really looking forward to traveling with her.

We brought Melissa Hunsberger as well; she is an important part of the Windchase Team, and has earned an invitation to come on our journey!





We were to be on the 8:10 pm flight from Baltimore to Shannon Airport.

Anxious to be there in plenty of time and to avoid the Baltimore Beltway at rush hour, we left early and arrived at BWI around 5:30; only to be told that the flight was already delayed for over three hours!

Poor Mom, the travel-gods must hate her; it seems that every time we fly somewhere together, the planes get delayed, the flights get cancelled, and we end up spending the night in some city we never even intended to visit!

She had already been saying she would never leave home again if anything went wrong this time.

We sat in an airport restaurant for about 5 hours eating really bad crab soup and drinking sub-par margaritas, before finally boarding our flight for Shannon.




As we settled into our seats on Aer Lingus, the seat covers as always, intrigued me.

The fabric is covered with script writing of excerpts of poetry and quotes from famous Irish poets, authors and historic figures.

Reading bits of verse from the seatbacks in front of me, though they were pieced together like unrelated fragments out of time, helped set the mood for our forthcoming Irish adventures.

. . . listening to the voices of sweeter birds, above the wailing of the rain . . . we are all in the gutter, but some of us are looking at the sky . . . a man couldn't be in two places at once, barring he was a bird . . . I can resist everything except temptation . . . the beautiful have no enemy but time . . . burns no such sun upon such a land . . . to show the way, bees on a drowsy day suck honey from fuchsia . . . sailing up on the path like dancers in the wild sky, where he is lain, where they see the fairest . . . and only when the danger was plain in the music . . . finding a voice where they found a vision . . . gone, alas, like our youth, too soon! . . . to do anything for posterity, for what has posterity done for us? . . . missing glory must begins, and surely my glory was that I found such friends . . .

June 29, 2004
We arrived at Shannon Airport at around 9:45 am, only 2 hours late, as we had made up an hour with super tailwinds and a fast plane. Never being one who could sleep on planes, I always arrive in the morning feeling a mixture of enthusiasm and exhaustion. A perfect state to be in; as it is time to locate our rental car, reacquaint myself with driving on the left side of the road, and tackle the narrow and winding roadways of Ireland!


Actually, I have spent enough time in both England and Ireland that I am quite comfortable driving on the left. I have mastered the roundabouts. I can deal with the incredibly narrow lanes. I am a pro at shifting gears with my left hand. I have even come to the point where I remember to get into the right side of the car when I am going to drive. But navigating through the city of Limerick, that continues to elude me!


We stopped briefly for breakfast and caffeine, and then headed for the town of Cashel, and our lodging. I have traveled to Cashel numerous times, and every time I visit, the Rock of Cashel amazes me all over again. It is a truly incredible castle that sits high on a rocky hill above the town, surreal on its lofty perch. The view of it is different from every angle, and in every lighting condition. Each time I visit I feel compelled to take more pictures of it: even though I have dozens of these photos, I just can't help myself!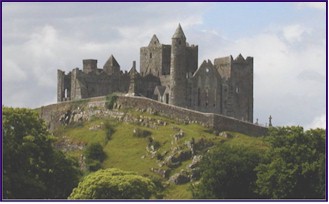 The Rock of Cashel

We proceeded to our Bed and Breakfast, Derynaflan, where Mrs. O'Sullivan gave us her usual warm welcome. Derynaflan is a working dairy farm, and the beautiful old house sits in a quiet and peaceful setting among the rolling hills of Dualla, near Cashel. The lovely setting and great hospitality always make it one of my favorite places to stay. We slept blissfully for an hour and a half, and then met up with my friend Clare to see some horses in the afternoon.

We went to several stable yards and looked at a nice selection of lovely horses. Shopping for horses is one of my favorite activities in Ireland. The breeding program there is excellent, the limestone soil and wonderful pastures help the young horses mature strongly, and the Irish method of riding and schooling with carefree abandon allows them to get the right start. All of these factors and others contribute to the fact that the Irish Sport Horses are second to none!


The negative side, however, is that the dollar is weak compared to the euro at the moment, and the prices of the Irish horses have been steadily rising the last few years. It was with some trepidation that I planned the trip at this time, because of the exchange rate. I found, as anticipated, that the prices asked were considerably higher than in the past. It was clear to me that I will need to start relying more on our own Irish Sport Horse breeding program here at Windchase! Considering the high quality of the youngsters being produced by our stallion Brandenburg's Windstar, this is a very desirable option anyway!

At the end of the day, we headed to Hannigans, our favorite pub in Cashel, for a pint of Smithwicks and an excellent dinner. Then, tired and still jet-lagged, we went back to the B&B, where we had a very invigorating (and by this I mean freezing cold) shower, and then to bed, where we slept like so many logs.

June 30, 2004


We enjoyed a delectable breakfast at Derynaflan, with their homemade jams, cheeses and yogurts, as well as the traditional full Irish cooked breakfast. We walked a bit in the lovely garden and admired the brightly colored fish in the small fishpond, before heading out for more horse shopping.


We met up with Clare, and then headed over to Chris and Sue Ryan's lovely farm, Scarteen, home of the famous 'Scarteen Black and Tans' foxhounds. This is one of my favorite places to visit, as Chris and Sue are super people, and lots of fun. They always show us a very good selection of horses, and this time was no exception; we saw several really nice horses there, and had quite a ball jumping them around the cross-country course.


After seeing some more nice horses, we stopped by the home of Lornie and Sam, friends of Clare's, and toured their fabulous gardens and lawns. It was a truly incredible place with amazing flowers, tons of roses, hedges formed of apple trees, and the largest weeping beech tree I had ever seen. And from this beautiful lawn, Melissa's keen eyes spotted the silhouette of the Thomastown Castle, from a distance, all covered in ivy. The glimpse of it intrigued us, and we put it on our list of things to do!

Mom in the Rose Garden

We headed back to Derynaflan. As Mom is aged 84, she didn't necessarily want to put in quite as long hours as Melissa and I did, so we dropped her off for a rest and went castling.


Clare took us to see Moorestown Castle. It was on private property, but Clare had seen it while out foxhunting, and knew the way in. We drove up a narrow farm lane and passed through several cattle gates. This was a beautiful castle with a large round keep; it was in the middle of a pasture, and the cows use it for shelter. As we approached, a flock of crows flew out the top of the tower, making a sinister cawing noise. It was very eerie, like something out of an Alfred Hitchcock movie!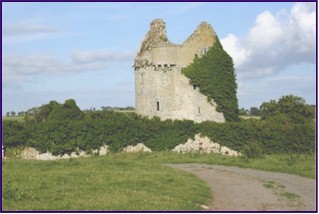 Moorestown Castle

The castle itself sat tranquilly in a lovely setting, with some huge trees around it and cows grazing peacefully nearby. There was a barnyard adjoining the castle, but nobody was about; it was very quiet and peaceful. Definitely one I will add to my Castle Book!

Those of you who may have read some of my previous accounts will know how much I love the castles of Ireland. There are the grand and famous ones like the Rock of Cashel or Cahir Castle; these are wonderful to visit, and a must for the first-time traveler to Ireland. But my true passion is for discovering and exploring the small 'everyday castles' that remain standing across the countryside. You will see them in farmer's fields or along the small back roads, often used as shelters for livestock. This always amazes me, for here is a structure that is many hundreds of years old, a piece of the country's past and it's peoples heritage; and they totally take it for granted, allowing the castles to deteriorate and fall apart. There are thousands of these castles in Ireland, and we are always on the lookout for them. Any time we drive down a small country road that we haven't been on before, there is a sense of anticipation and expectation; you never know what you may find around the next bend!



But getting back to my Castle Book. I have been enjoying seeking out and exploring castles for a number of years now, and it has occurred to me that I should write a book on the Castles of Ireland. There have been a number of things written concerning the large famous ones that are geared for tourists, but my book is to concentrate on all of the smaller or less well-known castles that are off the beaten path, including those that involve a bit of trespass. It will include descriptions, photographs, directions, and any other facts or tips I can include to help the reader/explorer have a maximum castling experience. And it will include all of the castles in Ireland, a very tall order!


At present I am still in the research phase. This means I visit every castle I can find, photograph it, and write up notes. So far I have seen many dozens, but of course, there are thousands more to go. Since most of these 'everyday castles' are not documented anywhere, I feel that to be thorough, I need to drive down every back road in Ireland to find them all, and visit pubs in every town to collect information. I realize that this is a daunting task, and may take me decades to complete. But I am sure that it will be worth the sacrifice! So each time I visit I collect a bit more information; eventually, when I have been down every lane and into every pub and found every castle, I will write my bestseller!

After Moorestown Castle, we dropped Clare off at her house and headed back to pick up Mom. On the way home, we saw a beautiful double rainbow, surely a sign of good luck! We resisted the temptation to search for the pot of gold. We had dinner at the Chinese restaurant, and headed home in the lingering twilight; at this time of year it is not fully dark until around 11:00 pm. We went to bed at about midnight.

July 1, 2004
As Ireland is so far north and we were there close to the summer solstice, days are long and sunrises came gradually and early. By four in the morning it was light: not to imply that we got up that early! We enjoyed another great breakfast at Derynaflan, and then set out for a full day of horse hunting.

We saw a number of nice horses on this day, our last of shopping, and we also saw some lovely scenery. At one point, we followed the Eastern Cast Road towards Dungarven, with the lovely Comeragh Mountains on our right, and the ocean to the left. We took a narrow lane up a mountainside to find one stable; near the top was a fabulously dense forest. There was very little undergrowth, but the canopy of evergreen trees was so thick that almost no light got in under the branches, making the whole place seem totally black and very spooky. Surely this was a likely place for ogres to live!


By the time we looked at the last horse it was getting on towards dusk, and we headed home. We stopped in Cahir, enjoying a view of the majestic Cahir Castle, a huge fortress that sits right in the middle of the town, giving you the feeling that it was transported directly from Camelot. We had a very good dinner at the Galtee Inn, and checked into the Dualla House, another of my favorite Farmhouse B&Bs. To bed late, once again!

July 2, 2004
The business part of our vacation was over. We had spent three days looking at horses, with mixed results. The good news was we saw a nice selection of very nice horses. Of course, the bad news was, the prices were quite high. Perhaps the exchange rate will improve before too long!


But anyway, business time was over; now for the real fun! Melissa and I got up early, admired the beautiful view of rolling green farmland from our window, and headed for Athassel Abbey. These ancient ruins are open to the public, but are one of those lovely sorts of places to visit that are not in any of the books or on the maps; you find them by trial and error, driving down the small lanes! We parked our car in the road, climbed over a stonewall, and crossed a cow pasture to enter the abbey. After going in through the

beautiful archway and gatehouse, we explored from room to room and walked around in the courtyards that form the cemetery. We saw the large stone Celtic crosses, and many old tombstones marked from hundreds of years ago, and beside them a fresh grave from a recent burial; the cemetery is still in use. Rather morbidly, Melissa discovered some ancient-looking crumbling bones that had apparently been unearthed when a new grave was dug on the same spot as a much older one! At this point it was starting to rain, so we headed back to the car.

Melissa at the Athassel Abbey
We proceeded from Athassel Abbey, and went in search of Thomastown Castle, which we had seen from a distance when at our friends' lovely lawn and gardens two days earlier. We got a fairly good view of this ivy-covered fortress, and as it looked fascinating, we were eager to explore it. But the only approach seemed to be across several farmers' fields, and as by then it was pouring rain, we decided to forego a soggy trespassing expedition and return to the Dualla House for breakfast.
I forgot to bring a torch! One of the most essential tools for castling is a torch (Irish for flashlight). I couldn't believe it, but unfortunately, I had forgotten to pack one! So our first stop after breakfast was to a hardware store, where we were fortunately able to buy a nice versatile model. Not only is this vital piece of equipment necessary for visiting castles and church ruins at night, it is also indispensable for looking into dark nooks and crannies during the day!

We then headed for Hore Abbey, which is an old ruin of a religious stronghold, right below the Rock of Cashel. This was a good site to explore with Mom, as it did not involve a long tramp across a field to access it. We wandered from room to ancient room, trying to imagine what it must have been like to live here during the times when this abbey was in use. High on the hill above, the Rock of Cashel sat overlooking the surrounding lands, majestic, magnificent. Of course, while we were visiting the abbey, it started to rain.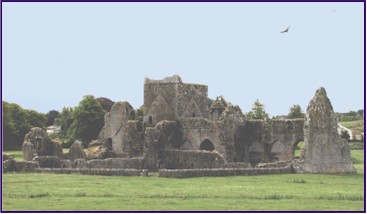 Hore Abbey

We then headed out in search of the Knockgraffon Motte. This was indicated on the map as an historical site, but finding it proved elusive; we went down a series of tiny back roads and became a bit confused as to exactly where we were. Also, we had no idea what a Motte was! But that just makes the search more interesting. This did afford us the opportunity of going down a number of small roads we hadn't been on before; you never know what you are going to find!


In fact, we did pass several interesting things. We stopped in the road by a set of stone steps up to a gateway, and upon entry, found a small and lovely long-abandoned church, under the trees, surrounded by a cemetery. It was enchanting! These unexpected treasures that we happen upon on the way can often be the most interesting and enchanting places that we visit!


We stopped at a lay-by at a little roadside stand and bought some Wexford strawberries, always a real treat; they have an incredible sweetness that is hard to find in strawberries in the USA anymore!


A bit further on, we unexpectedly happened upon a nice little castle, sitting right by the road. It was close to a farmer's barn and house, and surrounded by an electric fence with cattle. There seemed to be nobody about (which somehow always seemed to be the case), so Melissa and I snuck over the gate and across the field to enter the castle. The staircase was in ruin, so we couldn't go up in it, but it was quite nice inside.


We finally found the Knockgraffon Motte. We left Mom in an old churchyard and cemetery nearby, while Melissa and I climbed up the motte, which proved to be a steep mound of earth, probably some sort of ancient fort. We had a great view on the top, and watched the storm clouds roll across the valley. Unfortunately, they rolled right to us, and we were soon soaked! We went back down to the churchyard where we had left Mom and the car, to find that Mom had inadvertently crashed a funeral! The other people in the churchyard, whom we had thought were tourists, were actually burying a loved one; they apparently mistook Mom for a long-lost relative, come to pay her last respects!

We had been quite lucky with the weather so far. Although it rained a little bit every day, this turned out to be the only truly rainy day of our trip. And as Mom pointed out, it didn't rain all of the time, just when we got out of the car! It generally stopped while we were driving from place to place, and then would come down again with a vengeance when we reached our destination!


Actually, after the hot and humid weather we had been enduring at home, it was quite nice to have a break from the heat, and be back to wearing sweaters and jackets. The weather during most of our trip was really pleasant, with highs in the low seventies and lows at night around fifty. It was generally breezy, and the rain clouds could roll in and out with a moment's notice, so you never knew when a shower would come along. They have a saying over there; "You don't like the weather? Wait five minutes!"


We enjoyed the beautiful scenery of the Glen of Aherlow, and the lovely view of the Galty Mountains. Then back to the Dualla House, where we dropped Mom off for a rest.

Melissa and I decided to spend the rest of the afternoon castle hunting. We headed up to Thurles, and figuring out the directions from the map, we went in search of Moycarkey Castle. We saw it from the road, but had to search for the small lane leading to it. The castle itself was right in a farmyard, with stables and sheds built beside it. As it was marked on the map we figured that it must be open to the public, but seeing how it was in the midst of a working farmyard, we felt we had better ask permission. We walked around by the stables and called out, but nobody seemed to be around; in fact the place seemed deserted.


Soon things seemed to take on a sinister slant. The quiet was broken by the sound of the wind blowing, and door hinges creaked alarmingly in the gusts. We listened to the eerie sound of the crows and ravens cawing, and watched the dark stormclouds gathering in the distance. We entered the lower portion of the castle; only to find that the blackened ring left from where someone had made a fire filled most of the space. It was then that we noticed the dead cats. Very creepy. Was this a place of Druids? Witches? Sacrificial offerings? We felt that it was time to go.

Our next stop was the Ballinahow Castle, just northwest of Thurles, towards the town of Ballycahill. Once again, it was a castle right next to a farmyard, and with nobody about. But this fortress felt as friendly and wholesome as the last one had seemed spooky! We cut through the cow field around to the back of the castle and found the door. There was a metal barred gate, but it wasn't locked; in fact, both the lock and the keys were lying on the ground underneath the gate. We took this as an invitation, and entered! I hid the lock and key behind a rock, just in case, as I didn't want someone to come back and lock the door while we were inside!

Ballinahow Castle

What an awesome castle this turned out to be! It was a Round Tower, fairly rare; there are only a few left in Ireland. It had been restored but not rebuilt, so it was very authentic. We climbed the narrow spiral staircase, negotiating the steep stone steps past several floors, complete with guardrooms and dungeons. We went to the very top, and came out on a narrow walkway that went around the highest level, with a stone rampart surrounding us. From this lofty height you could look out over the whole of the countryside below, and imagine what it must have been like to live back in the times when the castle was in use, and the sentry's diligence in looking out from this spot for approaching enemies was a matter of life and death. I leaned over and looked straight down, and being somewhat scared of heights, I became convinced that the parapet I was leaning on, having stood there for five hundred years, was about to give way!


We learned later from the guidebook that Ballinahow was built by the Purcell family in the fifteen hundreds. It is open to the public; you can go to the farmhouse and ask for the key, if it is locked!

Moving on, driving down another small road we hadn't been on before, we soon came across yet another castle adjoined by stables; this seemed to be a trend on this trip, finding castles right in the middle of farmyards! This one sat behind a B&B, and the owner came out and told us a little about its history. He said the castle was one of about 6000 of its kind in Ireland! He said it was originally built in about 800 AD, and was probably refurbished four or five times between then and 1500 AD. He told us that this type of castle, (the smallish square ones that we call 'everyday castles') were pretty much abandoned in the 1600s with the arrival of gunpowder and Oliver Cromwell! We went inside the lower chamber, but were not allowed to climb up.


Heading back now towards Cashel, we were able to scout out the location of the Ballybeg Tower House, near Littleton. This one sat alone in a cow pasture, not far from the road. It was another of the square everyday castles, which all seem to be built very similarly. The steps up were blocked with an iron gate; I understand the reasons, based on safety and liability, but too many of the castles are locked now! But we could get into the lower chambers, indeed, as could the cows; they apparently shelter there. Yet another example of a piece of national heritage and history, over a thousand years old, being used as a run-in shed for cattle! In fact, as if to illustrate that point, Melissa stepped in a cow patty.


Collecting Mom at the B&B, the three of us had a quick dinner, and then went to

the Bru Boru Cultural Center in Cashel for a show of traditional Irish music and dance. It is somewhat similar to Riverdance, but with emphasis on the musicians and singers as well as the dancers. The talent of these performers is amazing, and we thoroughly enjoyed the show.

July 3, 2004
What a beautiful day! The sun was shining, the air was warm (only a light jacket required!), breakfast was delicious; and we were ready to head west and north to Connemara. But first, a sidetrip back to the Ballinahow Castle so that Mom could visit it. As it was one of the few castles we could climb up in she didn't want to miss it.


We arrived early, to find twenty-five young cows crowded around the base of the castle, very curious as to what we were doing. They followed us around to the door, and tried to follow us into the castle. They stood at the doorway peering in wistfully the whole time we were inside!

The young cows at Ballinahow Castle
There was a man in the barnyard this time, and he was very friendly and informative. He told us that he was a descendent of the Purcell family that had built the castle, and it had been in his family since the sixteenth century.

We proceeded again up the tightly spiraled turret-stairs, this time with Mom. Melissa led the way, shining the torch on the steps for light; Mom went next, carefully negotiating the treacherous stairway with her cane, and I came along close behind her, somewhat nervously thinking that this was probably a really bad idea, and that if she slipped, I probably couldn't catch her; perhaps we would both go tumbling down the flight of stairs. Halfway up she commented that going down might be much harder than going up; but I answered, at least it will be faster! But she made it to the very top of the six-story fortress, 64 steps in that tight spiral stairway, quite an accomplishment at age eighty-four! We again stood on the top, admiring the view, and the sense of incredible history at being in such a spot.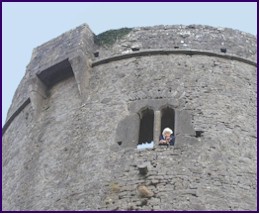 Mom at Ballinahow Castle
We then headed into the west. Our first obstacle was getting through the city of Limerick. We always get lost in Limerick, at least when heading west. It seems like it should be a straight shot, but with the convoluted one-way systems and the confusing signposts for the route numbers and the airport, we always somehow end up wandering aimlessly through the city in circles. But this time, I was determined it would be different!

And different it was! As we approached Limerick, signs were posted warning us of new traffic patterns, and sure enough, they have now made a bypass around the city! Of course, bypasses on the major roads around larger cities are a given here, but in Ireland, they are mainly nonexistent. But finally, a bypass around Limerick! This should make it easy, right?

Wrong. Bypasses in Ireland are not exactly what you might expect. We followed the signposts, negotiated dozens of roundabouts, turned here and turned there, went miles and miles out of the way, made a few circles and loops outside of town, sat at stoplights for what seemed like hours, went through some more roundabouts, and eventually, made it to the northwest side of Limerick. All in all, it would have been faster to just get lost in the city like usual!