Ireland, July 2002.
Day 1

My mother Grace, my sister Patty, and I had a great family trip to Ireland.

Here is an account of some of our adventures.

We arrived in Ireland mid-day on July 23, having taken the night flight from Dulles. Since there are no longer any direct flights to Ireland from the Washington area, we switched planes in London. Boy was that a mistake; Heathrow is a nightmare!


I had reserved a rental car in advance, but when they brought it out to me I couldn't believe my eyes. It was the ugliest car that I have ever seen! It was wide and squat and sort of bulgy; it looked like a cross between a VW beetle and a Humvee. As if that wasn't enough, it was purple!

We drove from Shannon Airport to the town of Cahir, in County Tipperary, where we checked in to Carrigeen Castle. I always enjoy visiting Cahir, with its fabulous famous castle sitting right in the middle of the town. It is a vast fortress that has been well restored and is open to the public. Carrigeen Castle is much smaller, though quite impressive looking, sitting on a hill overlooking the town. It was actually a prison, and has been in the Butler family, who are also associated with the history of the Cahir Castle, for many years. Carrigeen Castle has been renovated and somewhat modernized, and the rooms for the B&B are right within the former prison walls.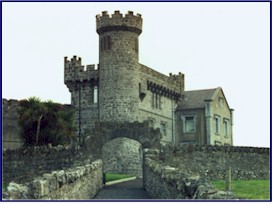 Carrigeen Castle

We were quite excited about the prospect of staying in an old castle/prison, because all three of us are absolutely in love with the castles of Ireland. Mrs. Butler greeted us on arrival, and immediately made rather disparaging remarks about the size of our suitcases, informing us that they were way too big (probably true), and that we would never get them up the stairs (this proved untrue).

Carrigeen Castle itself was really lovely. It was a true castle, complete with round turrets, arrow-slit shaped windows, and a narrow stone spiral staircase up to the second floor. Mrs. Butler managed things efficiently. In fact, a bit too efficiently! She had pretty strong opinions about how everything should be done, from how one should go about buying horses to how one should sit at the table. In fact, when one rather lanky gentleman bumped his knee while trying to fit his long legs under the breakfast table the next morning, Mrs. Butler actually climbed under the table and rearranged his legs to her liking, chiding him the whole time about not knowing how to sit properly. And woe to his friend, who accidentally spilled some tea on the tablecloth! We were a little mystified by Mrs. Butler at first, but then we realized, after all, she did come from a long line of Prison Wardens!

We visited a nearby farm to look at several horses in Cahir that evening, had dinner at a pub, and went to bed early to recover from the overnight flight with no sleep.

Day 2
We awoke feeling much more rested after a good night's sleep, and we were off to see horses! Luckily, our trip coincided with the Future Event Horse Qualifier Class held at Chris and Sue Ryan's lovely facility at Scarteen. This is a program that showcases young Eventing prospects, and it was a great way to see a lot of nice horses in one spot. This class was run as a Combined Test, with dressage and jumping. The jumping course incorporated both cross country and show jumps, and it was quite challenging, but fair. It included a coffin, a water jump, and a bank, as well as a show jumping triple combination. The four year olds were allowed to have a look at the fences and become familiar with the area and the obstacles before jumping the course, which made it a great schooling opportunity. A bit more was expected of the five and six year olds, and most of them performed admirably. The horses that could jump around that course well are definitely ready to go Eventing!


I would like to commend Chris and Sue Ryan on the superb job they did of organizing and running this show. It was educational, well planned, and most of all, fun. I think this class is a real asset to the Eventing community in Ireland. I would love to see a program like this implemented here in the United States!


Chris and Sue kindly invited us into their home and served us tea and delicious food. Chris gave us some great tips on where to go (and not go) in Kerry, where we were headed later in the week.

As the trip was to be partly horse hunting business and partly vacation, we had decided to spend the first three days looking at horses for sale and the rest of the trip sightseeing. Of course, that didn't preclude our finding interesting places to explore along the way during our horse shopping days!

As two out of the three "Knights of the Drop Leaf Table" were reunited (see Ireland, January 2001), Patty and I set out to do as many Castles and Churches by night as we could. (There is always the possibility of finding another Chalice!) After fish and chips and a few pints at Hannigans Pub, we dropped Mom off at the B&B, and then went to explore St. Mary's Church. This is the old ruin of a church built in the 1200's, right on the edge of the town of Cahir. It was one of the first churches built with a 'curtain wall' down the center to allow both Protestants and Catholics to worship at the same time. There is a walled cemetery all around it, with gravestones - some as recent as 1960 and others so old that all engraving on them has entirely worn away. Determined to enter the church, we spent about 15 minutes alternately trying to climb the eight foot stone wall and hiding in the shadows whenever a car passed by; until we realized there was an open gate and stairway at the other end of the cemetery wall! There is something special about the atmosphere of going into these places in the dark, often without even a torch (flashlight), to explore them. A little spooky at times, but that makes it all the more fun!

Day 3
We were on our own to find our way around the countryside on this day, as our friend Clare, who usually guides us, was riding in a horse show. The system of getting from place to place in Ireland is quite different from here at home; you generally follow signposts to towns rather than route numbers, and many of the small roads are totally unmarked. Clare was quite worried about whether we would get lost, but I drove and Patty navigated, and we did rather well, if we do say so ourselves!


In the morning we went to see horses at several yards, including some of the horses that we had liked at the show the day before. Afterwards, we stopped at a shop and picked up some sandwiches and meat pies to have a picnic lunch. When we came out of the shop, we saw people gathered around our car, staring. They were pointing and laughing at our beautiful car! We found that it attracted quite a bit of attention wherever we went.

Next we visited Askeaton Castle. It is thought to have been built in the late eleven hundreds. It is a beautiful old ruin of a castle, surrounded by a small river. We parked alongside the river and ate our picnic lunch there. Very cozy, just Mom, Patty, myself, and the purple humvee!
| | |
| --- | --- |
| Askeaton Castle | The Purple Humvee |
| | |
| --- | --- |
| Askeaton Abbey and gypsy foal | Askeaton Abbey |
Mom and I had wanted to see some greyhounds or lurchers while we were in Ireland. Lurchers are greyhound crosses, and they are very popular in Ireland and England. The gypsies originally bred them to poach game in the royal forests; now they are used mostly for coursing competitions. We passed a man walking three greyhounds along the road, and we stopped and asked him where we might find puppies. He told us about some gypsies that might have some, so we took a detour to look for the gypsies! Sadly, we couldn't find them.



That evening, we checked into the Derrynaflan B&B, near Cashel. It is a lovely farmhouse, about 300 years old, on a working farm. Mrs. O'Sullivan, who runs it, is the quintessential hostess; she made us feel so welcome and comfortable there. Much different from the Prison Warden of the last two nights! We were met with tea and scones upon arrival, and were treated as treasured guests throughout our stay.


Mrs. O'Sullivan has a beautiful garden in front of the house, complete with a goldfish pond and dozens of varieties of lovely flowers. Out behind the house there is the ruin of an old manor house; not quite a castle, but fun to explore.


We were pleased to learn that Clare had a great day at her Horse Show; she won the Working Hunter class with her lovely horse Bright Idea, and was Reserve Champion overall.


After dinner, Patty and I explored the ruin behind the house. We also went for a walk up a tree-lined farm lane, where we saw unidentified eyes, shining in the torchlight. We could hear the wind blowing, but also I could hear a low sort of wailing or moaning sound, coming from the hills. I think it may have been banshees.

Day 4
We had a lovely breakfast in the morning. They make their own jam at Derrynaflan, and also their own cheese; we sampled both. In fact, Mrs. O'Sullivan kindly packed us a picnic lunch of some of her homemade Derrynaflan cheese and delicious brown bread. We also had some of her neighbor's cheese, which is called Cashel Blue. Special farmhouse cheeses are quite popular in Ireland, and this one was really delicious slathered on a thick slice of brown bread! I thought Cashel Blue had a nice ring to it, perhaps a good name for a horse?

Staying near the town of Cashel is always a treat. It is a beautiful area, with the mountains in the background, but the thing that makes it so special is The Rock of Cashel. This is a huge castle, built in 1100, that sits on a high hill overlooking the town. It was a religious stronghold, and it is said that Saint Patrick visited this holy site, long before the castle was built there. From whatever direction you enter Cashel, you have a fabulous view of this incredible castle sitting proudly above the town. As often as I have seen it, I can never ever drive by without being awed. It is a truly magical place, like something out of a fairy tale.

The Rock of Cashel

We went to visit Shane, one of the top Open Jumper riders in Ireland, to see a gray horse he had told us about. Shane had said the horse was a good jumper, and he did not exaggerate. As he was riding the horse for us, and jumping some good size fences, I noticed that they had previously partitioned off part of the arena for free schooling, using some standards and a single plank, almost five feet high, with nothing underneath it. Jokingly, I asked Shane if the horse would jump that high plank, and sure enough, he turned and jumped over it, without ever touching it. We were quite impressed, and even more so when he then told us it was the first time he had ever ridden the horse himself! But don't forget, Shane is the fellow who holds the record for jumping a 7'3" wall, bareback!


We went to see horses at several different yards. Among them was Paul's place, where I saw a five-year old by Master Imp that is enough like my Enniskerry Imp to be his twin!


After seeing all of the horses, we went for a drink at McCarthy's Pub, and to talk business. It was time to buy some horses! We had seen a large selection over the last four days, but as always, I felt only a relative few of them met all the criteria of what I was looking for. We saw many nice horses, but I always try to pick the ones that really excite me, that have that rare quality and presence that will hopefully make them something very special. I was lucky to be able to purchase four such horses!

We went to dinner at Hannigans again, and then to a show at the Bru Boru Cultural Center. This was really super; it was traditional Irish music and dance, sort of along the lines of a mini Riverdance, but with equal emphasis on the dancers and the musicians. It is actually harder than you might expect to find live Irish music, so this was a real treat!

After dinner, it was time for Patty and I to go castling again. We set off in the dark to explore some little back roads; we were planning to visit the castle where Jineen had found the Chalice (see Ireland, January 2001). Suddenly Patty told me to stop, she had spotted a castle! We got out of the car, and there it was, this incredible presence, looming above us in the dark. We were a little apprehensive about going in, as it was right beside a house and we weren't sure if we would get caught trespassing on private property. Also, we only had one torch between us. Patty kept watch at the gate (she volunteered for the chicken job, as usual), and I took the torch, sneaked over to the castle, and went in the doorway through an iron gate, which was unlocked. I found that I had entered a small stone chamber that didn't lead anywhere, so I was searching for another entrance, when Patty called out that she had heard something growling! We decided at that point that retreat was indicated; we would come back in the morning.

Day 5
Since we had concluded our business the night before, we were now ready to head down to the Kerry Peninsula for some serious sightseeing. But first, we had a castle to explore! Mrs. O'Sullivan at the B&B had told us that the castle we had seen in the dark the night before was called Grallagh Castle, and that indeed, it was open to the public. So off we went to see it!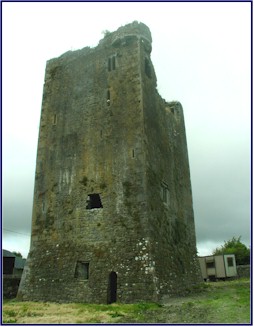 Grallagh Castle

It was incredible! Looking back, if I had to pick one high point of the whole trip, I think it would be Grallagh Castle. In case you haven't noticed, I am just wild about the castles, and so are Patty and Mom. In Ireland, you see castles everywhere. There are many that are huge and grand and famous, like the Rock of Cashel, or Cahir Castle, or Blarney. But there are also what I call 'everyday castles' everywhere. You often find them sitting out in the middle of a farmer's pasture, or right beside a small country road. The people in Ireland take them for granted; they are a part of the everyday scenery. But I find them absolutely amazing! Most of these everyday castles were built in the 1400s and 1500s, and they were the protection and safe haven for the landowners of that time. All minor lords had a castle, and if attacked or endangered, they would retreat to the castle 'keep' with their families, their servants and their villagers. These castles had walls of stone, up to eight feet thick, and thin vertical windows designed to be poor targets for arrows. They had chutes by the stairways where the defenders could drop rocks down on their attackers (called 'murder holes'), and dungeons for imprisoning the enemies that managed to get inside. They are small compared to many of the grand famous castles, but they are still imposing when you walk up to them, often five or six stories high, and built to withstand wars, as well as the ravages of time. It is incredible to think of what it took to build these fortresses, with only the tools and technology available at the time.

Grallagh Castle proved to be an absolute delight. We first entered the ground floor through an arched doorway to which a gateway had been added, designed to keep the cows out. We were then in a chamber with a stone floor and a vaulted ceiling. This in itself would have been a really fun outing, even if that had been as far as we could go. But then we found that we could go up to the next level! There was a narrow stone staircase, with steps of uneven height, which spiraled up to the second floor. I started to go up the steps to scout out what was up there, and when I turned around, Mom was right behind me! Patty and I were worried that the steep stone staircase would be too difficult for her, but she was not about to miss out on going up in this castle!


When we reached the second floor, we were in another stone chamber, actually two stories high, as the ceiling was missing, so the second and third floors were one big room. We could look out the arrow-slit windows, and we could see the supports that had held the floor of the third story. There were passages through the thick stone walls where there had been secret hiding places.


We went on up the narrow steps, a double flight this time, to the fourth story. When we got to the top of the staircase, the steps went straight ahead and sharply back down, to a small, enclosed chamber that had to be the dungeon. But when we turned and went through the arched door onto the fourth level, it was unbelievable! The ceiling was missing to the fifth story, as was the roof, so we could see right out to the sky. The floor was covered with about a foot of soil, which had accumulated from centuries of dust and debris settling out of the air, enough to support a thick stand of grass and some small trees. We found that the castle also supported a colony of snails that live on the stones walls; we took a few empty snail shells as souvenirs. Unfortunately, the Knights of the Drop-Leaf Table did not find any Chalices, but other than that, the experience was perfect! The sense of history was awe-inspiring. From the windows on all sides of the castle, you could see forever. The views were beautiful, and the atmosphere in the castle was enchanted!


One had to be quite careful up in the castle, because although it had been restored to an extent, enough to keep it from deteriorating, the stairs were treacherous, and many portions of the walls and windows had crumbled away. There was nothing to keep you from falling if you were careless, no guardrails or anything. In fact, Mom made me quite uneasy by hanging out of the windows, as heights make me very nervous!


We stayed on the upper floor of Grallagh Castle for quite some time; it was just magical. There is no way I can really describe to you what it was like to be there. When we finally did go down, we had to negotiate those steps very carefully; they are even harder on the way down than going up. Mom came down most of them sitting down. I went down ahead, and took some great pictures of Mom and Patty hanging out the windows! Getting up in that castle and back down was no small feat, especially for Mom, and I know she felt a strong sense of accomplishment to have climbed right to the top of it. It was definitely one of the best adventures we had!
| | |
| --- | --- |
| Upstairs in Grallagh Castle | Mom and Patty in Grallagh Castle |
We found it amazing that there are so many places in Ireland, like Grallagh Castle, that are open to the public, but nobody knows about them. They are not in any of the guidebooks, they don't show up on any of the maps, and the only people who even know that they are there at all are the locals, or those of us who just happen to drive by them on some little back road. But we found that the challenge of finding places like this was half of the fun!

We set out across country to head for County Kerry. Our valiant little rental car proved to be as smooth to drive as it was attractive; in other words, we felt every bump in the road. The scenery was quite lovely as we were passing by the Galtee Mountains. We saw a sign that said Wexford Strawberries; they were selling them by the side of the road. We stopped and bought some; they were out of this world. The flavor was incredible; you just don't taste strawberries like that here anymore!


We stopped for lunch in the town of Mallow. As I was parking the car, I looked up and saw a gypsy boy running up the busy street among the cars, leading a pinto mare by a long rope around her neck at a fast trot, with her foal running along loose by her side! We also saw a sign on a fence in front of a house that said, "Beware of Cross Dog". We made a brief stop at the Mallow Castle, which we had all seen before, and then resumed our journey to Kerry.

When we arrived in Kenmare, right at the base of the Iveragh Peninsula (better known as the Ring of Kerry), we went directly down to the pier where we were booked on the Seafari. This was a two-hour boat ride that took us up the Kenmare River, near where it joins with the Atlantic. Even though there was a light drizzle, the scenery was lovely. As we made our way up the huge wide river, we were delighted to be joined by a group of dolphins, which swam with us and frolicked in the wake of the boat! We then went out to a rocky little shoal in the middle of the river, where a colony of seals live. We watched the seals swimming and sunning (misting?) themselves on the rocks. It was really cool to see the seals in their natural habitat, something none of us had ever seen before.
| | |
| --- | --- |
| The Seafari | Dolphins in the Kenmare River |
As we went along the shoreline, we also enjoyed looking at the houses we passed. Some of them were quite grand. We tried to pick out which one we thought might be the B&B we were booked in for the night, which was difficult, as we had no idea what it looked like. We also saw a really impressive castle at a distance from the boat. It was high up on a hill overlooking the river, and looked like it had been renovated quite extensively. Our boat Captain told us that it was a privately owned residence; therefore we could not visit it. This presented a challenge for us dedicated castle hunters, so of course we decided to try and find it when we set out the next day!
After the Seafari, we found our B&B, the Oakfield House, which proved to not be any of the ones we speculated about from the water. After a dinner of Irish lamb stew at the local pub, on the way back to our lodging we saw a sign for a stone circle. We went out in the gathering darkness to check it out, and ended up following a road so small that it soon turned into just two paved tracks with grass growing up in the middle, and the weeds brushing both sides of the car. After missing it the first time, we finally found the poorly marked start of the trail to the stone circle; but by then it was too dark to follow the path, so we decided to leave it for the morning. We went back into Kenmare to check out the remains of an old church and cemetery we had noticed earlier, then off to bed.