October 20, 2015
Between travel and Events, this has been a hectic month. I recently went to The Netherlands for the Boekelo CCI*** on behalf of the USEA Selection Committee; it was really interesting to return, 30 years after competing there in 1985! The US team was second in the Nations Cup team competition, so it was a successful trip. Two days after getting home it was time to go to Fair Hill International; now I am glad to be back home for a while!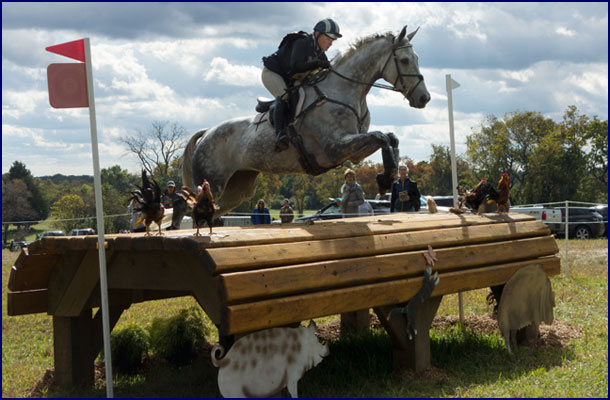 Polaris, bred by Windchase, at Fair Hill International with Sara Moore.
Things have been going well on the competition front. Cindy rode Windchase Phoenix Star at the Maryland Horse Trials, placing 4th in the Open Intermediate, and she was also 8th at that level with her own Two Tickets. (I was sorry to have missed seeing these horses run, but I was at Boekelo at the time.)
Then last weekend at the MD starter trial, Cindy won the BN with Aries. In the Training, Cindy was 5th with Gunner, and Tori Miller placed 6th with Reiver. Rachel was 5th in the Novice with Finders Keepers, and Regan Hoffman rode Accolade LSF to 6th place in his Eventing debut in the Elementary.
We are enjoying the glorious autumn weather as we watch the trees change color, with cool crisp mornings and warm sunny afternoons. How lucky we are to get spend our days riding over the beautiful fields of Windchase.

Cheers,
Phyllis



October 6, 2015
It was a wet miserable weekend at Morven Park, with over 8 inches of rain falling over the course of the week. Unfortunately the Horse Trials divisions had the cross-country cancelled due to the weather, but our horse went very well in the resulting combined test. Cindy was 2nd in the Open Intermediate with Windchase Phoenix Star, and Rachel won the Preliminary Rider with Starstruck. A good performance for both of these Windchase homebreds!
It was way to rainy to take any photos at Morven, so I will leave you with this image from our Africa trip instead!
Cheers,
Phyllis



September 22, 2015
Autumn is here, one of my favorite times of the year. The mornings are cool and crisp, and the trees are starting to show splashes of red, orange and gold. The horses are feeling fresh and frisky, and also starting to grow their winter coats.

Cindy riding Windchase Phoenix Star
Our homebred Irish horse, Windchase Phoenix Star, did his first CIC** at Plantation Field last weekend, with Cindy Anderson-Blank in the irons. The cross-country course was quite demanding, and we were thrilled with how Phoenix jumped around it – he is just seven, and has a bright future.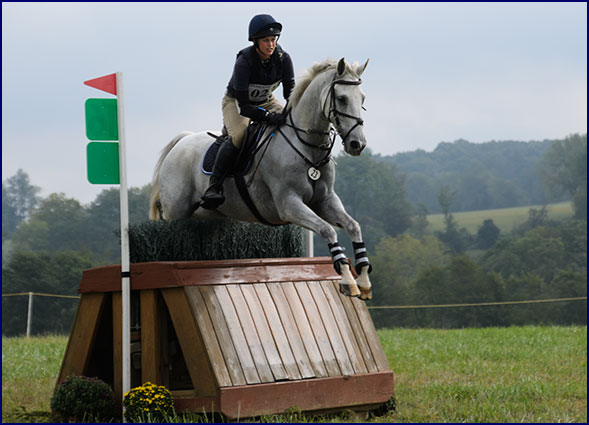 Rachel on Starstruck at Plantation Field
Rachel Nymeyer also had a great go in the CIC*, on another Windchase homebred, Lesley Erdmann's talented Starstruck. Rachel and Starstruck put in a personal best performance together, and it was fun to watch.

Cheers,
Phyllis



September 5, 2015
Cindy and Windchase Phoenix Star had a great run today in the Intermediate at Seneca Valley. It was Phoenix's first Intermediate, and he stepped up to the plate with a super go, jumping clear both XC and SJ to finish 7th. Cindy rode great, and I am very proud of both of them.
I forgot to take my camera to Seneca today so no photos of Phoenix and Cindy, so instead I am putting up another Africa picture. After dozens of photos of bare twigs that a lilac-breasted roller bird had just vacated, I finally got this shot of a roller flying.
Cheers,
Phyllis



August 31, 2015
Summer is almost over and we are really gearing up for the autumn Event season. Cindy will be campaigning Windchase Phoenix Star and her own Two Tickets at the two-star level. Congratulations to Sue Martin on the purchase of Windchase Aquilla; we will miss Aquilla, but look forward to watching his career progress with Robin Walker in the saddle. And in the meantime, Cindy will be riding his little brother, Windchase Starry Skies, who looks to be every bit as good, and who knows, maybe even better!
Still working on my masses of photos from Africa; here is a little preview.
Cheers,
Phyllis



August 25, 2015
We heard some very sad news today.
On our recent trip to Africa, Jineen and I, along with a group of friends and family members, visited Hwange National Park in Zimbabwe. We just learned today that one of our guides there, Quinn Swales, was fatally mauled by a lion on Saturday. It turned out to be the very same lion, Nxaha that had chased one of our safari vehicles, and had a reputation for being aggressive. The lion charged Quinn when he was leading a group on a safari walk, and he placed himself between his guests and the lion, successfully protecting them but paying the ultimate price. I can't imagine what it would have been like to witness such a thing. We are very saddened by this news, and extend out condolences and best wishes to Quinn's family and the staff at Camp Hwange.

Nxaha
Cheers,
Phyllis



August 21, 2015
I am still trying to get caught up on business after my fabulous trip to Africa. I am not ready for the safari to be over; I wish I could turn back time for a month and go do it all again. Usually by the end of a vacation I am ready to come home, but this time I wanted to stay on safari for another month! Really, I am already trying to figure out how and when I can go back. But in the meantime, I am happily beginning to sort through the thousands of photos I took.
We went to Waredaca Horse Trials last weekend. Tori Miller placed 2nd in the Novice with her lovely new thoroughbred, Like Magic, and Morgan McGrath was well placed with both of her Arabians. Cindy rode Windchase Phoenix Star in the Preliminary as a tune-up for moving up to Intermediate this autumn. He did a fabulous dressage test and show jumped great, but the ground was as hard as a rock so we did not run him cross-country. I was disappointed that Waredaca had not done a better job of aerating the course; it is usually a super event but in this case I did not feel that the footing on course was adequate.

Cheers,
Phyllis



August 12, 2015
Jineen and I just returned from a fantastic safari in Africa. Along with several other friends and family members, we spent six days in Zimbabwe, visiting Victoria Falls, Hwange National Park and Imbabala Lodge. Then we crossed into northern Botswana, where we did a ten day mobile camping trip with Letaka Safaris through Chobe National Park, the Khwai Community Area, and Moremi Game Reserve in the Okavango Delta. It was an absolutely amazing trip, just magical. We got within a few feet of lions, leopards and elephants. We saw hundreds of stunning exotic birds. We watched zebras and giraffes at close quarters, and joined a pack of African wild dogs on a hunt. We heard lions calling and hippos laughing in the night, and hyenas walked within a yard of our tent. We had elephants wandering through our camp during the day, and monkeys raiding our tents. It is impossible to explain to someone who has not been to Africa what the experience is like; it is life changing.
I took a million photos, which I am still sorting through downloading, while trying to play catch-up on business matters. I plan to write up a full detailed report of the trip with photos for this column, but this is a busy time of year and it will take me quite a while to get it finished. But in the meantime, I will be posting a few photos, both here and on Facebook, so look out for them.

Cheers,
Phyllis



July 17, 2015
Jineen and I, along with several friends and family members, head to Africa this Sunday for a two-week safari in Botswana and Zimbabwe. We fly to Johannesburg, then on to Victoria Falls. We will first stay at several small lodges in Zimbabwe, and then go on a ten day mobile camping safari in Botswana in Chobe and the Okavango Delta. I can hardly wait!

Cheers,
Phyllis



July 1, 2015
The Spring Event Season is winding down; time to give the competition a lighter work load and concentrate on the youngsters. We have a super new group of prospects in; look for them soon on the Horses for Sale page.
We also have three lovely new Windstar babies on the ground!
We have had plenty of rain during June, so the footing has remained good for plenty of cross-country schooling. And speaking of footing, we recently replaced the footing in the indoor arena with a new mix of sand and rubber, so it is like riding on a cloud. We have also improved the footing in the outdoor dressage ring; the jumping area is next.
Summer is also a time to enjoy other aspects of life on the farm. Though we are plenty busy at the barn, I try to take some time for photography, swimming in the lake, and happy hour on the patio. I never cease to marvel at the beauty and diversity of nature at Windchase.
Cheers,
Phyllis



June 13, 2015
Congratulations to Cindy and Windchase Aquilla, for winning the Open Preliminary at Seneca Valley this weekend. Rachel was second in the Preliminary Rider division on Starstruck. Cindy also piloted Martin Vella's Achilles around the Prelim for his first event at this level. A good day, all in all.

Windchase Aquilla and Cindy at Seneca Valley.
Cheers,
Phyllis



June 3, 2015
We had a good weekend at Waredaca. Cindy was 6th with Two Tickets in the Intermediate, with Windchase Aquilla in the Open Preliminary, and also with Windchase Kilcooley in the Novice – apparently she has a thing for green ribbons.
All of the Windchase riders went well. Tori Miller was 3rd with her new horse Like Magic in the BN, and also in the ribbons with Nicola Hasling's Reiver in the Novice. Pedro Gutierrez placed with his TB mare Mizz Indy Cat at Novice, and Morgan McGrath was 2nd in BN on her Arabian, Massada Wahhab.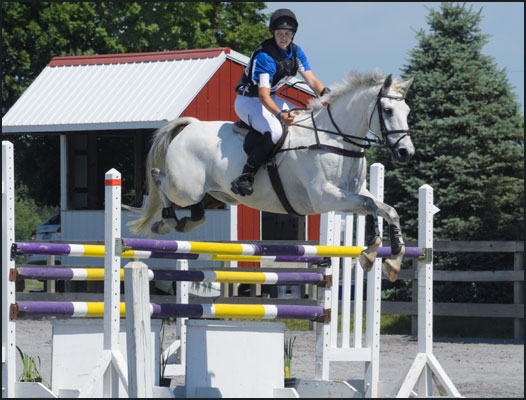 Rachel and Starstruck winning the Preliminary!
But the real star of the weekend was Rachel Nymeyer, who won the Preliminary Rider with Leslie Erdman's Starstruck. These two have formed a super partnership, and we are very proud of them!

Cheers,
Phyllis



May 27, 2015
Virginia Horse Trials is always one of my favorite Events, and last weekend Cindy Anderson-Blank rode my homebred Windchase Phoenix Star in the CCI*. They went really well in all three phases, putting in a good dressage test, jumping around the cross-country like it was child's play, and putting in one of just five double-clear show jumping rounds to finish 9th out of 40 starters. Congratulations to both of them!

Cindy and Windchase Phoenix Star at the Virginia Horse Trials CCI*.
Cheers,
Phyllis



May 22, 2015
I have recently been quite remiss in updating this page, as I have been reminded by way of admonishment from several old friends and Windchase alumni. The excuse that I have been extremely busy is glaringly insufficient. I shall endeavor to do better.
The competition horses have been going well for Cindy. Our homebreds Windchase Phoenix Star and Windchase Aquilla have been doing really well at Preliminary, and Martin Vella's Thoroughbred Achilles has been very competitive in the Training. Cindy successfully moved up to Intermediate with Two Tickets at Fair Hill. Rachel Nymeyer had a really super Preliminary debut with Starstruck; this pair has formed a great partnership.
We have a really nice group of young sale horses available, and we have been extremely busy showing them for sale. Contact us if you need help selling your horse; we have been very successful at matching sales horses to new riders. We also have some spots available for horses in training this summer, so contact me if your horse needs some schooling.
We have a new baby at Windchase; the thoroughbred mare Mah had a lovely filly by Brandenburg's Windstar last weekend. The foal appears to be bay now, but hard to tell if she will turn grey. It is always so much fun to watch the foals frolic in the paddock and dream about what their future holds.

Cheers,
Phyllis



April 16, 2015
Event season is in full swing, and things have been busy at Windchase. After all our hard work in the indoor arena this winter, it's great to finally get the horses out competing and see if it paid off.
Cindy Anderson-Blank had good rides with Windchase Phoenix Star and her own Two Tickets in the Preliminary at Morven Park a few weeks ago; being short on gallops because of the harsh winter she took them slow on cross-country but they both jumped great.
Then last weekend Cindy rode five at Loch Moy, and they all (or almost all) went really well. She placed 3rd with Martin Vella's Achilles in the Training, and 3rd with Kilcooley in the Novice. Raven and Windchase Starry Skies both did their first ever competition in the BN; Raven won, and Starry put on a bit of a rodeo show to make it more exciting. Windchase working student Ali Redling also had a good go in the Novice on her own Brego.

This past weekend, Cindy rode Windchase Aquilla and Windchase Phoenix Star in the Preliminary at Fair Hill, and Two Tickets in the CIC*. My two Irish homebred greys were a little naughty in warmup, but all three horses came through with great performances in all phases. The highlight was Windchase Aquilla placing 4th in his first outing of the year.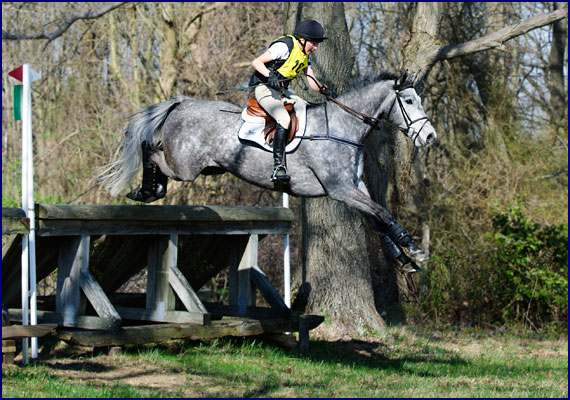 Aquilla at Fair Hill
This is my favorite time of year, and not just because of Event season. After the long cold winter, the renewal and rebirth of spring is wonderful. And now to be riding again after being out of the saddle for months with a bum knee makes it especially fabulous.
I never take for granted the beauty of Windchase. I had a particularly lovely ride the other evening on my Irish horse, Kilcooley. First we hacked out through the 'Galloping Field,' where a thick green carpet of new spring grass surrounds the cross-country jumps, and the Blue Ridge Mountain stands watch in the background. A dozen deer bounded across the field, and a hawk soared overhead. I reflected that this is probably my favorite spot on all the earth.
Kilcooley and I took the short path through the woods, watching blue jays flitting through the trees, and admiring the dipping, swooping flight of a pileated woodpecker. We came out in the 'XC Hayfield,' and Kilcooley was an eager as I to have a canter. I decided this was probably my second favorite place on the planet.
Taking the short path through the woods and across the second hay field, I took a good hold of the reins to avoid Kilcooley spooking at the wild turkeys crossing in front of us. The trees were budding out in a myriad of color; Robert Frost may maintain that Nature's first green is gold, but the edge of the forest was a palette of reds, oranges and magentas as well as gold and pale green, like a delicate preview of autumn foliage.
We went down a lane through the woods on to the neighboring property, following it back to the old Abel Cemetery. The way was carpeted with periwinkle and a million tiny white flowers. The small rectangular cemetery is deep in the woods, the last remnants of a long-forgotten homestead. Clumps of old-fashioned triple-centered daffodils grow all around it, probably planted there by some farmer's wife centuries before. The grave markers, surrounded by a beautiful stone wall, date back to the late 1700s. I like to imagine the family who would have lived in the house and farmed the land, and what their life was like. The little cemetery in the woods is all that remains to show they once lived here.
Heading back, we went along the creek trail. A red-winged blackbird called from a perch high in a tree. A great blue heron flew across the meadow, slightly reminiscent of a pterodactyl in his flight. As we neared the lake, triple-centered daffodils, transplanted from the Abel cemetery, lined the creek. The lake bank was strewn with purple and white violets. We dodged a nesting pair of Canadian geese that had staked out their territory along the edge of the lake, and watched as several wood ducks and wild mallards flew in for the evening to share in the corn I put out for the domestic ducks.
As I passed the water jump, to my delight I saw 12 big goldfish! Around a foot and a half in length, they vary in hue from pale gold to bright orange to purple and white. It was the first time this spring I had seen the koi, and I was happy to see that they had survived the harsh winter.
Kilcooley and I stood on the edge of the lawn looking out on the lake. The white bark of the giant sycamore and the greens, purples and golds of the budding trees were reflected in the mirror surface. A kingfisher swooped over the water, and then lit on a high branch in the sycamore. I thought to myself, maybe I was wrong before. Maybe this is my favorite place on the earth.
Cheers,
Phyllis



March 26, 2015
Mother Nature keeps giving us a few warm days here and there - just enough to keep me thinking Spring has finally arrived – only for it to turn cold, wet and windy again. The grass has yet to start to grow, but I do have a few crocuses blooming in my yard. Hopefully soon these brief glimpses of Spring will turn into the real thing.
But cold weather aside, seven weeks after my knee replacement surgery, at last I am able to start riding again - though on a limited (and careful) basis. I hadn't been able to ride for two months before the surgery, so after almost four months out of the saddle, boy does it feel good to be back on a horse again!

Cheers,
Phyllis
---