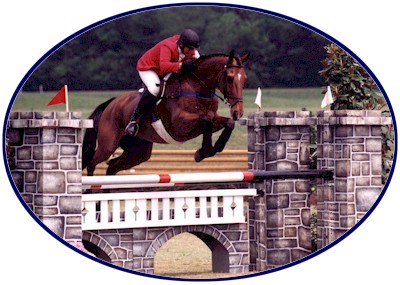 Phyllis and Star Bright competing at the Foxhall Cup ***.


---
Go to this page to view the latest Windchase Photos.

Webpage addition: Find your way around with the Site Map.

Read about Phyllis' trip to Ireland in January 2001.

Read the groom's account of The Inaugural Foxhall Cup *** Three Day Event.
Read Phyllis' journal from her trip to Africa in January 2000.

---

September 4, 2001
Imp and I had a great time at Menfelt Horse Trials this past weekend. We have been getting really bored with the summer break between Event seasons, so it was good to get out and compete again. Imp was a little wild when I went to get on before dressage after his hiatus of several months, but he settled down fairly well and did a credible dressage test. He jumped great cross-country and show jumping, to finish 2nd, even though I didn't try to go for speed on the XC on the hard ground. Cahir also went very well in the Training division, finishing 5th. He is starting to catch onto this 'going fast' thing.
Other riders who train at Windchase had good performances also. In the Intermediate, Pedro Gutierrez finished 6th on his good New Zealand mare Secret Notion, and Kathleen Dingus was 2nd in the Young Riders with Excelsior Springs. She also finished 4th in the YR Preliminary on Jasper.
At Blue Ridge Horse Trials, which was the same weekend, Melissa Hunsberger did a great job riding four horses for Windchase. Austin went extremely well in the Training division, and she also had good educational rounds on several Novice horses. Jean Bowman had a super round with her Mullingar in the Preliminary to place 4th. Natalie Compton also had a good ride on her new horse Sirius in the Prelim.
And of course, while we were all off competing, they had an exciting time back here at the farm on Sunday. It was the first day of the whole year that we had only two people in the barn all day to do the work, as everyone else was off competing. That's OK, I said, we don't have to have horses ridden or extra chores done, and we tried to arrange for everything that could be to be done in advance so as for things to run as smoothly as possible. So of course, the pump goes crazy, simultaneously bursting several water pipes in both barns, necessitating turning off the waterline and carrying water from the neighbors to the horses that live in the turn-out sheds, and then one of the three year olds colicked and required IV fluids and constant supervision. Much thanks to Petra Buc and Kelly Shine for doing such a great job holding the fort!
We rode the new Irish horses yesterday. They are now over the cold they caught on the flight, but it was the first time we had been on them since they arrived. They were awesome! MacJordan and Daybreak look like they will be ready to go out Eventing on schedule in a couple of weeks.
I will admit it, I bought myself a new toy when I was in Ireland. I made the trip to buy horses for resale, which I did. But I came across a young, completely green four-year-old, who just happens to be Imp's half brother, by the same sire, Master Imp. I couldn't resist him! So now I have a new youngster to play with, and hopefully prepare to Event next year. I have named him Given Wings, and we call him Flier as a stable name.
Loudoun Horse Trials this weekend, should be fun!

Until next time,
Phyllis




August 30, 2001
They're here! I picked up the new Irish horses last week at the quarantine in Newburgh, NY. It is great to get them home, and I can't wait to ride them. Of course, I will have to wait, because they all caught a little cold on the plane, and now they are coughing! Oh well, that's how it goes sometimes. But other than that, they seem to have settled in well, and they look even better than I remember! I will put more details up about them soon.
I rode at Pleasant Hollow last weekend on Cahir and Better Angel. Cahir did his first Training level, where he finished second, with a 29 in dressage. He is quite green, so though he really enjoyed the Event, he was quite impressed by how fast the trees were whizzing past on cross-country. He said he didn't know he could go that fast with a rider. I told him to wait until he went Advanced! Better Angel (a.k.a. Halo) was super, flying around the cross-country perfectly, she showed me that she is definitely ready for Preliminary.
It was really nice to go back to Pleasant Hollow. It has always been one of my favorite places to take a young horse, as it has excellent footing, an inviting course, good organization and a friendly atmosphere. I had not been there in several years, due to scheduling conflicts, so I enjoyed getting a chance to run there again.
Congratulations to Megan Hansen for successfully completing her first Advanced Level Horse Trials, on her wonderful horse Razzamatazz. It has been great to watch her and help her come up through the ranks to be successful at this level.
Off to Menfelt this weekend, to run Enniskerry Imp in his first Event of the season. He is looking forward to it, as he has gotten bored with working at home. Ready for a Road Trip!

Until next time,
Phyllis



August 24, 2001
I am off tomorrow morning to pick up the new Irish horses! I have been really looking forward to their arrival. When I went to Ireland in July, I picked out and purchased four really exceptional young horses, I think they are something special. They will be offered for sale once they settle in. The batch I brought over in the spring sold really quickly, so if you are looking for an exciting Event prospect with tons of talent and potential, don't wait around too long before contacting me!
Congratulations to Windchase student Jessica Oxendine for her fabulous performance at the Young Riders Championships, where she won the bronze medal in the CCI** with her horse Rusty Halo. What a treat to see these two have such well-deserved success!
I spent last weekend down in Houston, attending the wedding of my niece Gwendolyn. It was an absolutely beautiful wedding, and we really enjoyed meeting her new husband. I had not been to Houston before. Although the weather was very hot and humid, the Margaritas were exceptional.
My autumn Event season begins this weekend. I will be riding two horses at Pleasant Hollow, then competing almost every weekend until November. This becomes the busy time of year, but I love the hustle and bustle! Actually, Melissa Hunsberger kicked off Windchase's season last weekend, with a good clear cross-country round at Fair Hill International with Snowy River. I will try to follow her example this weekend!

Until next time,
Phyllis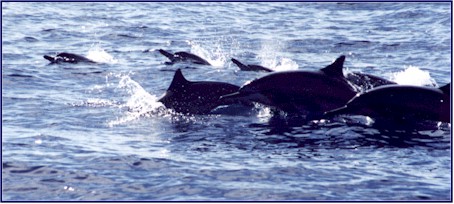 Dolphins frolic with our boat in Dominica.
August 3, 2001
Sorry I have taken so long to get this posted, but a mo
use chewed through my phone line, and I have not been able to access the Internet for a week. Those of you who have sent e-mails that have been unanswered, this is why. But the phone line repairman was here this morning, so I am back online!
After spending most of the month of July traveling and vacationing, now it is back to the real world. I had a wonderful time in the Caribbean last week. I went with my sister Patty and her family to the wonderful island of Dominica. I was able to truly relax and just have a good time, and I tried not to even think about horses for a week!
Dominica is very much an undiscovered paradise. It is a volcanic island, consisting of mountains covered with rainforest, lovely coastlines, clear blue water and amazing waterfalls. It is one of the most south-eastern of the Caribbean islands, down near Venezuela. The great thing about it is, hardly anybody goes there! Although tourism is important to the island, it is very uncrowded and unspoiled. The people are extremely friendly and nice, and the scenery is spectacular.
We went scuba diving in the mornings. We would take two dives daily in the clear waters of the Caribbean, enjoying the fabulous coral reefs and abundant and colorful sea life. We saw fish of every description. We saw a huge sea turtle, he was over six feet long. We got close enough to touch him. We saw octopus, squids, and graceful rays. We watched eels of many different types, and saw many huge sea urchins. The different types and variety of fish we encountered were incredible, from the dainty black and white Spotted Drum to the unusual bright orange frog fish. From the tiny colorful Gobies that lived in holes in the sand to the six foot long Barracuda, from large schools of purple Creole Wrasses to the elegant Angelfish and the colorful Parrotfish. We swam with huge schools of small fish that would dart back and forth in the sunny waters in unison, like a choreographed dance. There were hundreds and hundreds of different types of fish and sea creatures, and incredible variety of coral and plant life. And no, we did not see sharks. Everyone on the island assured us that there are no sharks at Dominica.
In the afternoons, we would go hiking in the rainforest. The views in the mountains are breathtaking, and the air is cooler up there. We would hike up and down steep and sometimes treacherous trails, and end up at an incredible waterfall. A stream would fall up to 100 feet, into a clear pool that you could swim in. In many of the waterfalls, you could swim up under the falls and let it beat down on your head! In others, the fall was so powerful that the wind the falling water created practically blew you away. It was like something you would see on Fantasy Island! Our guide, Frances, knew most of the best places to go and see on the island, so we really saw some pristine settings that most vacationers never get a glimpse of.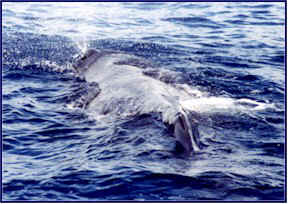 Sperm Whales
Another really fun thing I did was go whale watching. We went out in a boat, and saw Sperm Whales. We were able to get quite close to them, and watch the babies nursing from their mothers. When the adults dived deep, their tails would come up out of the water, giving us a marvelous view. We also encountered dolphins! This was one of the high points of the trip for me. A large group of dolphins were playing, leaping out of the water in unison. When our boat came along, they would swim along in the wake created by it, right at the front of the boat. The faster we went, the better sport they thought it. We stood on the front of the boat, watching them leap and criss-cross a few feet from us, leading the boat in utter joy. What incredible creatures!
We went to the beach over on the Atlantic side of the island one day, to play in the surf. This was quite different from the calmer Caribbean side of the island, and a lot of fun. That is, it was fun until I got caught in the undertow current and almost swept out to sea! I thought I was going to drown, or get swept across the Atlantic Ocean. Although I do want to go back to Africa some day, I would prefer to go in a plane, or at least a boat!
As much fun as my two vacations were, with the Dominica trip coming shortly after my visit to Ireland, I am glad to be back home and get going with the horses again. It has been great fun to have a break and a change of routine, and now I am feeling well rested, relaxed, and eager to get ready for the Autumn Event season!

Until next time,
Phyllis




My mother and Aunt June enjoy Cahir Castle and the Rock of Cashel.
July 15, 2001
We had the grandest time in Ireland! I just spent a wonderful week there with my Mom, my Aunt June, and Melissa Hunsberger, none of whom had ever been to Ireland before. They all loved it. We didn't want to come home!
We saw castles grand and small, beautiful landscapes, and Waterford Crystal being made. We visited centuries-old abbeys, an old-fashioned horse auction, and cozy Irish pubs. We listened to music and ghost stories in the Cashel Palace, drove over mountain passes with sheep in the road, and stayed in 300 year-old houses. Oh yeah, and horses. Boy did we see some beautiful horses! I purchased four lovely youngsters, two are four-year-olds and two are five-year-olds. They will be arriving in August, and I can hardly wait! I think they are really outstanding. If you are interested in a really special Irish youngster, give me a call! I should have pictures back soon.

The Hore Abby, and Melissa on the mountain pass known as 'The Vee'.
Yes, I know, I just had a vacation in Ireland, and now I am going off again! July is one of the few months that I can get away, as the competition horses are not working too hard this month, but even so, I would have preferred to have a little more time between trips. But this is the way it ended up, so I am not complaining. But I do have a lot to get done, catching up with paperwork and competition scheduling before I leave again!
I am headed out to the Caribbean on Monday with my sister Patty and her family. We are going back to the island of Dominica, having enjoyed it so much last year. So next week, while you all are slaving away in the hot sun, I will be scuba diving and sipping Pina Coladas!

Until next time,
Phyllis



July 2, 2001
I am off to Ireland on Wednesday! I am going over shop for some more young Irish Sport Horses, if I can find more of the outstanding caliber of Cahir, Kilroe, Dunraven, Regal Dare and Ballyhoo, all of which I have imported this year, and been absolutely thrilled with. And besides, it will be a great vacation! My Mom has never been to Ireland, so she is going along with me, as well as her sister (my favorite Aunt!) June, who is lots of fun. Melissa Hunsberger is also getting to come along for a well deserved vacation, as she has worked hard and done a superb job for Windchase all year long. And she has never been anywhere but Rehoboth Beach! I am looking forward to the trip, Ireland is always one of my favorite places in the world to visit.
Otherwise, things have been fairly quiet around Windchase. As much as I enjoy the hectic pace of the Event season, it is also nice to have a chance to relax a little and not go so hard for a while. The competition horses have a lighter schedule, and it is a nice time to focus on training the youngsters, and also on selling a few to finance the autumn season!
Then I get to go vacationing again July 16 - 24. I am going back to Dominica, a really wonderful tropical paradise in the Carribean, on a scuba diving trip with my sister Patty and her family. So July will really be my vacation month, if I am lucky I can manage to miss most of the really yucky summer weather!
So, have a great Fourth of July, and I will report to you when I get back!

Until next time,
Phyllis



June 23, 2001
We went to the Brandenburg Farm schooling jumper show today, and had a wonderful time. It was a really nice show, the first in their summer series. The courses were very good, the atmosphere was friendly and informal, and they served free beer and pizza! We took several of the young horses to get them some mileage, and they all did well. Corinne Janowiak had good success with her much improved 'Matter Over Mind', and Melissa Hunsberger and Siobhain O'Connor had some really good rounds with Austin, Spellbound and Expedience.
Foaling season is over at last! Our last two foals were born this past week. Sara, one of my favorite mares, had a lovely bay colt, and SixPix, my senior (ancient) broodmare, produced a really nice dark bay or black (or maybe she will turn gray) filly with a white star. Six healthy foals out of six mares, quite a good accomplishment! It is nice to now have all of the foaling over with, and hopefully we will all get a bit more sleep now, since we won't have to go to the barn every hour for foal watch!
The bad thing that happened this week is that Jineen broke her shoulder. She was holding a horse that spooked and jerked her off her feet, and she unfortunately fell on her shoulder and fractured it. She is now on mandatory 'stall rest' for a few weeks, and she is not too happy about it. Hopefully it will mend well and she can be back in the saddle before too long.
My new horse from Ireland, Kilroe Bay, has turned out to be awesome. He is very smart, a quick learner, and I think he will be something special.
I would like to congratulate Natalie Compton and Elizabeth Patrick of Water's Edge Farm on the purchase of Sirius. Natalie and Liz operate a wonderful boarding and training farm in Maryland, and I am thrilled to see Sirius go to a rider like Natalie who will be able to maximize her potential. I think they will be a very special combination.

Until next time,
Phyllis



June 18, 2001
Cahir, my young Irish horse, thinks he is hot stuff now. He has been to three Novice Events in the last three weeks, placing 2nd and 3rd at Elysian Hills and Menfelt, so he thinks he is a seasoned competitor. He really enjoys the Events, and especially the attention. His goal is to become as spoiled as Imp!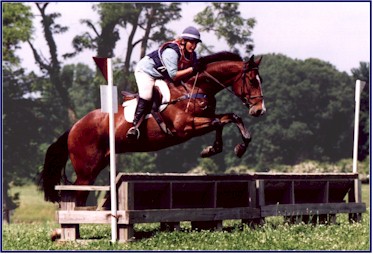 Cahir learning to Event.
Free Spirit also made his competition debut the last two weekends, going well around the Novice courses, and behaving at the Events like a perfect gentleman.
The Spring Event season is over for me now, so I will enjoy a little break from the competitions over the summer. This always gives me a chance to focus on schooling up the youngsters, breaking in the two year olds, and selling some horses to finance next season's Eventing! It was a fairly low-key spring for me, as I only had one horse aiming for a Three-day, with the rest being either green lower level youngsters, or getting sold mid-season. But I had a lot of fun, and felt that for the most part my horses went well. I am looking forward to preparing Enniskerry Imp for a shot at the Radnor CCI** this autumn.
Much thanks to my two super grooms for the Event season, Amanda Draper and Emily Curtis, who had my horses always ready on time and looking their sparkling best at the competitions. It has also been great to watch Emily having such fun competing Half Magic!

Half Magic and Emily Curtis
I have had a lot of fun the past two weeks riding my new Irish horse, Kilroe Bay. He is five years old and has foxhunted quite a lot, but like most of the imported Irish ones, the dressage is new to him. He is catching on quickly, and I think he is quite awesome.
Our mare Chip had her foal last Thursday, a beautiful dark colt. He looks quite black now, but I don't know if he will turn gray or not. I think I will take a chance and name him Midnight Star, as he was born almost exactly at midnight. But at least I did get to see this one born, the other three mares this year managed to foal while I was away at Events! This is our fourth lovely Windstar baby this year, with two more due momentarily.

Until next time,
Phyllis



June 7, 2001
Cahir, my young Irish horse that I bought in January, went to his first event last weekend, we did the Novice Horse at Waredaca. Cahir is quite green, so it was a big adventure for him. He was very good, once we got over the first ten minutes of riding him, when he reverted to his half-broke cold-backed former ways and almost bucked me off in the parking lot! After that, he was excellent, and he thinks Eventing is quite good fun. Now he thinks he is quite a hot shot! He will get to go again the next two weekends.
Emily Curtis did her first Novice event on my semi-retired Advanced horse Half Magic. Come to think of it, it was his first Novice also! Anyway, they did great, finishing second in the Novice Rider.
I finally got my new horse from Ireland. I picked him up from the quarantine station in Newburgh on Monday. I am really glad to have him home, he seems every bit as lovely as I remember him from when I saw him back in January! My good old Dodge pick-up truck clicked over 100,000 miles on the trip, and then conked out in the driveway as I returned home!
Three more foals on the way, all due in the next five days!

Until next time,
Phyllis



May 29, 2001
I had a blast at CDCTA Three Day Event! I had been looking forward to this competition all spring, and I was not disappointed. The weather had been very dry the last month, with the ground getting very hard, so we were all praying for rain. Well, this might fall into the category of 'be careful what you wish for', because we got nothing but rain the last week before the Event, including rain throughout the competition, and a huge thunderstorm on cross-country day! But at least the ground wasn't hard.
Imp went great in all three phases, finishing his first Three Day, a CCI**, with a decent dressage test, and a clear cross-country and show jumping. The water jumps on course were particularly difficult, and since that has been the one type of obstacle at which he lacked confidence, I was a little worried. Imp didn't let me down though, he went through both waters really well. I often find that when a horse completes his first Three-day, it gives them an added since of confidence, self worth and cockiness. As you can guess, Imp is now absolutely insufferable!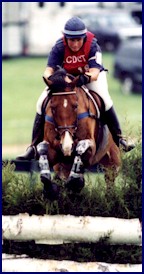 Enniskerry Imp at CDCTA Three-Day Event
Much thanks to Amanda Draper and Emily Curtis, who groomed for me, and had Imp absolutely looking like a champ.
Several other Windchase students also had super performances in the two-star. Megan Hansen had the ride of her life on her excellent Razzamatazz, with a nice test, and an impressive cross-country, and a clear stadium round as well. Kathleen Dingus rode well to finish her first two-star on Springcroft's Tia Maria in good form; they both showed that they have the talent to excel at this level. And Natalie Compton had a brilliant cross-country on High Tech, but unfortunately injury on course prevented her from completing on show-jumping day. Also, Melissa Hunsberger had bad luck with Snowy River, who came up a little sore in the vet box and had to be withdrawn. It was great to see Sara Davis have a successful go with Far and Wide, the New Zealand horse she recently purchased from Windchase, in the CCI*.
The other exciting news is we have another lovely foal by Windstar! Once again, it came when I was away at an Event, I seem to be missing all of them this year. Our maiden broodmare named Baby (sorry for the unoriginal name) had a lovely gray filly on Sunday night. I have named her Mira. Three down, three to go!
My new horse from Ireland is due to arrive next week! Finally! I have been eagerly awaiting his arrival for over a month now, but it keeps getting postponed. Hopefully it will happen this time.
Off to Waredaca next week, where my young Irish horse Cahir will do his first competition. Should be interesting!

Until next time,
Phyllis