We had been standing for some time, watching the angry bull hippo in the water in front of us. He resented the fact that we had parked beside the lagoon – his lagoon - for our tea break, and he let us know it in no uncertain terms. Opening his mouth impossibly wide, he displayed enormous tusk-like canine teeth. Then he reared up out of the water in a great plunging leap, sending a tsunami-like wave across the lagoon. He raised his voice in maniacal honking laughter and then plunged up out of the water again, leaping and breaching like a humpback whale.

Our guide Gee explained that a hippo's teeth are razor sharp and up to twenty inches long; they can bite a small boat - or a person - in half in one chomp. Hippos are very aggressive in defending their territory, and the show this big bull was putting on was clearly intended to intimidate us. We knew that hippos kill more people in Africa than any other animal.

Suddenly there was an eruption of motion and noise among the trees behind us. As we turned to look, we saw that a second huge hippo bull had come out of the water, and he had circled around furtively behind us. He appeared suddenly in a gap in the trees not thirty meters from where we stood, sidestepping and stomping as he tossed his head and snorted angrily, challenging our right to be there. He was 4000 pounds of muscle and fury. We could see the battle scars on his sides. What was it we had been told? "Never get between a hippo and the water." Uh-oh, this could be a problem.






February 4, 2019
At last we were off! The week leading up to a vacation is always busy and stressful, and as we made our way through Dulles Airport, my friend Jineen and I were glad to finally be on our way. We made a brief visit to the Turkish first class lounge for breakfast and then met up with Mary and Natalie at the gate.
Ethiopian Air, our old friend, treated Jineen and I well up in the 'Cloud Nine' business class section (courtesy of Frequent Flier miles), plying us with champagne and traditional Ethiopian food. It would be a long flight for poor Mary and Natalie back in the economy section.
As we soared above Virginia we watched the Blue Ridge receding below us out the plane windows. We could identify the familiar shapes of the mountains near home; there was Mount Weather, and Clark's Gap, and then we could see Hillsboro nestled in the gap in Short Hill Mountain. Beyond, we could just barely make out the fields of Windchase, and the arena roof gleaming white in the sunlight.

Jineen and I first visited Botswana in 2011, and we fell in love with the country. A few years later we went on a mobile camping safari in Chobe and the Okavango Delta and I was totally hooked. This was our 4th trip to Botswana, and our 3rd time touring Savuti, Khwai and Moremi with Letaka Mobile Safaris (expertly arranged by the Scott Dunn Travel Company). Part of me wishes I could run away from home and become a safari guide in Botswana, or better yet a nature photographer. Maybe I will in my next life.
People often ask me why I want to go back to the same places again; wouldn't I rather visit somewhere new? But the animal and bird sightings are different each time and that is mainly what we came for. While I love seeing new places, it is also rewarding to really get to know an area by visiting it multiple times and in different seasons, and to learn all about the wildlife there. And we have developed a close friendship with our guide Gee; this was to be our third trip with him.
The first leg of our trip, the flight from Washington Dulles to Addis Ababa, was over 12 hours long. We settled back in our Cloud Nine seats, stretching out to try and get some sleep, but excitement kept me awake - we were heading back to Africa!




February 5
Waking from fitful snatches of sleep, we watched the first sudden break of dawn. A fiery orange glow stretched across the rim of the earth as the sun rose over Africa.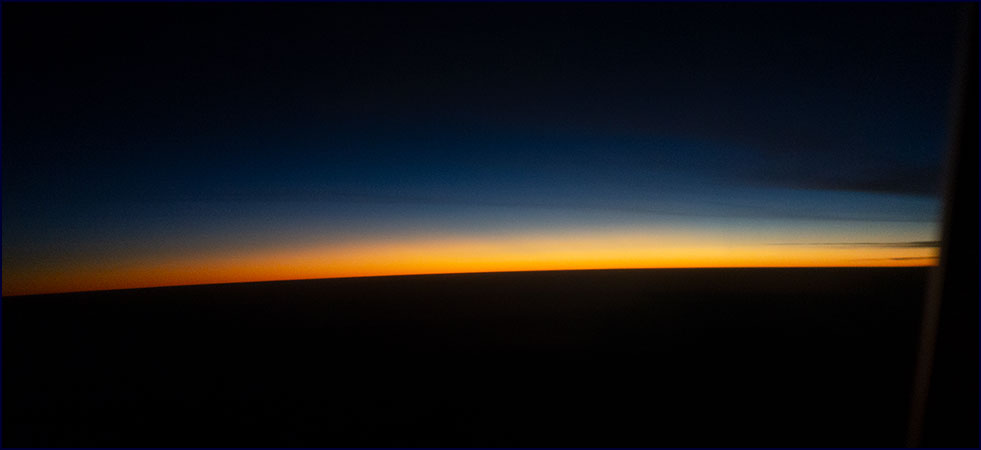 Early sunrise over Africa, as seen from the plane window.
Spectacular mountains rose above Addis Ababa; we came in on a different approach from our last trip, and I could see that the capital city of Ethiopian is larger than I had realized. We landed to change planes for the flight to Johannesburg. Natalie and Mary seemed to have weathered economy class well. We met Tara near the gate; she was fresh as a daisy after only a four hour flight from Cairo.

Addis Ababa, Ethiopia

We were picked up at the Johannesburg airport by a driver from the Sunrock, where we were staying that night. By the time we checked into our rooms we had been traveling for 24 hours. Having gotten very little sleep on the plane, I took a nap before dinner. We all went to the bar where we met up with the rest of our group; Paula, Sally and Mike.
There were eight of us on the trip, and all had been on one of our previous safaris. Mary, Sally and Mike had been on the 2015 trip, and Natalie, Paula and Tara had gone on the 2017 safari. And of course Jineen and I had been on both. Everyone knew what they were getting into and they had all loved it enough to come back for more. This should be an awesome group, I reflected. Exhausted from the travel, we had dinner and then all fell into bed by nine o'clock.




February 6


Having gone to bed early, I was wide awake at five. That's good; time to get into the safari routine! I went out on the lawn to watch the birds.
The birdfeeders were a frenzy of activity. The tiny Red Bishops and Red-headed Finches competed with a flock of much larger pigeons for the birdseed, while a row of doves watched regally from a tree branch above. Four Go-Away Birds perched on an antenna and a Mousebird hid deep in a tree. Several Swifts circled the yard and a trio of ibis flew overhead. My favorite was the Pin-tailed Whydah, an elegant black and white bird with an impossibly long trailing tail. Sally, an avid birder, was keeping a list – she must have had a dozen species on it before breakfast.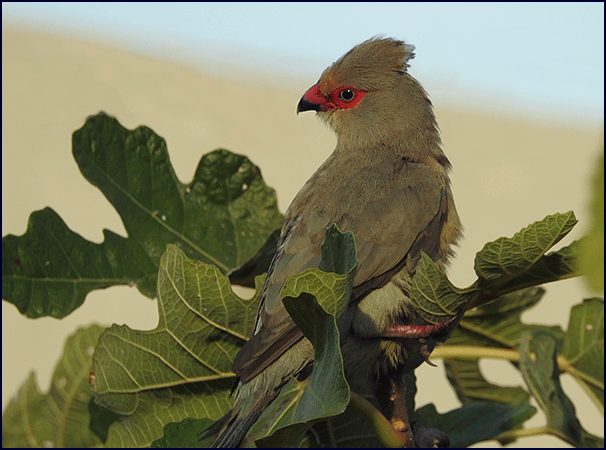 Mousebird at Sunrock
On the 2017 trip I had bought a little stuffed-animal baby cheetah in the Johannesburg airport, which I named Duma, and Paula had gotten an adorable bushbaby she called Fred. They had become our mascots on that trip, so we brought them along again this time. Tragically Paula discovered that Fred was missing; she realized that she must have left him on the plane. She was devastated, as were we all. We never did see Fred again. We can only hope and believe that he was rescued by some nice Ethiopian family who adopted him and he is currently residing in a loving home. God Bless you, Fred, wherever you are - we will never forget you.
After a huge breakfast buffet the Sunrock shuttle dropped us off at the airport. After checking in we had some time to shop at Out of Africa and some of the other shops which are amazingly familiar by now. Paula found another bushbaby which she named Merle, and Natalie bought an adorable little wild dog she called Solo. They would be our mascots for the trip.
When our flight was called we boarded the plane to Maun, Botswana, glad to be on our way. But no! There was a technical problem with the plane so we sat on the tarmac. After an hour they told us we had to change planes; we were several hours late by the time we finally took off.
After clearing customs and immigration at the small Maun airport we boarded the Mack Air charter for the final leg of the trip; fortunately it had waited for us. We could see Black Storks walking in the grass along the runway. Heading north, fluffy white cumulous clouds floated outside the plane windows; it reminded me of a line from that Joni Mitchell song. "Bows and flows of angel hair, and ice cream castles in the air, and feathered canyons everywhere . . ."
Flying over the bush, we were filled with anticipation. Everyone in our group had been here before, but always in the dry season when the landscape was dry and brown – now we were eager to see it in the rainy season. Looking out the windows of the small plane we were struck by how green everything was. I would have to start re-calibrating my mental image of what Africa looks like.
From the air we could make out the occasional grey bulky shape of an elephant or the angular outline of a giraffe. As we descended toward Savuti, which is in Chobe National Park, we saw a herd of dozens of elephants below us. Often before landing the pilots have to make a low pass over the airstrips to chase off animals, but this time the runway was clear.
As the plane touched down on the Savuti airstrip, we were greeted by the familiar sight of our guide, Gee, standing by the Letaka Safaris land cruiser and waving to us. It was a poignant moment. As we rolled to a stop Gee drove up beside the plane. We got out and greeted him with a hug, letting the sights and sounds and smells of the African bush surround us. It felt like coming home.
We looked around; other than us the tiny dirt airstrip was deserted. There was a small pre-fab shed with red fire buckets hanging on a frame next to it. An incongruous sign by the little shack read:
Welcome
Savuti International
Gate 3
Terminal 5


Passport Control

Savuti International Airport
Finally, after four flights and two days, we were at the start of our adventure. We all climbed in the land cruiser and sat in the raised bench seats behind Gee. It had a canvas top but no side walls, and was completely open to the air and elements (and animals). We were pleasantly surprised to find we had a larger model with four rows of seats instead of three; it would accommodate all eight of us nicely without anyone having to use a middle seat.


As Gee started driving us toward our camp we were amazed by how lush and green everything was. The plains were covered in thick grass, with small rain-fed waterholes everywhere. In the past we had come in the winter, July or August, the dry season. But one time as we were driving along a dry riverbed which Gee said flowed with water when it was flooded, I suddenly had a great desire to see Botswana when it was wet and green. At that moment I had started making plans to come back during the rainy season. Now here we were.
The Scott Dunn travel agents had cautioned me that we might not see as many animals during the rainy season. In the dry season they congregate at the waterholes and are easy to find, but during the rains the animals are more widely dispersed, and the tall grass makes it harder to find many of the smaller ones. Leopards in particular were said to be harder to spot this time of year. We would just have to take our chances.
My trip advisor also said that one of the advantages of rainy season safaris is that you may have some great photo ops you can't get at other times. For instance, she told me, you might get a photo of a male lion shaking the raindrops off of his mane just as the sun comes out after an afternoon storm. This sounded great, and I couldn't wait to get that shot.
Right away we started seeing birds we had not seen before, such as the Golden Bishop, a beautiful small yellow and black bird, and the Shaft-tailed Whydah, elegant and impressive with its long tail trailing behind it. Barn Swallows swooped over the grasses; they looked just like the barn swallows we have at home.
There was water everywhere, and plenty of waterfowl; we saw White-faced Ducks, Red-billed Teals and a Moor Hen. New water birds included the small dark Collared Pratincole, a Dwarf Bittern, and a Ruff which was taking a bath in a puddle. We hadn't been on safari more than fifteen minutes before it was clear that there are way more birds in the summertime, many of which we had not seen before.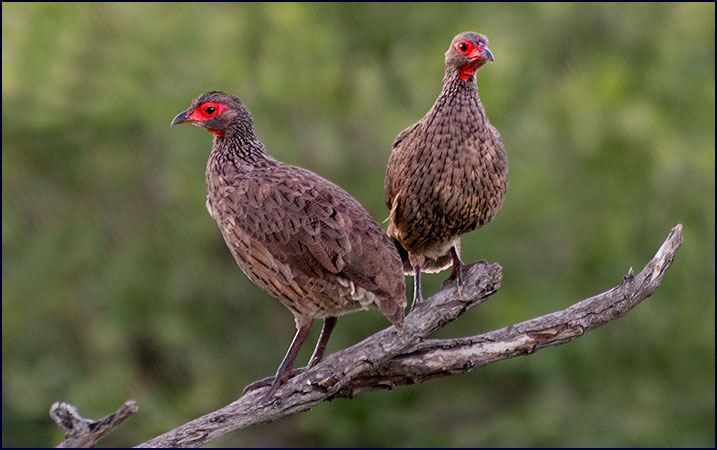 Crested Francolins
We also saw some familiar faces. Two Crested Francolins perched in a tree; as usual we would see these ubiquitous partridge-sized birds on virtually every game drive. Gee pointed out a Red-billed Buffalo Weaver and a Magpie Shrike. A small flock of Helmeted Guineafowl scurried across the road. A pair of Egyptian Geese were fussing over a clutch of young babies; we watched the parade of goslings with delight. Cape Turtle Doves serenaded us from the trees; to me they always sound like they are chanting Bots-wa-na, Bots-wa-na, though I have heard locals insist they are actually saying Drink-Lag-er, Drink-Lag-er.
We saw a myriad of birds that first evening, but not many other animals. We did come across a herd of impala; they are always the first and most common antelope you see. We caught a glimpse of a jackal in the distance, but otherwise it was just our feathered friends.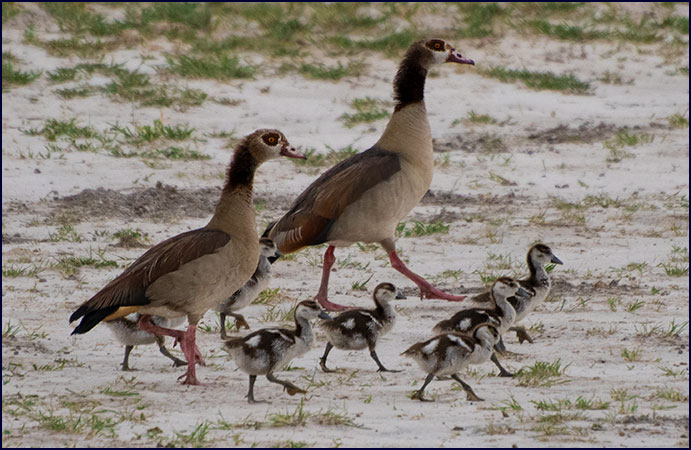 Egyptian Geese
We arrived in camp as it was getting dark, just before 7:00. Our tents were set up in a row along a dry riverbed with a dining table beneath a canvas roof nearby. Camp chairs were set out for us around a merrily burning fire; we sat contentedly watching the flames while we waited for dinner.
Gee introduced the camp staff. Our chef was named Life. Our waiter was Badisa, who went by the initials BD. The camp hand was Keokegile, known as KK. Life stood by the fire and announced dinner, telling us what each course would be.
Dinner was excellent. I am always amazed by the wonderful meals the chefs prepare in the bush using a camp stove or Dutch oven. We sat around the table talking with Gee, and passed out some small gifts we had brought for the staff. I gave Gee a leopard talisman I had made for him; perhaps it would help us be lucky in finding them.
We went to sleep in our tents, listening to the night noises of Africa.
February 7
Good Morning, said a soft voice outside our tent at 5:00 a.m. - our wake-up call. Breakfast was served at 5:30; avocado and hard boiled eggs, toast with honey, and camp coffee at the fire. By six o'clock we were in the land cruiser and heading out for the morning game drive in the dim early half-light.
Not surprisingly, the first thing we encountered was a group of impala. They were adolescent males, milling about in the road and playing. No doubt they had been kicked out of the herd by Dad; as with many of the African animals, when the males approach maturity they are pushed out of the breeding herd by the dominant male, to form bachelor herds.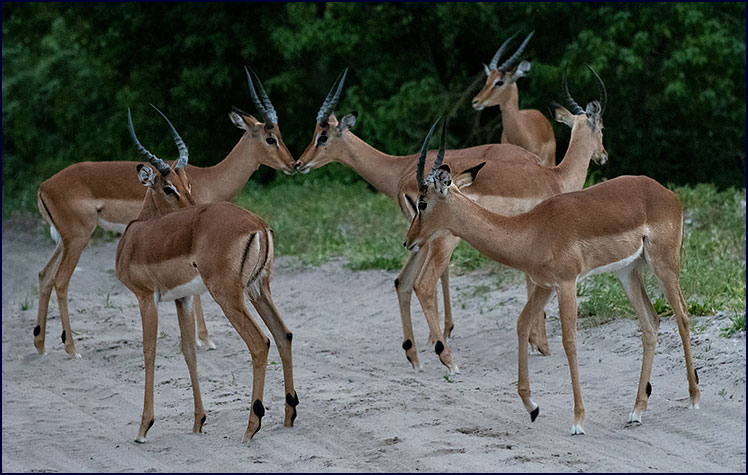 A bachelor herd of impala
Dark trees stood out starkly against a fiery sky as the sun came up through layers of cloud. A trio of ducks were perched high in a dead tree, adding an unlikely silhouette to the dawn scene. A Black-shouldered Kite watched the morning unfold from his perch in tree.
A small herd of Blue Wildebeest were grazing on the plain, and with them were three babies that were just a few months old. The adults ignored us but the calves looked back at us over their shoulders with curiosity. Red-billed Oxpeckers perched on their rumps. Not having seen baby wildebeests before, we watched them with delight. Getting to see baby antelopes was one of the best perks of coming at this time of year!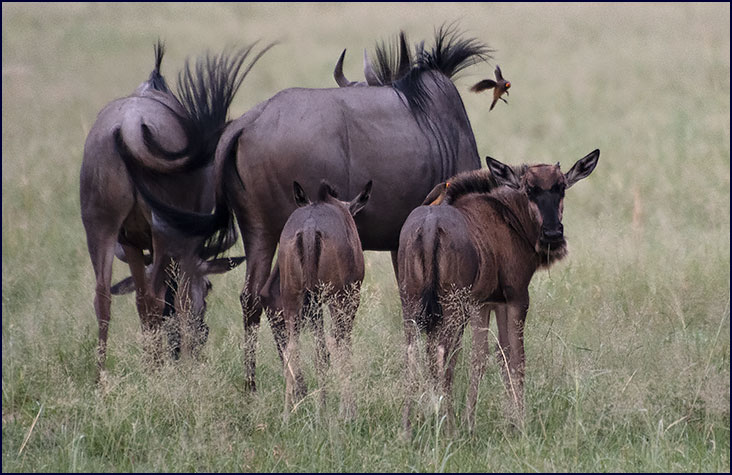 Wildebeests

As I have stated in accounts of previous trips, I write these journals mainly so that I and my travel companions will have a way to remember and relive all of the details of the journey. For those of you who were not there, my apologies if you find this journal overly detailed and boring. Even so, it is not a complete account; for most of the more common birds and animals I only recount the first time we saw them (with names capitalized for first sightings), or describe the more notable sightings. It would not be practical to report every time we saw an impala, a wildebeest or an elephant walking in the distance, but I am making note of each time we sighted a large predator or a more rare species.

We drove along the Savuti Channel, a now-dry riverbed. A pair of Pied Babblers perched in a tree, white with black wings and tail. Gee pointed out a tiny bird called the Rattling Cisticola; we could barely see it but we could hear its song.


We passed the campsite by the river where we had stayed on the last two trips. A large Giraffe stood there; he browsed in the trees for a while before turning away. A Dwarf Mongoose sat on a log and peered up at us. A pair of tiny Steenboks peeked out of the underbrush; they are less than two feet tall and the males have tiny sharp horns. These impossibly delicate antelopes are like something from a fairy tale. The female's belly was heavy with her unborn baby. She watched us furtively from beneath the bushes.

A female steenbok, nearing her due date
An impala doe was nearby and she had a tiny baby by her side - it couldn't have been more than a week old. It was exquisite. Mom watched us warily, then turned and headed into the brush. Her baby scampered behind her, pausing once to look back at us before disappearing into the trees.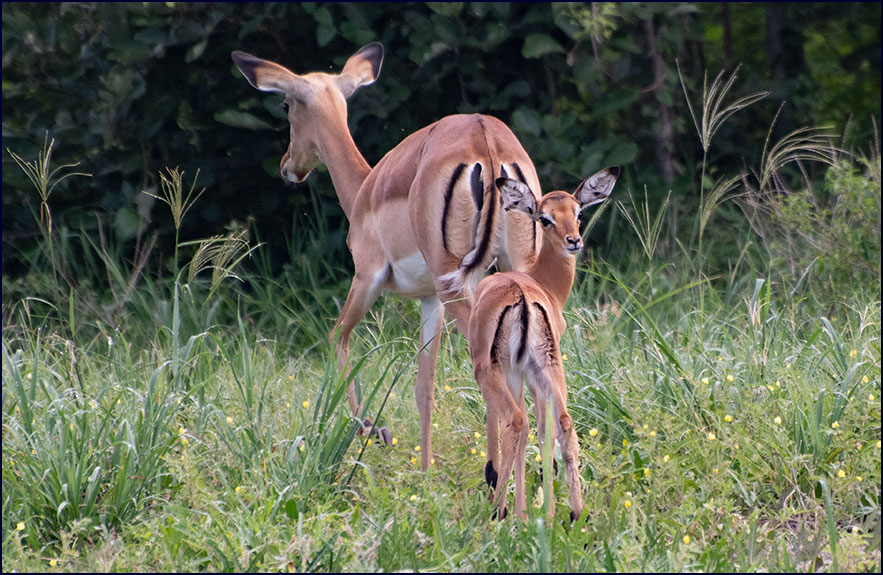 Impala doe with her fawn
As we drove along the Savuti Channel, Gee told us about this ancient riverbed which has a history of mysteriously flooding and then drying up again, independently of the rainy seasons and flood levels. This is thought to be caused by shifting of the tectonic plates beneath the earth. The channel runs from the Chobe River over a hundred kilometers to the Savuti Marsh. Back in Livingstone's time it was a flowing river, but then the channel dried up in the 1880s and remained dry for over 70 years. It flooded again in 1957, but then dried up again in the 1980s. When the river goes dry it is devastating to the wildlife depending on the water source, especially animals such as hippos and crocodiles that live in the water, not to mention the fish. I had read about this in the excellent book The African Diaries, by National Geographic photographers Dereck and Beverly Joubert.
The river flowed again in 2008, and once more became a deep clear waterway, complete with hippos and waterbirds; but then it dried up again in 2015. There were still a few pools of water in the channel on our first visit to Savuti in 2015; at the time we had not realized we were seeing the last remains of a recently flowing river. We had seen pelicans and storks clustered around the dwindling water, but now it was completely dry and the waterfowl was long gone.
This was my third trip to Savuti, which gave me the chance to get to know the area more intimately. Between the repeated visits and reading accounts of the ebb and flow of the Channel, I felt I was finally really starting to understand this place.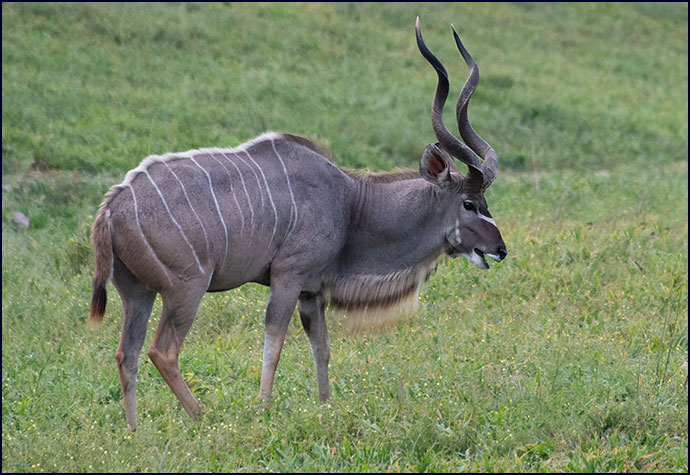 Kudu bull
Two Greater Kudu bulls were grazing along the slope of the riverbed. These large antelopes are incredibly beautiful with elegant faces, big ears, and thin white vertical stripes on their sides. They have a short mane that stands up along the entire length of their back from head to tail, and also a long thick multi-colored mane that hangs down from the underside of their neck. But their most remarkable feature is the long spiraled twisting horns that adorn the males. Kudus are my favorite antelope.
We watched the two bulls as they grazed along the slope above us. One of them was mature and really big; the other was younger and a little smaller. We were very close to them, which they did not seem to mind. Several oxpeckers were having a go at the younger kudu, sticking their heads in his ears searching for ticks. He shook his head resignedly.
The bigger bull stood regally, his head raised high, tilting back his massive horns proudly as he posed for us. He was magnificent. Gee said that mature kudu bulls have three full twists to their horns. Big manes and large horns indicate good genes, and the female kudus will choose males with these traits to father their babies. This kudu bull was an amazing individual, Gee told us, very well-bred with good genes.
The kudu raised his head even higher, holding it straight up with his nose pointing to the sky. He seemed to be showing off, displaying his dominance. But when I looked at the photos later I saw that in some of the shots he had his lips open and his eyes closed blissfully, wearing an expression of ecstasy – it appears he was raising his head to scratch his back with the tip of his long sharp horns.
We left the riverbed and followed a sand road across the plain. Before long we came across a large herd of female impalas grazing near the track. Most of them had babies that looked to be about two months old. They were milling around; some of the adults lay on the ground dozing while many of the babies scampered about playing. Several of the does regarded us with disdainful expressions, squinting their eyes and puckering their lips at us. One of them definitely stuck her tongue out at me.
Gee told us that impalas have their babies after the first big rain of the season; the mothers will hold them until the rains come, and then they all have them at the same time within a few days - this way the predators can't eat them all. The babies can run right away and they grow fast. But there are always a few impala moms give who birth later, like the one with the tiny baby we saw earlier.

Young impalas
Gee pointed out a monkey high in a tree in the distance; I was surprised as I had not seen monkeys in Savuti before, nor baboons. Gee told us that back about 30 years ago the baboons at the lodges in Savuti had became a big problem, getting aggressive and stealing things, so the park service shot them all. Now there are no baboons in Savuti. A grim story.
A Yellow Mongoose peered up at us from the entrance of her burrow; she had lovely red eyes and a delicate face. I think these are the prettiest of the mongooses.

Yellow mongoose
Presently we came to Leopard Rock, a huge rocky ridge that sticks up out of the flat plain. In 2017 we were lucky enough to catch a glimpse of a mother leopard nursing her tiny week-old baby up in a shallow cave in the cliff face. No leopards were here this time, but we were delighted to see a flock of five Ostriches near the ridge, three males and two females. These enormous birds always seem to me somewhat comical and a bit unreal, like something out of a children's story. They have long thick necks, tiny heads, large eyes and great luxurious eyelashes. There legs are like giant drumsticks. The males are brilliant black with white tail feathers, and the females are a drabber greyish brown. Both sexes wave their long wing and tail feathers about like a grand dame in a Broadway show, and you can't help but laugh when you see them. However despite their comical appearance they are incredibly tall and strong, and when they get those huge legs pumping they are exceptionally fast.

Ostriches, with impressive drumsticks
We drove by a series of waterholes. A Crowned Plover was striding along near the edge of the water and several Kestrels were flying above, hovering in the wind. A group of Banded Mongoose scurried busily to and fro, never still. These large mongooses are hard to photograph; between their subtle grey-brown striping and their tendency toward perpetual motion, they play havoc with my camera's autofocus.
Mid-morning we came across several giraffes. There was a big male that was very dark in color with a smaller lighter female. They walked along casually, stopping now and then to eat from the trees. Giraffes are another animal that do not seem quite real.
We encountered more ostriches, this time a pair with four half-grown chicks. The babies are a lighter shade of mottled brown, and can camouflage well in the bush. A pair of Egyptian geese flew across in front of them as they hurried away from us. The babies are shyer than the adults, but no less ridiculous.
A couple tsessebes were grazing among the impala. These distinctive medium-sized antelopes are built uphill, with shoulders higher than hindquarters, and Gee said they are very fast. Tsessebes are a sort of purplish brown color with black patches extending up from their legs. They have black faces topped by short backswept horns. This pair was plastered with mud on their necks and heads, and one of them had a horn that was completely encased in a large blob of dried mud.

Tsessebe
We could see two elephants in the distance, moving our way. An impala dashed across the road in front of us. The mud-encrusted tsessebes decided to join in the fun and went loping along, though they soon tired of the game. We looked around in wonder; from one spot we could see impala, tsessebes, elephants and a family of ostriches, not even counting all the other birds.
When reviewing my photos later, I would often be surprised at the number of unnoticed birds and animals that end up being in the background of shots I took of some other animal. African photo-bombing!
The two elephants moved toward us. A big bull was in the lead with a smaller male following some distance behind him. They filed right past us one after the other, walking fast but silently as they headed to the water. They turned their heads to keep an eye on us as they passed. They were fabulous.